Sunbelt Field Day July 14: a morning to make your farm more profitable
Sunbelt Field Day July 14: a morning to make your farm more profitable
Sunbelt Ag Field Day will be July 14 at the Darrell Williams Research Farm, located at the Expo show site at Spence Field in Moultrie, Ga. Registration is free for anyone who works in agriculture, and the day starts at 7:15 a.m.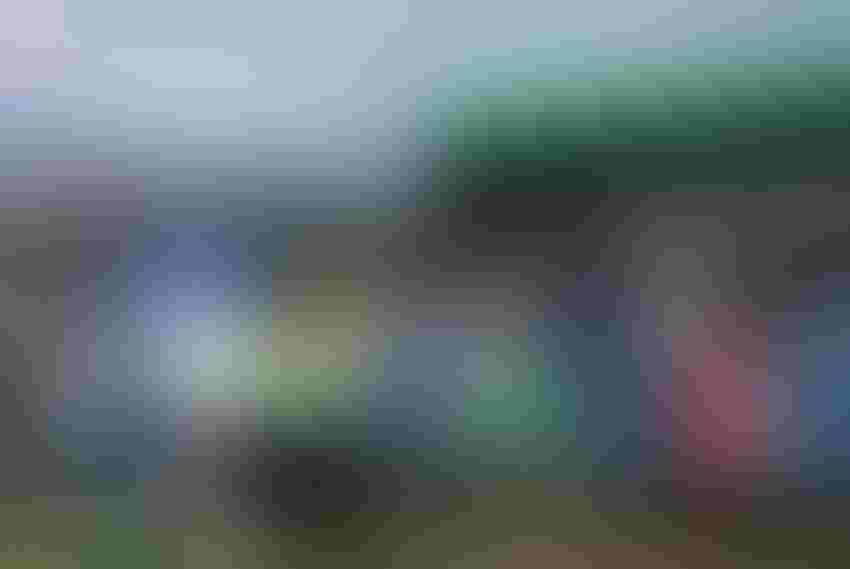 The farm economy is as volatile now as ever. There is neither time nor money to waste on unnecessary inputs. Sunbelt Ag Expo continues its mission to be a premiere location for on-farm research and a place that yields information farmers can use to produce their crops more efficiently.
The Sunbelt Agriculture Expo Field Day is about the South's top row crops and is the best time and place to see the latest crop technologies, products and research taking place at the farm. It all can be seen in just a half-day.
Sunbelt Ag Field Day will be July 14 at the Darrell Williams Research Farm, located at the Expo show site at Spence Field in Moultrie, Ga. Registration is free for anyone who works in agriculture, and the day starts at 7:15 a.m. with breakfast followed by quick welcomes and comments from the Georgia Department of Agriculture and Georgia Farm Bureau.
Shuttles will be loaded at 8 a.m. to tour the farm, where 30 stops are scheduled with specific time allotted for each stop. Participants will hear from the industry's top consultants and specialists from the region. Farm Credit will provide the water for the water stops during the tour.
"We plan our field day to be like no other in the region in that there is really no other event where so many leading agricultural experts can be visited or where our presenters can speak with farmers in such a convenient way. Hey, the field day is in July and we know it can be tough to get away from the farm. We appreciate that because we have to get that same work done, too, on this farm. But we work to make it worth our guests' efforts to be here" said Michael Chafin, who manages the Sunbelt Expo farm.
The tours will end by noon. Ameris Bank will provide a lunch for those who want a bite to eat before leaving or wish to stay longer to talk with sponsors and company representatives who will have booths setup where the shuttles unload passengers. There will be door prizes awarded, too.
Core agronomic crops are the focus
"Again this year, as it has for many years, we're focusing on our core agronomic crops for the field day, and those are corn, cotton, soybean and peanuts, the backbone of most Southeast cropping farms," said Chafin.
University of Georgia researchers and Extension specialist conduct numerous trials at the Sunbelt farm for all major Southern agronomic crops. UGA Cooperative Extension specialists for cotton, soybeans and peanuts will be at the field day to talk strategies to better use fertility, manage disease and pests, and the best varieties to use when and where on a farm.
"Inputs, you have to have them and they cost a grower time and money to apply. But we really can't skimp on them, especially in our region, or disease, insects, weeds or weather will eat you up. But what a grower can do, and what the experts who conduct research here have done, is find ways to more precisely use and time our inputs to make the highest quality yields we can and try not to go broke doing it," Chafin said.
Well-timed fungicide applications for corn and soybeans have proven to work to protect yields at the Expo farm, he said, and specialists will be at the field day to talk about what works best.
Herbicide resistance continues to be a major focus for cotton in the region. UGA weed specialists plus company representatives will talk about management strategies now to deal with the issue plus what is coming down the pipeline to help growers win the battle against hard-to-control weeds.
Monsanto will feature their DeKalb corn varieties. Pioneer will have popular corn varieties, often used by high-yield winners, on display. Syngenta will have their Norfolk King corn hybrids developed for the Southeast. Mycogen Seed will have corn and soybean varieties for inspection And WinField will showcase its Croplan corn and soybean varieties bred for the Southeast.
Fertilizer tests are being conducted on corn and most other crops being grown at the Expo. Maximizing plant nutrients use is always a top priority for growers who want the most from their variety choices.
Cotton will feature the top performing varieties based on annual official variety tests across the Southeast and representatives from the various companies that provide cotton seed and cotton technology in the Southeast will be on hand during the field day.
Bayer with FiberMax and Stoneville varieties will show and discuss new Liberty technology.
The Expo Farm is a part of Monsanto/Deltapine's New Product Evaluator program and the same varieties being grown by 200 or so farmers across the Cotton Belt will be shown during the field day.
Americot has developed new varieties that have performed well in OVT testing in the Southeast. The company is making a push to increase market-share in the Southeast. Several of their new varieties will be on display at the field day.
Dow's PhytoGen brand cotton has made a big push in the Southeast in recent years and several of the PhytoGen varieties will be shown at the field day.
The Expo farm has several large-plot soybean OVT variety trials each year. Chafin says Monsanto and their AsGrow brand soybean seeds will be planted and company representatives will discuss production of soybeans in the Southeast.
Pioneer will have some of their soybean varieties in the test program at the Expo Farm. The company's Y series of soybean varieties have shown promise in recent years for enhanced pest resistance and adaptability to a number of yield-limiting factors common in the Southeast.
DeWitt, an Arkansas-based company now with Bayer, will have soybean varieties there.
Subscribe to receive top agriculture news
Be informed daily with these free e-newsletters
You May Also Like
---