See how things are growing, who will be at 2018 Sunbelt Expo Field Day
See how things are growing, who will be at 2018 Sunbelt Expo Field Day
Farmers are invited to come and get practical information from the region's top agricultural scientists about the newest technologies farmers can use to improve their operations.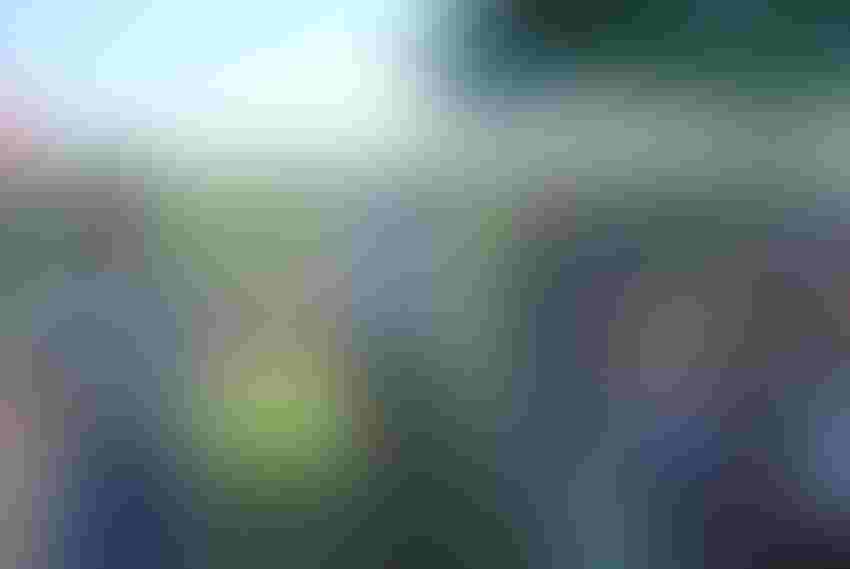 The 2018 Sunbelt Ag Expo Field Day is July 24, and farmers are invited to come and get practical information from the region's top agricultural scientists about the newest technologies farmers can use to improve their operations.
The half-day event will take place at the 600-acre Darrell Williams Research Farm, located at the Expo show site at Spence Field in Moultrie, Ga. Registration is free for anyone who works in agriculture, and the day starts at 7:15 a.m. with breakfast, followed by quick welcomes from the Georgia Department of Agriculture and Georgia Farm Bureau.
Shuttles will be loaded at 8 a.m. to tour the farm; 30 stops are scheduled, with specific time allotted for each stop and crop. Farm Credit will provide water for the tour. Tour shuttles will return to the main building by noon, and Ameris Bank will provide a lunch. Door prizes will be awarded, too.
"We have the unique ability to work with university and corporate researchers on our Darrell Williams Research Farm, where were continue to conduct cotton, peanut, corn, soybean and forage research — all aimed at improving the farmer's bottom line. We look at the latest seed varieties, crop protection methods, soil fertility, irrigation and precision ag technology," says Chip Blalock, Sunbelt Expo executive director.
"We try-and-true the latest technologies and make sure they're ready to go to work on the farm when farmers adapt them into their operation. And in respect of farmers needing to get back to their own operations, we have streamlined the morning program to run efficiently and timely.
He also encourages field day participants to visit static exhibitor in the RW Griffin building before and after the field tours.
"Our mission is to provide a place where research can be done to benefit all row crop and forage farmers — especially those who might not have the resources or land to just go out and try a new variety or technology on a hunch," says Cody Mitchell, Sunbelt Ag Expo farm manager for the Sunbelt Ag Expo, who adds that most farmers can make two-bale cotton and 3,000-pound peanuts.
"We strive to have the best-looking farm around for field day visitors," he says. "And we work hard all year to ensure that we make a lifelong impression on the 80,000 to 100,000 guests who come to see us during Sunbelt Ag Expo in October. When they visit here, we want it to be an eye-opening experience that's worth their time."
University of Georgia researchers and Extension specialists conduct numerous trials at the Sunbelt farm for all major southern agronomic crops. UGA Cooperative Extension specialists for cotton, soybeans and peanuts will be at the field day to discuss strategies to better use fertility, manage diseases and pests, and choose the best varieties to use when and where on a farm.
Herbicide resistance and proper application practices continue to be a major focus in the region. UGA weed specialists and company representatives will discuss management strategies and the best ways to use new technologies to deal with weed control issues, plus new products coming down the pipeline.
Corn remains a staple crop for the Southeast, fitting nicely into growers' sustainable crop rotations and management strategies. Monsanto representatives will be on the tour to showcase six top DeKalb corn varieties. Pioneer will discuss six of its popular corn varieties, and Dow Agrosciences will spotlight six Mycogen hybrids.
Fertilizer tests are being conducted on corn and other crops being grown at the Expo. Maximizing plant nutrients is a top priority for growers who want to shoot for a variety's top potential.
Southeast farmers are showing a renewed interest in cotton in 2018, with acreage increasing slightly compared to the previous two to three years, mostly due to improved market prices and federal policies. Cotton genetics and variety packages have also gone through a resurgence, with new technologies becoming more widely available and adopted by growers. The region's best cotton varieties, based on annual variety tests across the Southeast, will be a primary draw at this year's field day.
Bayer cotton experts will discuss six of their new Stoneville varieties. The Expo farm is a part of Monsanto/Deltapine's New Product Evaluator program, and many of the same varieties grown at Expo are grown by farmers across the cotton belt as part of the NPE program.
Americot has developed new varieties that have performed well in OVT testing in the Southeast, and several of their new varieties will be on display at the field day.
Dow's Phytogen brand cotton has made a push in the Southeast in recent years, and company representatives will highlight six Phytogen varieties during field day stops.
The Expo farm has several large plot soybean OVT variety trials each year. Monsanto and its AsGrow brand soybean seeds will be planted, and company representatives will discuss production opportunities for soybeans in the Southeast. Dow will have CZ varieties available for inspection, and Pioneer will have six of its soybean varieties in the test program.
Forquimica will showcase its peanut plots.
About the Author(s)
Subscribe to receive top agriculture news
Be informed daily with these free e-newsletters
You May Also Like
---