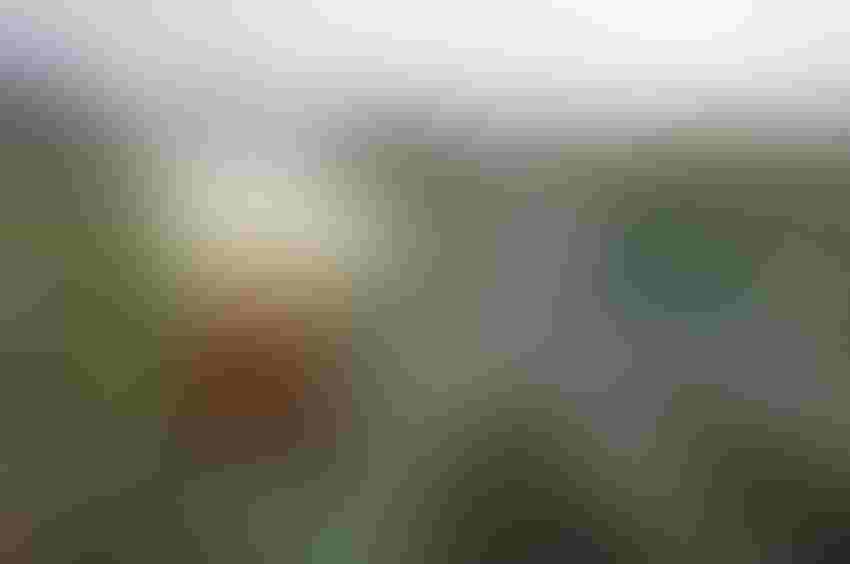 Mid-South cotton producers are reporting excellent fruit retention and good to excellent yield expectations for the 2014 cotton crop. On the other hand, the crop is late and up against the possibility of an early onset of rainy fall weather.
 "The talk from the get-go on this crop is that it was late," said Darrin Dodds, Mississippi Extension cotton specialist. "It was a cool and wet in June and most of July. It's starting to get warm now, and it's been fairly dry in places. What I think most farmers across the state could use right now is a general rain."
The crop has lagged behind all year, according to Dodds. "I've seen cotton in the south Delta from 2 to 3 nodes above white flower to 6 or 7 nodes above white flower."
Dodds said the last effective bloom date for cotton is quickly approaching. "If you're in the north Delta, you're looking at Aug. 15 as your as your last effective bloom date. As you move into the central Delta, the Highway 82 corridor, you're probably pushing Aug. 20. If you get down into the south Delta, you're probably pushing Aug. 25.
"But if the fall is like last year, all bets are off. Last year, we had a month of hot weather at the end of August and all of September which really made the crop. To be honest with you, I hope we can get the same thing this year."
Recent weather forecasts indicate the possibility of rainy weather moving across the Cotton Belt in late fall, which is not what growers need with a late crop in a field.
"We really don't need rains to show up in October and November because that's when the bulk of our picking is going to be," Dodds said.
Dodds said the state's boll retention "is outstanding. I don't think it can be a state record crop. But I don't see any reason why we shouldn't pick over 900 pounds average across the state."
Dodds said producers he's talked to are worried about current cotton prices. "If these 65 cent prices hold into next spring, cotton acreage would go down substantially."
Arkansas
Arkansas Extension cotton specialist Bill Robertson says fruit retention in the state has been exceptional. "Some have said they didn't have as many fruiting nodes as they would've liked, but I think the cooler weather has helped us hold some of our fruit.
"Usually, when we get into the latter part of July, everybody calls it the brick wall. There is a point there where the cotton plant itself cannot meet the moisture and nutritional demands of the boll load. But because of our cooler temperatures, the plant hasn't been wasting a lot of energy for basic metabolic processes."
While the crop is late, Robertson said a number of growers and consultants believe their crop is on track to repeat last year's yields. The dilemma is knowing when to get the crop defoliated and harvested with the potential looming for a wet fall. "If Mother Nature is not kind to us, I think things could get real ugly."
Robertson noted that the last effective bloom date in central Arkansas is between Aug. 12 and Aug. 15. "If we have a cooler, wetter August, we will not get 850 heat units on those bolls."
Louisiana
Extension cotton specialist Dan Fromme says Louisiana cotton producers are on track to repeat exceptional yields of 2012 and 2013. "Only time will tell, but it could be up there with those years, which were fantastic. Plant bug pressure hasn't been that bad in Louisiana this year. Just within the last couple of weeks, we've been getting some heavy bollworm pressure. Our early-season was great. Our oldest cotton will be having some open bolls this week (Aug. 5). Things are looking good. We have gotten timely rains all season long. We really haven't missed a beat. The fruit load is great in most areas."
The crop is strung out in maturity, according to Fromme, but he says growers will start defoliating cotton in mid-August. "We have some cotton at first open boll and some that is just now starting to cutout. We'll get into harvest the third week of August until the first week or so of October.
Fromme's biggest concern are the rains that have fallen across the region every two weeks or so during the season. "If that keeps up, it's going to keep us out of the field."
Missouri
Mike Milam, agronomy specialist for Pemiscot and Dunklin counties in southeast Missouri, said much of the region's crop is in good shape, although conditions have been dry. "But temperatures have been really cool, which is a good thing, especially at night. I think overall we have a pretty decent crop, if we can just get it out of the field. We are a couple of weeks late."
Milam says producers "are in better shape than they were last year, when we had rains in July and early August. We're not far from cutout in some of non-irrigated fields. In some of the non-irrigated fields, we may be there now. It's pretty dry up here. We missed some rains last week that we were hoping we were going to get. But we have a lot of irrigation up here, so I think we're in pretty good shape."
Subscribe to receive top agriculture news
Be informed daily with these free e-newsletters
You May Also Like
---