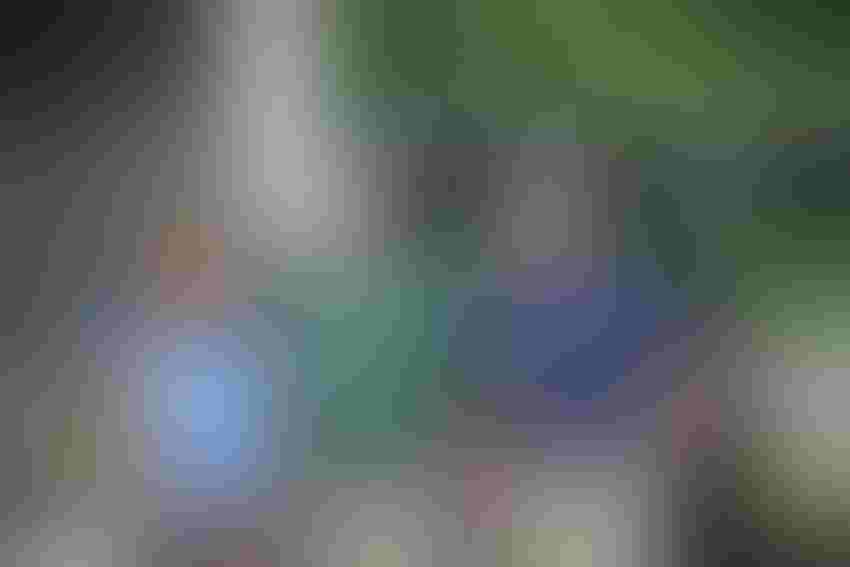 Keith and Ann Evans and son Jonathan Evans are all actively involved in their family cotton and soybean farm in Nash County, N.C.
John Hart
At around 5 p.m. on Aug. 3, 1998, an incident occurred near Nashville, N.C., in a cotton field on Rose Loop Road just down from the home and shop of Keith and Ann Evans that would forever change the life of the Evans family.
That day, Keith's brother, Steve Evans, was working with Keith's 18-year-old son Jonathan, irrigating cotton while Keith was at another farm spraying cotton. Jonathan was looking after the irrigation system and Steve came to help move the reel. When Keith had finished spraying, he drove down the road to see if Jonathan and Steve needed any help.
Jonathan and Steve were moving the irrigation reel. Keith pulled the irrigation cart through the field and then drove the tractor back to the reel. When Jonathan went to open the water valve to the underground riser, the clamp came off and the valve hit Jonathan in the face.
It was a catastrophe.
"When I found him, Jonathan was laying on the ground and blood was pouring. We called the rescue squad. They didn't know what to do. They've never seen anything like that. Life flight flew Jonathan to Duke (University Medical Center in Durham) where he had a 14-hour operation. Three days later, he had another 17-hour operation," Keith recalls.
"It just so happened that Dr. John Lettieri, the best plastic surgeon in the country, was doing residence at the time at Duke. He said all the bones in his face looked like a box of corn flakes. Everything was crushed. One of the surgeons actually removed one of Jonathan's eyes. It looked like somebody stomped a grape," Keith says.
The family stayed with Jonathan at Duke for a whole month as Jonathan recovered. Fortunately, no more surgeries were required, and the family didn't have to return to the hospital. But the devastating news was that Jonathan lost his sight and became completely blind at age 18.
Jonathan had just graduated high school and was planning to enroll in the Ag Institute at North Carolina State University in Raleigh that fall. "But his plans were changed at that time, as well as ours," says Ann Evans, Jonathan's mom.
Instead, the family enrolled Jonathan in the adult program at the Morehead School for the Blind in Raleigh, where Jonathan attended for two semesters. It was extremely challenging for Keith and Ann to bring their first-born son to his dorm at the school. The good news is Jonathan excelled at the school, learned to adapt, and even took a course in small engine repair, where he skillfully took apart an engine and then put it back together.
At the school, Jonathan learned to use computer software that is able to talk and read to the blind. Jonathan notes that when the Apple iPad and iPhone came out, the older technology became obsolete. Jonathan also learned to read Braille, but never used it, because of the new audio reading technology.
'Do the best I can'
"Can you imagine at 18 and this happened to you? Never once has Jonathan felt sorry for himself. The day that he was in the hospital, and Keith went over and told him he wouldn't be able to see anymore, his words were, 'well, I'll just do the best I can." And he's never looked back. He's never pitied himself. I don't know many 18-year old's who would have done that. Jonathan is a fine Christian man and that had a lot to do with it, his faith," Ann says.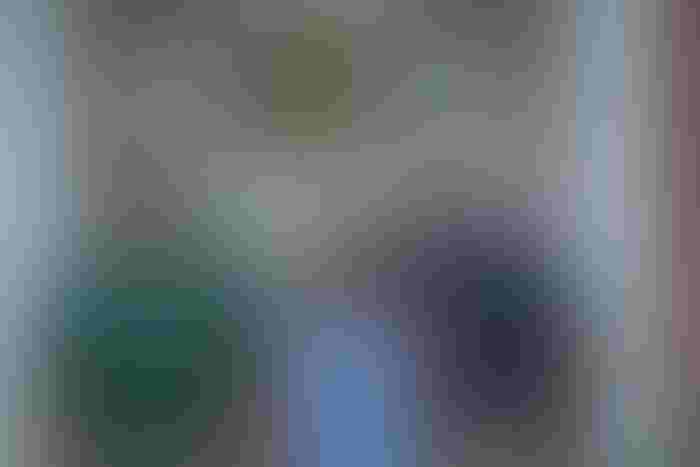 Keith and Ann Evans and son Jonathan Evans, at their home near Nashville, N.C. Jonathan is the oldest of Keith and Ann's three children. He has a younger sister, Frances Evans Floyd, who is married to Josh Floyd, and lives just down the road from Keith, Ann and Jonathan. Josh and Frances have two children, Anna Kate, 13 and Matthew, 7. The Evans's youngest son Thomas and his wife Mara, live in Cary, N.C., and have two daughters, Maya, 13, and Willa, 9. (John Hart)
One thing was certain. Jonathan knew he wanted to return to the family farm. Farming was in his blood, and he says it was the only thing he ever wanted to do, ever since he was a boy, driving a tractor at age six. The family was with him all the way.
Keith notes that Jonathan attended the Morehead School for two winter semesters, which allowed him to help on the farm in the busy fall, spring, and summer. Today, 24 years since the accident in 1998, the 42-year-old Jonathan is fully engaged in the family farm. The family grows cotton and soybeans and are known for their stewardship and innovative production practices.
The most miraculous thing is that by meeting Jonathan, you would never know he is blind. That's one takeaway anyone who works with this remarkable young farmer quickly points out.
"We've had chemical salesmen come out here for several years and not know he was blind. He walks around in the shop just like we do," Keith says.
North Carolina State University Extension Entomologist Dominic Reisig works closely with Jonathan and considers him a friend. "Jonathan has a great head on his shoulders. He lives and breathes farming and loves it. It truly is a pleasure to work with him," Reisig says.
"If you follow Jonathan in the cotton field, you would never know he had a vision issue. He uses his hands to brush the cotton and he can tell what is happening to the crop. He is an important partner and a very good grower. He knows his stuff," Reisig says.
"He often knows things before I do. It's always good to bounce ideas off Jonathan because he has such a great perspective. We try to be a good resource for him as well. He is a delight to work with and really special because he is so knowledgeable, Reisig says.
Bayer agronomist Zach Webb works closely with the Evans family. This year, Keith and Jonathan became Deltapine NPE (New Product Evaluator) growers when an opening came up in the program with the death on Oct. 2, 2021, of Jerry Hamill, a cotton farmer from Enfield, N.C., who was an NPE grower and also the 2021 Farm Press High Cotton Award winner for the Southeast.
"With the death of Jerry, we had an opening in our NPE program. It didn't' take us long to think about who a great candidate would be. We knew Jonathan would really give us good feedback on everything and be very vested in the program. It's worked out very well," Webb says.
Feeling the plant
"A lot of things are remarkable about Jonathan and his family. I will get pictures from him sometimes and he'll tell me what he sees in the field. How does he know what he's seeing in the field? I found out he's feeling the plant. He can figure things out by feeling the plant. It is way beyond what I thought he would be able to do," Webb says.
"The thing that is the most amazing to me is his attitude. I wake up every day and I complain about things. I know Jonathan, who takes every day as a challenge, and he's hitting it out of the park. And he's always optimistic about everything. I've never heard Jonathan complain about anything, ever. I'm sure he probably does, but the gnats are about the only thing I hear him complain about," Webb says.
Jonathan does not enjoy talking about himself or his challenges, but he does love to talk about farming, particularly cotton farming which is his passion. When asked how he is able to do it all he can't tell you.
"I don't know how I do it, I just do it," Jonathan says.
Ann points out that Jonathan's hearing is keen and his sense of touch his phenomenal. She says he has a great sense of direction, and his memory is phenomenal. Ann is Jonathan's eyes for him, and she will drive him from field to field. They scout cotton together.
"Jonathan knows exactly where every variety is on the farm. When we scout cotton, I tell him what I see, and he knows just what to do," Ann says.
Ann notes that Jonathan orders all the inputs and does all of the  research for their cotton and soybeans. Jonathan is able to do it all thanks to the voice-over on his iPhone and iPad. Jonathan adds that Bayer Climate FieldView is key to his success in producing crops.
"I couldn't keep up with all the planting, spraying and yield data without Climate FieldView. FieldView has made it possible for me to analyze which varieties yield the best on our farm. I am grateful to Josh Roberson with Bayer for introducing FieldView to me," Jonathan says.
Looks after agronomics
Keith plants and sprays all the cotton and soybeans and drives the cotton picker at harvest, while Jonathan looks after the agronomics of growing the cotton and soybeans. Ann drives the tractor with the bale spear and Jonathan keeps up with the module tags and submits the tag information to the gin through an app on his iPhone. Jonathan is a skilled mechanic and works in the shop on the planter and cotton picker. Jonathan also helps Keith service the picker each morning before they start harvest for the day.
Jonathan has a passion working with North Carolina State researchers and Extension. "Researchers want to know what's going on in real life. They want to know what's going on outside the greenhouse," Jonathan says.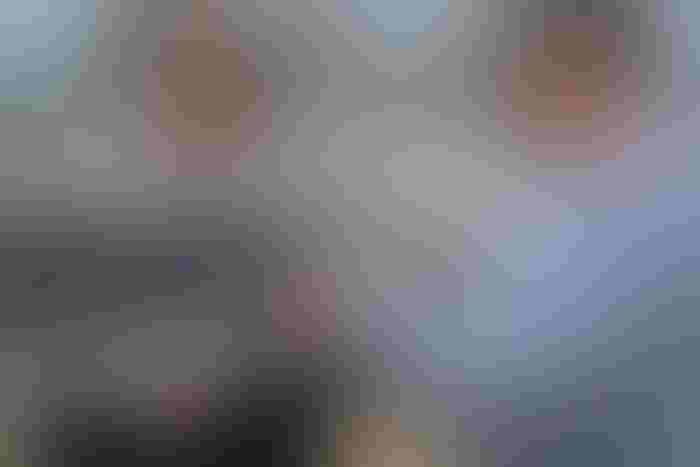 In a Farm Press file photo, Jonathan and Keith Evans check the nozzles on their RoGator RG 1300 sprayer. The father and son were featured on the cover of the March 14, 2018 issue of Southeast Farm Press for their dicamba stewardship efforts. (John Hart)
The family has long been recognized for their dicamba stewardship efforts and were featured on the cover of the March 14, 2018 issue of Southeast Farm Press for their success in safely using dicamba.
"Jonathan is looking at all angles on how to be more efficient and I applaud him for that. What sets him apart is his hunger for more knowledge about farming," says Charlie Cahoon, North Carolina State University Extension weed specialist for cotton and corn.
Cahoon says Jonathan is always asking questions, always looking for ways to improve the operation and do things better. Cahoon notes that dicamba stewardship is still a passion for the family and Jonathan is always looking at ways improve his herbicide program.
Jonathan says he likes the challenges of cotton farming. He really likes to do his homework on cotton varieties, finding the varieties that will best yield on his different soil types.
"I like cotton the best because you have a little more influence on it. It takes more management. You can manipulate it more," Jonathan says. 
In addition, Jonathan is a deacon at their church, Elm Grove Baptist Church, which is just down the road from their home and shop on Old Bailey Highway. Amazingly, Jonathan records the church worship services each Sunday and puts them on YouTube and streams them on Facebook.
Jonathan also went on a mission trip to Ukraine in 2000, just two years after his accident, where he was part of a group that passed out 75,000 bibles. Ann says Jonathan shared his testimony while in Ukraine and has also shared his testimony to local churches and youth groups.
"I attribute a lot of this to God's grace and mercy on Jonathan. Our family and friends prayed for us for hours and hours as we went through all of this," Ann says.
After returning to his native North Carolina in early 2015 after being a cotton agronomist at the University of Georgia, North Carolina State University Extension Cotton Specialist Guy Collins points out he met Jonathan almost immediately after starting his new job.
"I have been very impressed with the attention to detail he has and the types of questions he asks. He is very thorough at researching things. He is very much a critical thinker. He comes to you with some of the most intelligent and thought- provoking questions we get, and I've always been impressed with that. Later I learned that he is blind, and it is just amazing to me how well he has adjusted to that," Collins says.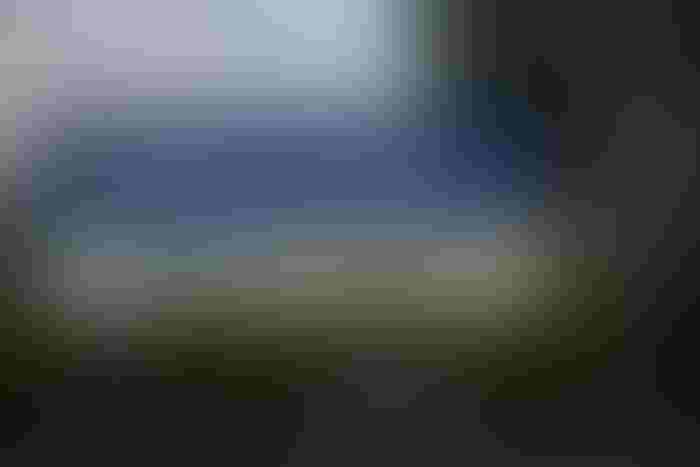 Jonathan Evans serves as a deacon at Elm Grove Baptist Church, just down the road from the family's home and shop on Old Bailey Highway near Nashville, N.C. (John Hart)
Subscribe to receive top agriculture news
Be informed daily with these free e-newsletters
You May Also Like
---