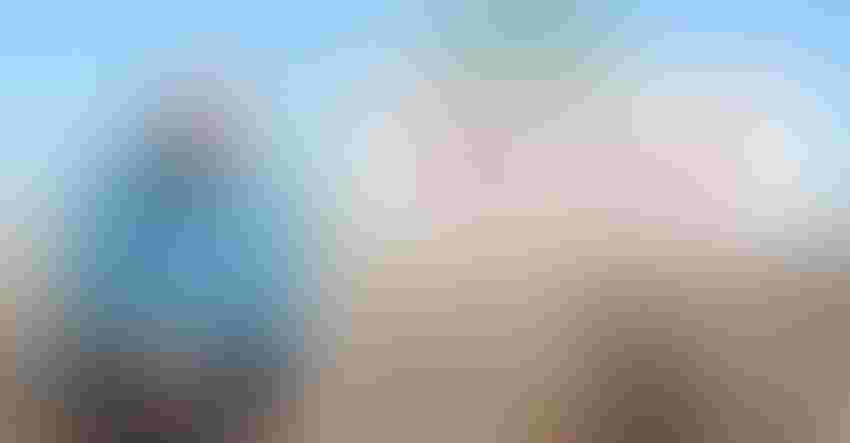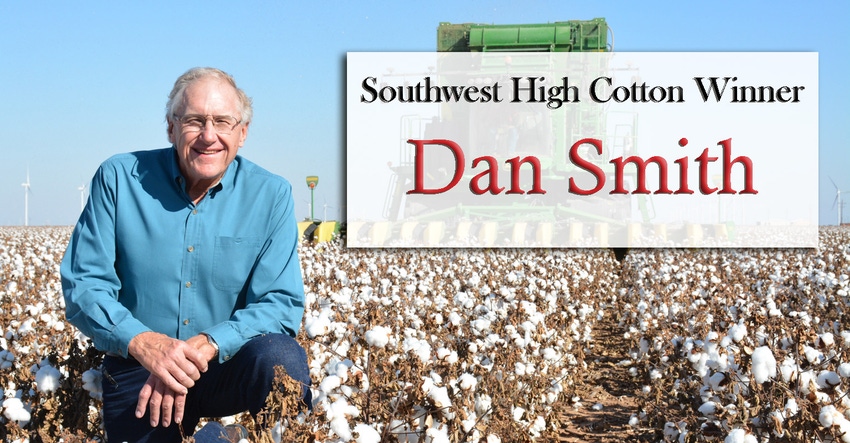 For almost half a century, Dan and Reeda Cay Smith have been producing cotton in Floyd, Briscoe and Hale counties.
Reeda Cay calls cotton their lifeblood. Dan says it's what built this country. Together they agree it takes faith to grow it. But Dan will also tell you it requires a willingness to change.
See, 2020 High Cotton winners exemplify faith and family
"It's unbelievable, in my 45 years of farming (I'm 65 now) and having grown up on this farm, what I've seen change. We still drive around in pickups looking at the crops. And you still wonder if you did the right thing, and you still get hailed out in June." But from his irrigation methods to his tillage practices to what he uses to harvest his cotton, the Smiths' Texas farming operation continues to evolve.
This progression, combined with sustainable practices and high yields, earned Dan and Reeda Cay Smith the 2020 High Cotton award for the Southwest. 
Sitting around the kitchen table in Dan's childhood home, they talked candidly about the joys and struggles of farming cotton on the Texas Plains, where the weather is often their biggest adversary.  
"Our storms are violent," Reeda Cay says.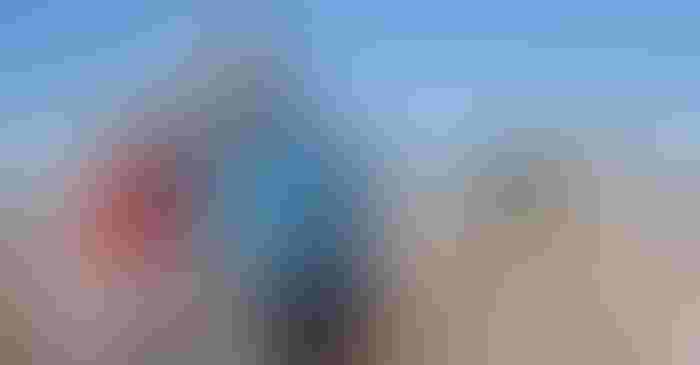 "In my 45 years, 22 of those, I lost at least 75% of my crop," says Dan, who also grows corn, milo and wheat. "Probably five of those years, I lost everything. That's how harsh it is to farm out here. There are very few years that every acre of first planting goes to harvest.  It's very rare.
"Used to, people didn't carry crop insurance. Now, it's seldom I don't have a claim."
IRRIGATION
To maintain yields and conserve water, Dan continually changes irrigation methods. In a region with a depleting Ogallala Aquifer, Smith has transitioned from irrigating through underground concrete tile, "which leaked," to PVC pipe and in 1977 installing his first center pivot.
"We don't really save any water," he says. "The wells run just as much as they did before, but it's a more efficient delivery and covers more acres."
In 2004, he increased efficiency again by installing 40-inch subsurface drip irrigation on fields where center pivots didn't fit. "It's by far the most efficient delivery of water because it's underground, right at the roots and very little water, if any, will seep to the top.
"When running drip systems, I'll plant the cotton right on top of it. In the summer, you never see any water come to the surface unless there's a skip. Maybe there are no plants for a couple of feet and the water will actually get to the top. But where there are plants, it's soaking it up."
To improve water management, Dan also uses AquaSpy moisture sensors. "Where we still have decent water, the sensors keep us from over- or underwatering and with drip systems, especially a 40-inch drip, you can over water, especially cotton. You can give it too much and in cotton, you can get too much water and actually hurt it."
NO-TILL
Smith has also changed tillage practices. In 1995, he began experimenting with no-till on a 10-acre plot. "Experimenting was all it was. We didn't have the equipment, the technology or the planters to seed." He planted cotton in wheat stubble.
In 2004, technology turned a corner. "It was one of the biggest years of change I know of because I got GPS and my first drip system. That was also the introduction of the John Deere 7460, 8-row cotton stripper, which made a profound difference in cotton production in the South Plains. Also, a variety, FiberMax 960, got us going."
Planter technology also improved, and his tillage practices continued to progress.
"I am sold on no-till. I'm not 100% but I'm close to it. I don't put near the hours on my tractors, so I'm saving tractors, equipment and energy."
Since converting to no-till, Dan's irrigated yields are about the same but yields on his dryland acres have increased. "It's harder to no-till on dryland because you are completely dependent on rain. If it does rain, I think it sources the water better. I say that because after a big rain, I drive by a no-till field and there's no water standing."
Overall, "You're burning less energy to take care of the crop," he adds.
To learn more about Dan and Reeda Cay, see their photo gallery, Cotton: 'lifeblood' for Lockney, Texas farmers.
Dan admits no-till does have its challenges. "You've got to watch the weed problem and it's different weed control."
Dan battles pigweed, marestail and kochia. "Kochia is really bad."
He spends more money controlling weeds with no-till than conventional. "I still think there's a savings when you look at everything else I'm saving."
When Roundup Ready first came on the market, Dan says weed treatment was simple. "It was the silver bullet. Now, we've got these resistant weeds and the last two years we have what I call super weeds that are becoming resistant to just about everything."
Rather than spraying, Dan resorted to hoeing a lot of it. But in 2020, he will plant all his acres with dicamba cotton.
"I've been planting some varieties that are just Roundup and Liberty, but the weed situation's getting so bad that I'm going to need that third mode of action."
SOIL TESTING
Soil testing also improves efficiency. "I soil test multiple areas in the field to see exactly what the crop needs, so I'm not giving it more than I have to."
He's adjusted fertilizer application timing.
"I was getting hailed out and I had a lot of fertilizer already in the crop, so I started fertilizing through the pivots about July 1.
"That's when we really start pouring the fertilizer to it. That's how crazy it is to farm in this part of the country. You don't have any idea what you're going to have come July 4. I've had many Fourth of July's where I had bare ground. That will make you swallow pretty hard."
SKIP-ROW
Dan is also altering planting patterns on fields with limited irrigation. In 2019, from planting a whole circle to a half-circle, he transitioned to skip-row planting on three of his farms — two rows in and two rows out.
"I barely have enough water to get to the end of the pivot. But when you shut off every other drop, you've got plenty of water. You run it slow and it soaks over the rows."
With skip-row, every other drop is turned off and the crop is only watered between the two rows in cotton. In 2020, he'll plant on the two bare rows. "It's in my no-till. Last year's crop is my wind protection to keep the field from blowing."
2020
He's also reducing acreage. "2020 is a big year of change because I am decreasing the size of my farm. There's certain land I just hadn't made any money on in so long. In about 2016, I began to track it closely because I wanted to make sure of what I was seeing. I'm not one of these guys that can always tell you my profit per acre on each individual farm, but I did it on those and there's just no use in it.
"Land you own, that's paid for, you can break even and maybe make a little bit, but the other land is just not working."
EMPLOYEES
One thing that hasn't changed on Dan's farm is his two employees —Johnny Peralez, who has worked with him for 31 years, and Frank Jimenez, 10 years. "The labor situation is terrible. I've got two longtime employees I trust implicitly; they're like family. I'm not ready to retire, but I hope they'll stay with me."
Though Reeda Cay and Dan admit farming is tough, Dan says, "I've never thought about quitting. Farming is all I ever wanted to do. I'm always ready to try new things. It just goes back to change is going to happen. There's no way around it."
Subscribe to receive top agriculture news
Be informed daily with these free e-newsletters
You May Also Like
---