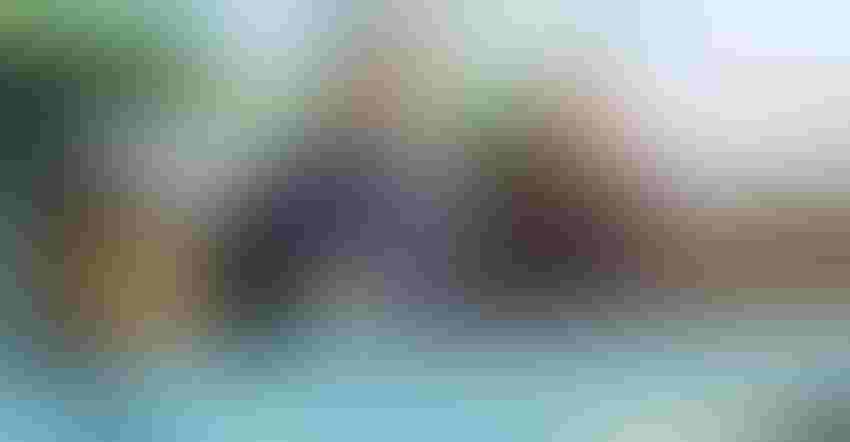 Justin Hawkins, and his father, Cole, stand beside their farm's mammoth Amadas 9980 combine during this year's peanut harvest on Hawkins Farms just outside of Leachville, Ark.
Brad Robb
Justin Hawkins had just gathered up his college text books and was ready to walk out the door to attend his 9:30 a.m. class when he thought something exploded at the farm shop. After walking out of the house, looking toward the shop and seeing no smoke, the ground began rumbling. He knew it was an earthquake.
"You can hear them before you feel them," says the 34-year-old, fifth generation farmer from Leachville, Ark. "It sounds like low-level thunder rolling across the ground. It's an eerie feeling when the floor you're standing on begins to shake."
Leachville, Ark., lies directly over the southern tip of the New Madrid Seismic Zone, commonly called the New Madrid Fault. There's not a field in the 5,000 acres on the Hawkins Farms that has one consistent soil-type. "You can go from a large area of sand blow to gumbo in less than a quarter mile," says Hawkins, referring to the scattered deposits of sandy ground left after liquefaction of water-saturated, sandy sediment from previous earthquakes. "The last time I felt a tremor was 2017. We don't mind the ones that register one and two on the Richter Scale because we hope they relieve a pressure and keep the big ones from coming."
On a partly-cloudy November day that finally did not include rain, Hawkins was navigating a monstrous Amadas 9980 combine across dirt roads intended for smaller equipment. It was time to get the peanut crop out of the fields. It was actually past time. "The last time we thrashed peanuts was eight days ago. Then, another rain hit," says Hawkins, with a frustrated tone in his voice. "This harvest has lasted too long. We've got too many acres of peanuts left to get, and cold weather is coming."
Peanuts, Cotton and Watermelons
Peanuts were first planted on Hawkins Farms four years ago. The market was right for peanuts and they knew it was an excellent rotation for cotton, but growing peanuts was an adjustment in so many ways for Hawkins and his family. With 1,600 acres dedicated to peanuts this year, Hawkins feels 3 tons-an-acre yields give his operation a competitive advantage at market.
They planted a Georgia 06G variety on virgin peanut ground and post-planting inputs were limited — another advantage. "After the corn market tanked, peanuts were the way to go," says Hawkins. "Now that we're growing them, we'll stay with them."
With 14 crops under his belt, learning to grow peanuts came with a huge learning curve. The biggest obstacle he had to overcome was patience. "I plant cotton at seven mile-per-hour, spray cotton at 12-15 miles-per-hour, and harvest cotton at five miles-per-hour," says Hawkins, as he lazily plugged along harvesting peanuts at one mile-per-hour. "Nothing you do with peanuts is fast."
All peanuts from Hawkins Farms are delivered to Jeff Reese at the Birdsong buying point in Portia, Ark. The facility handled more peanut tonnage last year than any other Birdsong buying point. "If our crop falls off this year, it may fall short from that mark, but we'll see," adds Hawkins.
Reese has been with Birdsong since 2012, coming from a rice and soybean farming operation. "It was a pleasure working with Justin and his family," says Reese. "They are not only good customers, but good friends."
Cotton was good in Mississippi County, Ark., this season. Hawkins Farms dedicated 3,600 acres to the crop this year. "Our cotton was good to slightly above average. I think we'll end up with a per-acre yield average around 1,250 pounds," says Hawkins. "By Oct. 15, we were through with cotton, thanks to some help from our cousin — whose cotton we helped harvest last year."
Overall, it was more difficult to keep water on Hawkins' crops this season. It is difficult to pump water through sand blows in hot, dry summers. "The extended dry period and high nighttime temperatures hurt our cotton yields a bit," adds Hawkins, despite being 95 percent irrigated, with wells on about every 160 acres. "We have a few pivots, but we layout miles and miles of poly tubing."
Subsurface drip tape under their 180 acres of watermelons lets them spoon-feed nitrogen when needed. "We transplanted vines around May 1 and started harvesting around the middle of June, but we picked watermelons until Aug. 10," says Hawkins. "I just wish the market for melons had been better."
Heath Hawkins, the youngest of the Hawkins brothers, handles the watermelon side of the operation, while Justin and his other brother, Mark, handle the cotton and peanuts. "We bring in a good number of workers when it's time to harvest our watermelons," says Justin Hawkins. "But we maintain five full-time workers and a couple of part-time guys when we start harvesting. They've been with us for multiple years and while that's a good thing, it is an anomaly across so many farming operations."
Drift, the Land and Family
Although there were no widespread impacts to his crops this year from drift, one storm brought in some lifted 2,4-D from some Enlist cotton — Hawkins Farms planted all dicamba-tolerant cotton in 2018. "This is the first year in three years we haven't had some type of damage from dicamba drift on our operation," says Hawkins. "And dicamba hasn't been approved to spray in Arkansas for one of those years — if that tells you anything!"
Hawkins considers his part of the region ground zero for herbicide drift because of the way the geography of the land is laid out. "From the gravel road 200 yards ahead, to that tree line in the distance, there are 360 acres three different crops being farmed by five different growers. We have great diversity in crop mix in our area, and that make it difficult to use dicamba around here."
When each year's planting season is done, dust storms are the norm when storm fronts bring in high winds, and with those winds come a higher propensity for herbicide drift. Fields in this part of Mississippi County resemble Midwestern flyover states from 40,000 feet. "You've got cotton here, peanuts there and most of the time, the only thing separating each field is either a gravel road or a turnrow," explains Hawkins. "Although we've had a few heated conversations, they have been very few because we have good relationships with our farming neighbors. We're all in this business together when it comes down to it."
It helps that every acre on Hawkins Farms is cover cropped with a blend of rye, wheat, and cowpeas to hold down the sand when the winds blow. The cover crop blend is planted with an air seeder mounted on a 12-row hipper in the winter. They do not need the cover crop's moisture-retention benefits, water is easily found in this area above 100 feet. "In some places, if I dig an 8-foot hole, it'll fill with water," says Hawkins. "We may fall into a sink hole if the big one comes, but until then, we have an abundant supply of water!"
The Hawkins family is also blessed with good health. Justin's grandfather, Snowden, now 83, drives along a turnrow watching his grandson thrash the last row of peanuts on one field. Snowden's son Cole (Justin's father) is driving a tractor with a peanut fluffer hitched to the back to try and dry and remove excess soil and foreign material before Justin arrives.
Justin's grandma used to do the farming books. Then his mother took over, and today, Justin's wife, Taffy, controls the books and keeps everyone in line. "That's a full-time job in itself and I couldn't do this job without her," says Hawkins.
Passing a field where this year's watermelons were harvested, Hawkins talks about the excellent dove hunt they had on Labor Day over the field. "Everyone had their limit by 7:30 a.m.," remembers Hawkins. "If you didn't, you just can't shoot!"
Two 2012 model John Deere on-board module harvesters sit outside the farm shop. In 2013, the family was farming 9,500 acres of cotton which was picked with those three harvesters. "Technology has come so far," says Hawkins. "There's a picture in our office of the first mechanical harvester this farm ever owned. My grandfather bought it. It was an Allis-Chalmers one row picker. He has seen so many technology improvements in his life. I just wonder how many more I'll see in mine."
About the Author(s)
Subscribe to receive top agriculture news
Be informed daily with these free e-newsletters
You May Also Like
---