From the orphanage to a prolific ag career, a gentleman's life
From the orphanage to a prolific ag career, a gentleman's life
Charles Douglas wondered eight decades ago why he was at the Arizona orphanage. His life since led to Air Force service, the TVA, ag academics and to being Sunbelt Ag Expo's longtime champion.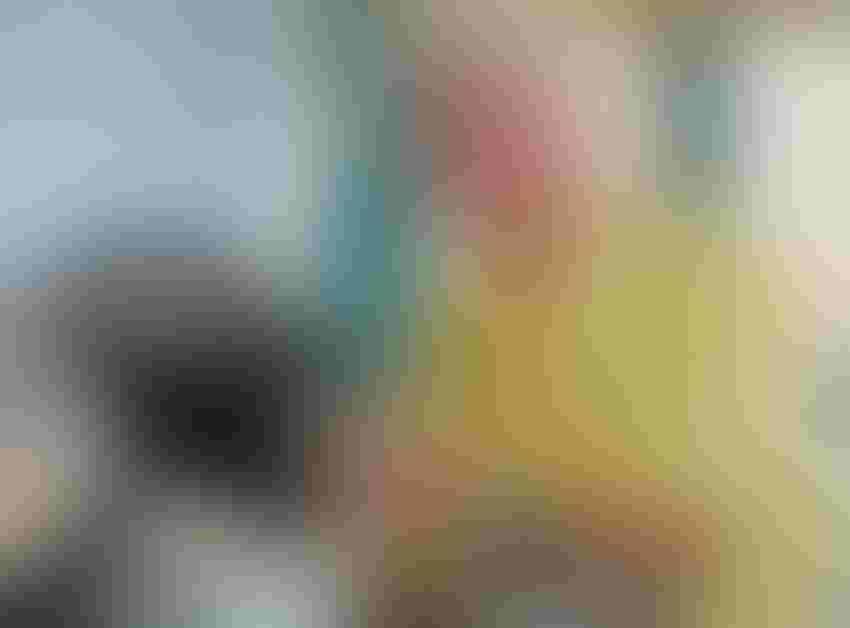 Charles Douglas after the Sunbelt Ag Expo Field Day this past July where he was doing what needed to be done to help the dayrs' attendees be more comfortable and informed
Charles Douglas would rather talk about the good works of others. But if you appeal to his generosity, he'll tell you about the boy in the orphanage who later became a department head at a major agriculture research station and who today happily lends his services to an event he has held dear since its beginning.
"OK," Douglas says in a distinctive, smooth baritone voice when asked if he'd mind talking after the Sunbelt Ag Expo Field Day this past July, where he was doing what needed to be done to help the day's attendees be more comfortable and informed.  "But if you really want a good story or learn about some great work, you should talk to ….," he insists, and then lists a few names with a well-said synopsis of each of their good works.
Doug, as he is respectfully called by friends, doesn't think age is a subject to dwell on, but he confirms he is north of 80 years old but well shy of 90. Men with half his years would do good to have half his daily drive.
The Sunbelt Ag Expo will be Oct. 18-20 at Spence Field in Moultrie, Ga.
"Whether it is making ID stakes for variety trials and making sure they are properly placed or leading a tour with the famous bullhorn, Dr. Charles 'Doug' Douglas has been a mainstay at the Sunbelt Ag Expo since its inception in 1978. Doug's love of the land and his fellow man paired with the desire to help out wherever needed are what makes him so special," said Chip Blalock, executive director of the Sunbelt Ag Expo. "Doug is the epitome of a Southern Gentleman, a true agriculturist and a public relations guru."
Phebe and John Crum
Doug remembers eight decades back the orphanage in the Arizona desert not being a great place, where what was called strict discipline at the time might be called something else today. He's father died while Doug was at the orphanage. He remembers having questions about why he was where he was, but not having anyone really to ask.
He remembers his grandparents, Phebe and John Crum, coming to get him in Arizona when he was 7 or so and taking him to Illinois. "After being shuffled around as much I was, it was just another thing happening. I really didn't have any feelings about it," he said. "But eventually I fell in love with my grandparents."
He grew up in Illinois during a time when 1800s farming technology was not uncommon to still see in action, and it is where he met a farmer's daughter named Betty. They've been married 64 years. The couple has lived for the last four decades in Tifton, Ga., where they raised their daughters, Sherri and Sandy. The town remains the gravitational point for the extended family today.
He worked his way through two years of college in Illinois and then in the early 1950s served four years in the Air Force, which included being stationed at a few place in the United States with his new bride Betty. The couple was eventually stationed in Newfoundland, the headquarters of the Northeast Air Command, where his job was "to learn if there was any foreign or funny business going on up there," he said.
In Newfoundland, Betty worked for the Royal Bank of Canada as a leader of its international exchange department. In Newfoundland, most goods are imported. Betty dealt with a lot of cargo shipments and businesses people.
After the Air Force, he entered studies at the University of Illinois with the support of Betty working in an optician's office and pushing him to finish at least one more semester when as always at mid-semester he would want to quit college. But at UI he worked for an Extension specialist, too.
"That (Extension) work and going out to the counties and being with farmers set me on fire; that's what I wanted to do," he said.
From TVA to Georgia
After college and between 1961 and 1969, he went to work for the Tennessee Valley Authority working at first in five states to promote the manufacturing and use of fertilizers for improved crop production. With that job, he eventually oversaw a full-time staff and covered 20 states. With this TVA job, he travelled way more than a man who wanted a good family life should, he said.
As 1969 approached, his TVA division had major cutbacks. He had a TVA job but had reached the top rung of that ladder. Through agronomy connections, he learned of a job in Georgia. He applied for it, and as the 1970s moved in, the Douglas family moved to Tifton, Ga., where Doug was head of the Agronomy Department at the Coastal Plain Experiment Station.
From his position at the Coastal Plain Experiment Station, more commonly known today as the University of Georgia Tifton Campus, Doug was involved in the early planning that led to the Sunbelt Ag Expo show in Moultrie, Ga. He is in the Expo's official history book for doing such things, credited with chairing or helping chair committees that worked toward the creation and nurturing of the show in its early years, rallying the essential support publically and internally it needed to grow. He admits he wasn't shy about expressing how he felt things should go to make the Expo work.
From the beginning, he was one of the primary champions of the Sunbelt Ag Expo. He still is a champion for the show, and he's there today wherever needed, a testament to the enduring quality of a good venture and the enduring quality of a man.
"It's just life."
Doug has only missed two Sunbelt Ag Expo shows: The first miss was many years ago when he was head of the national agronomy association and the group's annual meeting one year "unfortunately" overlapped with the Expo show. The second miss was five years ago when the doctor told him he needed some serious surgery, which he successful recovered from but, again 'unfortunately' conflicted with the Expo show.
Doug retired from his official post at UGA many years ago. But a retirement of a career doesn't mean a retirement of life for the many people like Doug who don't allow a little thing like retirement get in the way of doing the things they enjoy and would do and did do for free anyway. And if those things echo the career you left, so much the better; it just means by luck or blessing you played right the cards that fell on the table in front of you.
As Doug said many time during an interview, "It's just life."
You'd have to look hard to find someone around the Expo who'd say a bad word about Charles Douglas.
"I've always said that I could only hope to one day be as good of a public relations person as Dr. Douglas.  It's been a privilege to have the opportunity to work with him. As I've watched and learned from him over the years, I've come to realize that there will never be another one like him," said Gina McDonald, director of marketing for the Sunbelt Expo. "Dr. Douglas is always ready and willing to help whether that's helping a reporter find a good story, explaining the intricacies of farming to an international visitor or conducting a last minute tour, he does it all and with a bright smile. He's quick with a kind word and can put anyone at ease. His love for agriculture, the Expo and people in general never fails when promoting the Sunbelt Expo message."
Subscribe to receive top agriculture news
Be informed daily with these free e-newsletters
You May Also Like
---