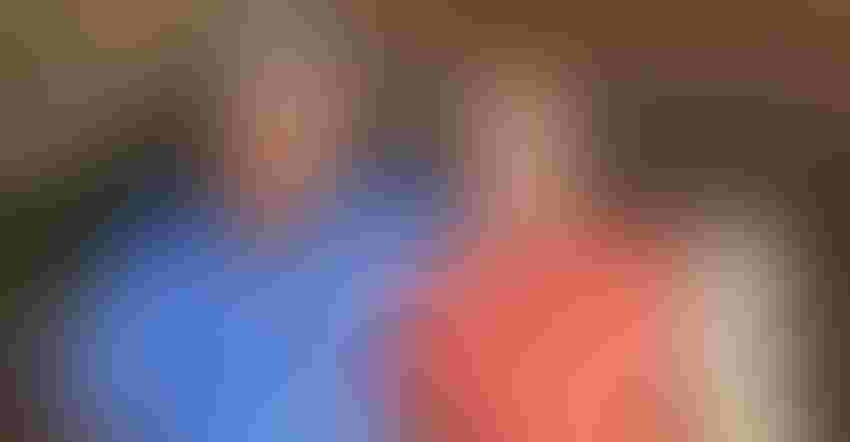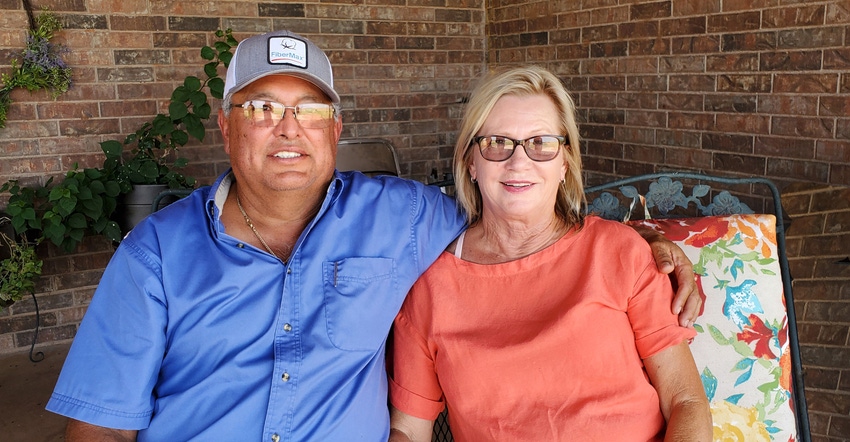 Richard and Judy Gaona sit on the front porch of Richard's childhood home and now their home. This house and the surrounding farmland was purchased by his late parents Jeronimo and Juanita in 1971.
Shelley E. Huguley
As a teenage boy with a second-grade education and the brother of 11 siblings, Jeronimo Gaona left his family's small farm in the southern state of Nuevo Leon Mexico for the border town of Reynosa in 1945, in search of work and a better life.
He was 13 years old and living with a family friend when he began traveling with migrant workers, picking fruits and vegetables from South Texas up to Washington State.
But in 1955 and in his early 20s, that life of migration ended in the cotton fields of Fisher County, Texas, where a friendship and an opportunity helped him transition from temporary laborer to Texas landowner.
"My dad married my mom, Juanita Jasso, in 1957, while working as a farm hand for Thurman Terry and as a night ginner at the Farmers Union Co-op Gin," says Richard Gaona, Jeronimo's oldest son. "Thurman helped my dad get started. As the years went by, he talked to my dad about how to buy a farm."
But Jeronimo would need a loan and U.S. citizenship to qualify for it. So, in 1966, he became a U.S. citizen and bought his first 160 acres of American soil on the Texas Rolling Plains.
"He took out a 40-year loan from FMHA," Richard recalls. "Since he had become a citizen, he could buy land, and start farming."
Gradually, Jeronimo's acreage grew. "He rented land from Thurman and, as the years went by, started buying more land. He purchased about 1,400 acres."
To diversify his income, he partnered with the Terry family in 1975, purchasing a cotton gin on the east side of Roby that became known as Terry's Gin.
"Those guys saw that they could own a gin and have additional income," Richard says. "They had vision. That's who taught us." The gin, now known as Longworth Gin, sold in 2006.  
At a crossroads
History has a way of repeating itself. In 1977, Richard, a Roby High School senior, found himself at a crossroads.
"My brother and I worked. We knew how to drive tractors; we knew how to do anything on the farm. A landowner, Glendale Ammons, saw that I was a hard worker and asked me if I had decided what I was going to do after graduation. I told him, not really. He said, 'If you decide to farm, I've got 160 acres I'll rent you.'"
Richard discussed his options with his dad, who asked, "What do you want to do?"
He thought about it, accepted Ammons' offer, and with the help of his father, began farming.
"My father and I started with me working for him and using his equipment. Then we started a partnership, and over the years, with my dad's help, I began buying equipment. At one time, we were working about 5,000 acres of cotton."
Today, Richard farms the land his father purchased in 1965, and lives with his wife, Judy, in his childhood home on land his father and late mother Juanita bought in 1971. He continues to rent from Ammons. "Glendale rented me another 160 acres, and I've been working that land for the last 43 years."
Leaving a legacy
Jeronimo, who passed away in 2004, was passionate about serving his community, unafraid of asking questions and deeply convicted about caring for the soil.
"He was a good teacher," Richard says, admitting they had their differences. "We disagreed on that 40-year note. I told him, 'Dad, pay that thing off.' He said, 'The interest rate is cheap.' I said, 'My lands, you'd done paid all the interest. Pay the thing off.'
"He told me one day, 'I'm doing it my way, you do it your way.'" And Richard did. "Land I bought was never on a 30-year or 40-year note. It was 20-year, and I would try to get it paid off in 15. Those were challenges I placed on myself.
"But he took every bit of 40 years to pay off that loan," Richard says as he laughed.
Jeronimo asked a lot of questions. "He wasn't afraid to try new things. When he started farming, they ran two-row equipment, then went to four and then eight.
"If something didn't work, he tried to make it work," Richard says.
Caring for the soil was a priority. "We've got terraces and he wanted to make sure that they held like they're supposed to, that they weren't dumping water to the neighbors. Yes, you're going to have broken terraces if you get too much rain at once. But a terrace is built to move the water around.
"He was good about taking care of the land."
In 1971, Jeronimo was recognized by the Soil and Water Conservation District for his tillage practices.
Water conservation was also foremost in his production practices.
"When we got soil moisture during planting, my dad was one who thought if it's time to plant, then let's plant. We tried to get a crop up no matter what," Richard says.
"He knew we had a shortage of rainfall, so he tried to conserve as much as he could to make it last, and that's what we're trying to do today."
Moisture conservation
Richard has reduced tillage to save moisture for his primarily dryland cotton crop.
"I've tried to do minimum-till as much as I can, but I do have some strip-till. We've got sandier soils and wind, so I'll sow wheat, strip-till it and put fertilizer down at that time."
On some acres, he uses conventional tillage. "But we're just chiseling, laying off the rows and then planting. We're doing as little plowing as we can."
Richard plants skip-row cotton.
"I do a two-in-one blank," he says. "The plants get the moisture from that blank row and our yields are holding because of that."
Richard has 200 drip-irrigated acres, but he's 90% dryland and his region is 100% dependent on rainfall. "If we don't get rain, we can't produce a crop," he says. "We can't just flip a switch and turn on the pump."
Service
Richard is following his father's legacy of service. "He helped with the rodeo or anything going on in town and got us to do the same," Richard says.
For the past four years, Richard has served as chairman of the Rolling Plains Cotton Growers. He is also the state producer chairman for Texas for the American Cotton Producers, while also serving on the National Cotton Council and Cotton Council International (CCI).
Although Jeronimo isn't around to witness how GPS and other technology has transformed farming, Richard says he would have been amazed. "I sit back and think, 'Dad would have liked this.' But I know he's looking down on me and saying, 'I'm glad I turned the farm over to you and taught you how to care for the parcel land we've got.'"
Subscribe to receive top agriculture news
Be informed daily with these free e-newsletters
You May Also Like
---