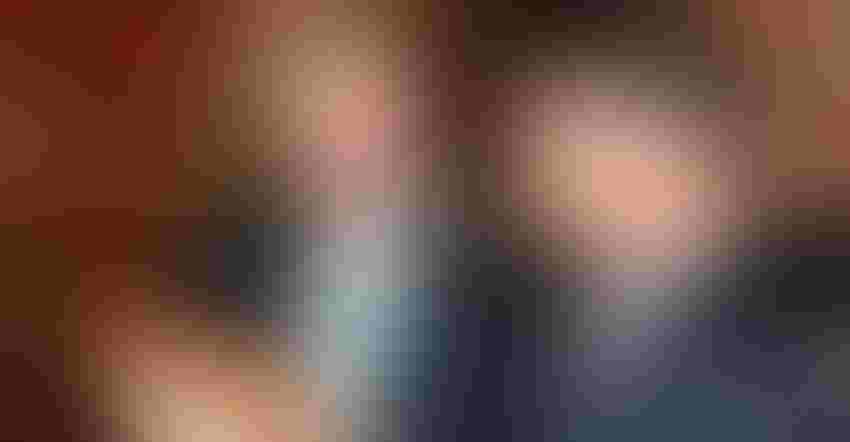 Steve Nichols, BASF head of agronomic services manager, left, congratulates Dr. Tyson Raper, on his award.
Dr. Tyson Raper was named the 2019 Beltwide Extension Cotton Specialist of the Year at an annual reception and awards dinner at the Beltwide Cotton Conferences in New Orleans, La. Raper is an assistant professor of cotton and small grain production at the University of Tennessee, Jackson. 
The award, given for the last 29 years, is voted on by cotton specialists from across the Cotton Belt. Friend and colleague Dr. Darrin Dodds, Mississippi State University cotton specialist, presented the award to Raper after "roasting" him and then acknowledging his contributions to the cotton industry.
"He's an expert, not only on variety selection, but variety evaluation — trying to figure out where they fit the best — and also plant-growth regulators. He's done his best to become an expert in all that we do," says Dodds. "I would argue this person was born to do what we do. His family was sort of in the industry, so he was raised around It — this was a natural progression for this guy."
See Photo Gallery of the evening's events, 2019 Beltwide Extension Cotton Specialist of the Year
Raper leads the university's education and research efforts involving cotton, wheat and other small grain crops. He also works closely with producers and the agricultural industry to promote practices for improved crop profitability and sustainability.
A FATHER'S PRIDE
Also, on hand for the presentation was his father Dr. Randy Raper, assistant director for the Oklahoma Agricultural Experiment Station and former USDA agricultural engineer and lead scientist.
"I've looked at the list of people who have gotten this award over the years," Randy says, naming several of the past honorees he's worked with throughout his career. "I'm so proud to know your name is among the recipients."
Upon receiving the award, Raper addressed the crowd, "I can't tell you how honored I am to be recognized. Thank you so much. I really appreciate all of the relationships I have in this room; that's really the part about this job I love the most, the relationships."
Dr. Dan Fromme, LSU AgCenter cotton specialist, says Tyson is most deserving of this award. "He's known for his expertise in cotton variety selection. I even knew Tyson before he became a cotton specialist. I saw him in action then and could tell he was going to be a winner."
The Extension Cotton Specialist of the Year award is sponsored by BASF. "We are really proud of you," Steve Nichols, BASF head of agronomic services manager said to Tyson while also addressing the other specialists. "One thing that keeps coming up over and over is relationships — that's something that is very special to us. We always talk about being connected to the industry, about being connected to this group right here, so we appreciate that. I would just like to say to you cotton specialists, thank you for continuing to let us sponsor this event. It means a lot to us."
Monty Christian, BASF head of Global Cotton, described the crowd of specialists as facilitators. "What you do is very, very special. We depend on you. You are the facilitator of information in the cotton industry that a lot of people don't have today. Field experience is not easily replaced. The internet is going to do a few things, the iPhone is going to do a few things, but you do something very important."
LOOKING AHEAD
As Tyson looks ahead, even though the 2018 harvest season was difficult in Tennessee, he says the future looks promising.
"We had a tremendous amount of rain late in the season. We were still able to get a large quantity of the crop out and didn't lose a lot to fallout, but we did see some hits on quality. If we get a normal year, I think things are going to quickly turn around. We definitely have the fiber quality and yield potential in the germplasm we have right now to be very profitable."
When asked what influence his father has had on him and his career, Tyson says, "He's been a mentor for me since I was a kid. Some of my earliest memories are watching my dad do very similar work to what I'm doing today in research and seeing those results while he was at USDA. I'm very happy to play a small part and hopefully contribute to the industry and commodity that's meant a lot to my family."
Subscribe to receive top agriculture news
Be informed daily with these free e-newsletters
You May Also Like
---