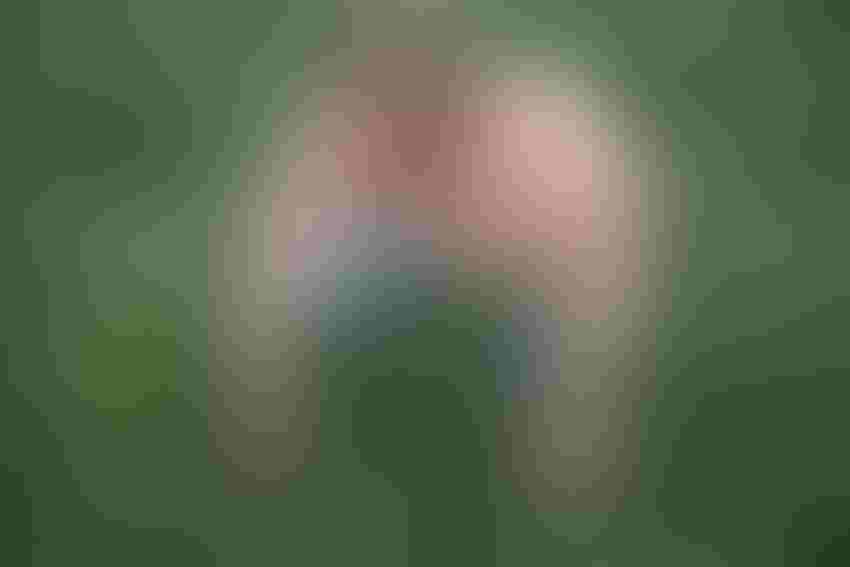 R.N. Hopper checks the boll load in a Petersburg, Texas cotton field. Hopper and his father Ronnie, maintain crop residue on the soil to improve soil health. Texas Tech professor, Bobbie McMichael, is evaluating the Hopper's tillage and rotation system as part of residue management study. He reported some of the findings at the recent Beltwide Cotton Conferences in Dallas
SWFP file photo
Texas cotton farmers are beginning to show more interest in no-till production, says Bobbie McMichael, and he advises that keeping residue on fields will improve soil health.
The Texas Tech University biology professor, speaking at the recent Beltwide Cotton Conferences in Dallas, said residue from cover crops and from previous plantings with no-till and reduced tillage systems, offers numerous benefits to the soil, including reducing water runoff, improving infiltration, and limiting soil erosion. It also benefits the soil and crop in a less visible way, improving microbial activity, especially fungi, which he says are more beneficial to soil and plant health than bacteria.
Soil temperature fluctuations affect viability of bacteria and fungi. Warmer soils favor bacteria.
McMichael reported on a study evaluating the effect of the daily temperature range on soil microflora. Kater Hake, vice president of agricultural and environmental research for Cotton Incorporated, was co-author of the study, conducted in the Texas Southern Plains.
Several factors contribute to soil health, McMichael says, including active saprophytic soil microflora, beneficial fungi and bacteria, moderate levels of soil nutrients, low levels of physical or chemical disturbance, and reduced soil temperature variability.
Related:AgriLife Extension specialist: Weed resistance could call for a more diversified herbicide plan
STABLE TEMPERATURES
The study examined the relationship of residue on temperature variability. Less variability, Hake says, increases bacteria and fungi in the soil.
"Cotton plants don't like hot or fluctuating temperature. Microorganisms don't either." More stable soil temperature regimes increase survival of microflora, which help with nutrient uptake, he says. "Roots also need stable temperatures. West Texas has hot soils — and that's not good for roots or fungi."
Hake said residue left on the soil in no-till systems reduce soil temperature fluctuations and support soil health.
McMichael says the microflora population also affects nutrient uptake. A more stable daily temperature range (DTR) favors fungi and improved nutrient uptake.
Part of the study included tests on R. N. Hopper's Petersburg, Texas, farm, where some fields have been in no-till production for 8 years to 10 years. Crop stubble accumulates from a three-way rotation of cotton, corn, and grain sorghum.  He plants winter wheat as a cover crop and terminates it in the spring. "R.N. says it took several years to build microbial biomass," McMichael says.
A key factor in a farmer's decision to use stubble may be moisture management, a significant factor when the residue comes from a winter cover crop, Hake says. Producers are concerned about the amount of soil moisture the cover demands to create adequate biomass. 
A discussion by Srinivasulu Ale, Texas AgriLife associate professor of research at Vernon, considered cover crop water demand, and optimum termination date of winter wheat to provide adequate residue without depleting moisture for a cotton crop. "Termination date is a critical factor," Hake says. The cover crop will remove water from the soil profile.
BEST OPPORTUNITY
Ale's study shows an early termination date, late March, offers the best opportunity to develop adequate biomass without depleting soil moisture in most years. In 2012, seed cotton yields in the residue test showed significant loss because of poor rainfall in 2011 and into the winter of 2012.
Knowing when to terminate is a critical issue, Hake says. "R.N. Hopper knows when to pull the plug on winter wheat — he tracks moisture closely. Ale's study shows that the big suck of moisture in a wheat cover crop comes in April and May, so terminating in March makes sense."
Residue on the soil surface improves water capture significantly, and evaporation loss is reduced.
"We are beginning to understand the need for stable DTR for the soil to be healthy. We develop a regime for really good fungi to thrive. The cover is important for better roots, better microbes, and temperature stability."
Choice of cover is also important, Hake says. "Wheat provides adequate biomass, but does not share plant pathogens with cotton, so the residue does not harbor organisms that would infect the cotton crop to follow. We are still trying to learn more about pathogens in residue."
The combination of residue and rotation helps Hopper improve production, McMichael says. He and Hake agree that Hopper and others who have made no-till and residue retention work are showing others the value of cover crops and maintaining old crop stubble.
About the Author(s) Senior Content Director, Farm Press/Farm Progress
Ron Smith has spent more than 40 years covering Sunbelt agriculture. Ron began his career in agricultural journalism as an Experiment Station and Extension editor at Clemson University, where he earned a Masters Degree in English in 1975. He served as associate editor for Southeast Farm Press from 1978 through 1989. In 1990, Smith helped launch Southern Turf Management Magazine and served as editor. He also helped launch two other regional Turf and Landscape publications and launched and edited Florida Grove and Vegetable Management for the Farm Press Group. Within two years of launch, the turf magazines were well-respected, award-winning publications. Ron has received numerous awards for writing and photography in both agriculture and landscape journalism. He is past president of The Turf and Ornamental Communicators Association and was chosen as the first media representative to the University of Georgia College of Agriculture Advisory Board. He was named Communicator of the Year for the Metropolitan Atlanta Agricultural Communicators Association. More recently, he was awarded the Norman Borlaug Lifetime Achievement Award by the Texas Plant Protection Association. Smith also worked in public relations, specializing in media relations for agricultural companies. Ron lives with his wife Pat in Johnson City, Tenn. They have two grown children, Stacey and Nick, and three grandsons, Aaron, Hunter and Walker.
Subscribe to receive top agriculture news
Be informed daily with these free e-newsletters
You May Also Like
---