Cutting acres works for North Carolina grower
Cutting acres works for North Carolina grower
• Lee Dickens took over the family farm in 1990, and one of the first things he did was to move the entire farming operation into a no-till system.• Though cotton has been his money crop for a long time, a beautiful crop of soybeans this year may knock King Cotton off its throne.• In 2011, he cut about a thousand acres, then another 500 or so acres this year.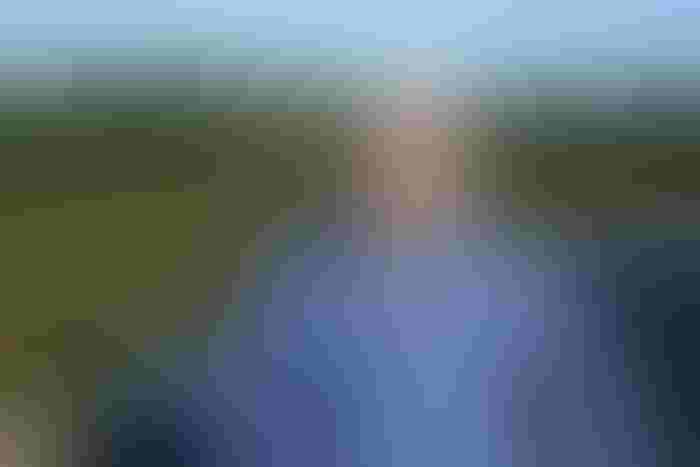 <p> NORTH CAROLINA GROWER Lee Dickens says long-term no-till has helped increase his cotton yield and quality.</p>
Cutting back on his cotton acres, changing varieties and sticking to his no-till plan have all helped make Halifax, N.C., grower Lee Dickens less stressed and better off on the bottom line.
Winning the Phytogen Best Yielder award didn't hurt his optimism for farming either, though he admits the award left him somewhere between surprised and shocked.
By entering the PhytoGen Best Yielder Club and sharing his experiences with planting PhytoGen brand varieties, Dickens, won a John Deere Gator XUV 550. Winning the Gator was a singular joy for Dickens, but growing two-bale per acre cotton with the variety was his biggest reward.
"I grew up farming and that's all I've ever known. My earliest recollections are riding on a tractor on our family farm, when I was three years old," Dickens says. Winning awards is nice, he says, but planting and harvesting a good crop is really what makes farming rewarding.
After graduating from college, Dickens came back to the farm and began taking over the farming operation, so his father could return to teaching at a local high school. Dickens is a fourth generation farmer, and his father left teaching to come back to Weldon, N.C. to farm with Lee's grandfather.
He took over the family farm in 1990, and one of the first things he did was to move the entire farming operation into a no-till system.
In the early days, Dickens says he sometimes wondered if no-till was going to work, but now it really seems to be paying off in terms of yield and quality of his crops.
"We started off with a strip-till rig and went from that into no-till, and now I wouldn't do it any other way," Dickens says.
He says he couldn't farm the number of acres he now works, with very little extra labor, without no-till.
Like in most areas of the country, the Roanoke River Valley, where he farms, good labor is hard to find and expensive to keep.
Helps with fuel bills
No-till also helps him keep his fuel bills down.
He went through most of the cotton season this year averaging about a gallon of fuel per acre of cotton planted. "If we were farming the way we did when my father and grandfather farmed this land, I suspect we would use at least twice that much fuel to produce a crop of cotton," he says.
Some years he grows some corn and wheat, but for most part he plants about half his land in cotton and half in soybeans. Though cotton has been his money crop for a long time, a beautiful crop of soybeans this year may knock King Cotton off its throne.
"I keep reading about $20 a bushel soybeans, and that's just more than I can comprehend. However, I also read where China was paying the equivalent of $20 a bushel for soybeans back in 2008, so it's reasonable to think they would be willing to pay $16-17 a bushel this year," he says.
At one time the North Carolina grower planted more than 3,000 acres of crops, and it was a challenge, he says. "I had a bad crop year in 2010, and I often felt like a hamster running inside a can — it just seemed like the harder I tried, the further behind I got," he adds.
In 2011, he cut about a thousand acres, then another 500 or so acres this year. "There were some farms that came up for lease renewal in 2011, and I decided to let those go back to the landowner. And, I was having really challenging labor problems, so it all worked out, and I was able to cut back the size of my farm to a more manageable size."
So far the results have been good both personally and economically, Dickens says. The smaller farming operation allows him to stay on top of things better. "I had a hard time getting everything harvested on time, and I think that contributed to some of the quality issues I had with my cotton crops back then," he says.
He says he can now pick all his cotton in October, which gives him much better turnout, better grades, and essentially a better bottom line.
"I shoot for 1,000 pounds of cotton each year, and on a smaller acreage I can come closer year in and year out to making that kind of yield."
Room for optimism
This year soybeans and cotton look good. Having forward contracted some of his cotton considerably higher than the current prices and looking at some 50 bushel per acre beans leaves the North Carolina grower with a lot of room for optimism.
So far, he says the cotton and soybean rotation seems to be working well for both crops.
He used to plant a lot of peanuts and peanuts and cotton is generally an ideal rotation. However, Dickens says he seems to consistently see a hundred pounds or more of cotton yield behind soybeans than he had behind peanuts or corn.
Going no-till also allows him to plant his cotton a couple of weeks later than he did when he was in a conventional-tillage system. He now tries to start planting cotton on May 1, which allows him to pick it all in late September and October, and he shoots for picking it all in October.
This year he used Powermax and Sharpen to burn down weeds and residue, prior to planting. He says he is growing some Liberty Link soybeans this year and has tried Liberty Link cotton in the past. The herbicide component, Liberty or Ignite, will be a good tool to have in the future, he says.
Dickens made a major switch to Phytogen variety cotton, which allows him to use Liberty on some of the Phytogen Widestrike cotton he plants. Glufosinate, or Liberty, isn't labeled for use on Widestrike cotton, but it can be used effectively, and Dickens says he does use the herbicide sparingly on some of his cotton.
He plants his cotton with a John Deere 1720, 12-row planter with a Yetter coulter and heavy duty row closer on the back. "I've never been a big fan of row cleaning, it just doesn't work for me," Dickens says.
"I try to keep planting as simple as I can. It works well for me," the North Carolina grower adds.
Going to Phytogen varieties has also played a big role in helping him cut his acreage and stress, he adds.
"I started with a few acres of Phytogen 375 a few years back, and it just out-performed all the other varieties I planted that first year."
Last year Phytogen 375 really worked well on more acres, leading Dickens to send in his story to the Phytogen Top Yielder Club.
"It was in the winter time, and I had some time, so I just wrote down a few words telling them about my experience with Phytogen 375. I didn't think much about it, and in fact forgot about it, then I got a call from Laurie Coulter, the Phytogen seed representative in this area, telling me I'd won the award," Dickens recalls.
The Gator got things off to a good start in 2012 and Mother Nature has come through with a good growing season, leaving Dickens optimistic about both his cotton and soybean crops this year.
About the Author(s)
Subscribe to receive top agriculture news
Be informed daily with these free e-newsletters
You May Also Like
---