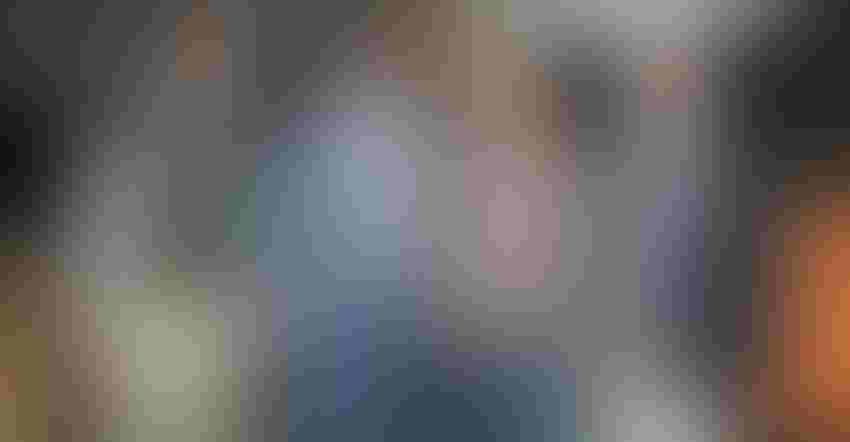 Extension specialists, from left, Tyler Sandlin, University of Auburn, Bill Robertson, University of Arkansas, Darrin Dodds, Mississippi State University, and Tyson Raper, University of Tennessee, provided their latest recommendations related to varieties, variety management, and the responsible use of herbicides at the 2019 Cotton Focus Meeting held at the West Tennessee Research and Education Center in Jackson, Tenn.
Brad Robb
The 2019 Cotton Focus Meeting at the West Tennessee Research and Education Center in Jackson, Tenn., continues to be the one meeting regional growers and consultants make a priority to attend each year. Dr. Tyson Raper, cotton and small grains Extension specialist, University of Tennessee, organized a roundtable discussion that included other cotton Extension specialists across the Mid-South who provided updates on variety selection, variety management, and other important cotton-centric topics.
It is no surprise that out of the gate dicamba and off-target movement were front and center. "It's irrelevant to me what technology you plant," said Dr. Darrin Dodds, Extension research professor, Mississippi State University. "Plant what works best for you and your operation."
That being said, Dodds explained how as little as 1/256 of a 32-fluid ounce rate of 4 pound/gallon dicamba per-acre can result in yield loss it if contacts cotton prior to its reproductive stage. "I think we all know cotton is more tolerant to dicamba than 2,4-D, and soybeans are much more tolerant to 2,4-D than they are to dicamba," added Dodds. "Research by Mississippi State's Dr. Dan Reynolds has shown that rates even as low as 1/16 of a 32-ounce volume can cause yield problems on mature cotton."
Dodds understood the complexity of relating to attendees just how little dicamba it would take to impact yield, so he illustrated visually with a can of soda. "There are 355 milliliters in a can of coke," said Dodds. "About one-hundredth of that amount on an acre (which is the size of a football field) will cause you a problem from dicamba on non-dicamba-tolerant cotton."
From a 2,4-D standpoint, less than 6 milliliters will negatively impact yields on non-2,4-D cotton. Dodds emphasized again to producers to plant what works best for their growing environment but urged them to remain cautious when making applications of either herbicide to keep it in the field where it is intended or these products may one day be regulated away.
Inversion Layer
Dodds showed a YouTube video of a sprayer going through a field at 7 miles per-hour with smoke bombs tied to the booms. With a humidity level of 70 percent and wind less than 1 mile per-hour, the smoke hung low over the field for an hour. "If you spray into an inversion layer, there's no telling where that product may end up," adds Dodds. "If it's dead calm or very little wind, crystal clear outside within an hour of daylight, I'd be very careful."
Dr. Bill Robertson, Extension service, cotton agronomist, University of Arkansas, posed a question to Dr. Larry Steckel, professor, University of Tennessee Department of Plant Sciences, about possible damage to non-dicamba cotton from Xtendflex varieties planted in proximity. "Timing is everything," says Steckel. "Early on in a plant's life cycle, it might ding it a bit, but it should have time to recover," says Steckel. "If it happens around first flower, it could be bad."
The group agreed on one thing: If a farmer spraying dicamba is using a hollow cone emitting a resulting high number of fine spray droplets, many will be going where they do not need to go.
Varieties
As the discussion switched to varieties, official variety trials (OVTs) and county strip trials, growing regions, row configurations and irrigated versus non-irrigated ground were part of the discussions. "Deltapine 1725 B2XF and 1646 B2XF were again at the top of our county strip tests," says Raper, who oversaw the Tennessee variety trials. "Dyna-Gro 3385 B2XF, an early-maturing variety that's been around since 2015, hung in there well, and NexGen 3729 B2XF performed well in a couple of trials. We also reviewed Stoneville 5600 B2XF — one I just didn't have a lot of experience with."
Raper admitted having good luck with Cropland 9608B3XF but lacked data on large plot trials. He also expressed a little disappointment in the yield numbers of several new B3XF varieties.
Dr. Tyler Sandlin, Extension specialist, Auburn University, compared his state's dryland acres and soil types to Tennessee's, and agreed with Raper's take on DP 1725 B2XF and DP 1646 B2XF which also garnered a high number of acres in Alabama.
"Those two Deltapine varieties were the clear frontrunners in our North Alabama county strip trial set," said Sandlin. "When we looked at the results from our on-farm variety tests, (a set in North Alabama covering seven locations and a set in South Alabama covering six locations) and DP 1646 B2XF was common to both sets and performed well across the state. Yield and fiber qualities were excellent, and that's been the case for a couple of years."
Sandlin reported good results with NexGen 3729 B2XF in his OVTs and Dyn-Gro 3385B2XF in some county strip trial locations. "We have a fair number of growers using skip-row configurations," adds Sandlin. "Some varieties are better suited for these situations than others. NexGen 3729 may not be a good fit in this particular situation based on some of our county strip trial results."
Robertson explained that FSA numbers confirm Arkansas cotton acres are 90 percent irrigated. According to Robertson, Deltapine 1725 B2XF did well in Arkansas cotton breeder Dr. Fred Bourland's OVTs. Robertson manages the large plot county tests and included DP 1518 B2XF, DP 1646 B2XF, and DP 1820 B3XF last year.
"DP 1820 B3XF looked good the entire year until we dropped the leaves and put it in the picker, but it just wasn't there," says Robertson. "DP 1518 B2XF has been our most widely planted variety across the state the last few years, but its performance fell off last year because of the wet fall. We got into trading the bottom crop for the top crop and it was a loser when that happened."
Based on what he has been hearing at meetings, DP 1646 B2XF will be the most widely planted variety in the state this year. "It's got a big number on its back," added Robertson, referring to its late maturity date. "I think with Pix, we can manage it into a little earlier time frame."
The comments from the roundtable regarding Enlist varieties signaled three standouts: PHY 350, PHY 430, and PHY 320. "Phytogen 350 seemed to be widely adaptable and a little earlier than 430 — which did well for us in the OVTs," says Raper. "Phytogen 320 performed better on irrigated ground."
Stoneville 4949 GLT did well in the Tennessee trials the last two years. "Stoneville advanced an experimental variety this year as 4550, which performed very well for us, and very well for Tyler's trials in Alabama," added Raper.
Sandlin has some growers in Alabama who produce cotton on strong bottomland and many of them plan their management style around some of the verticillium wilt problems that have plagued their yields. "Phytogen 350 W3FE performed well in our OVTs, and I've had several growers who have asked me if there is an Enlist package variety that performs well and has tolerance to that disease," says Sandlin. "Phytogen 350 W3FE may be the way to go for them."
Robertson looked at PHY 350 W3FE, PHY 430 W3FE, and PHY 330 W3FE last year, and PHY 430 W3FE rose above the other two varieties. "I live in Jackson County, and it's not a matter of 'will' you get 2,4-D drift, but 'when' you will get it," says Robertson. "These varieties fit the bill very well if you're in that type of situation."
Dodds agreed with Robertson about the Enlist varieties, especially based on results from Dodds' OVTs.
Variety Management
The group agreed that Pix and nitrogen are two aspects of variety management that growers need to pay particular attention to in 2019 because they are two areas where increases in efficiencies can be realized. "Seeding rate studies seem to follow a similar resulting pattern," says Raper. "As long as we get 1.9 or 2 plants per-foot, we don't see any yield differences, and I firmly believe there is a lot of room in this area of production to decrease costs by reducing seed population and subsequently, seed costs."
Robertson works with a Ph.D. graduate student who conducted a seeding rate project and the takeaway was "…plant whatever you must to get to 1.5 to 2 plants per row foot." "I'll have to admit, it's kind of scary to look at a field that's been dropped down to 30,000 plants per-acre because it doesn't look like much is out there," says Robertson. "But, you just have to go with it."
Subscribe to receive top agriculture news
Be informed daily with these free e-newsletters
You May Also Like
---