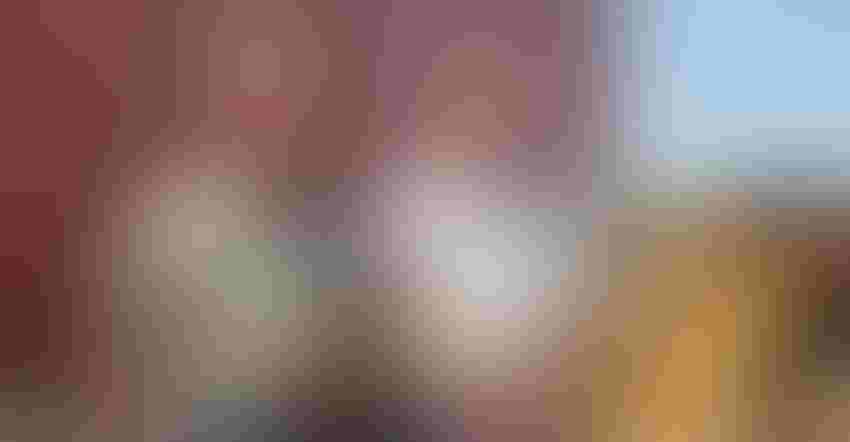 Producer Glenn Schur, left, and Rick Kellison, Texas Alliance for Water Conservation project director, visit at Schur's barn in Hale County, Texas. Schur discusses reverting to conservation tillage to control weeds and the prospects of a good cotton and grain crop.
Shelley E. Huguley
Hale County, Texas, producer Glenn Schur says he's aiming for quality rather than quantity this season, especially in his cotton.
"If you look at our heat units, we're about seven to 10 days behind. Unless it catches up, we're going to be looking to mature our crop a little earlier and focus more on quality instead of quantity, simply because of the price of cotton and what we're doing."
Schur farms cotton and grain sorghum in a region where irrigation water availability is diminishing, and drought seems to be commonplace. Throughout 2020, his farm only received about 6 to 8 inches of rain. Up until the end of May, it looked to be another dry year. But then it began to rain. In the last two-and-a-half months, Schur's farms have received 17 to 18 inches of rain.
"We have a good prospect of a cotton crop and grain crop," he says. "That's probably the most encouraging thing we've had over the last three years."
Weed flush
While Schur is grateful for the moisture, he says the weed battle that's followed has been a challenge. "A lot of our preemerge herbicides didn't work because it was so dry. And then when we started getting all this rain, and we've had quite a bit through here. It's been good, but it's also created challenges as far as chemicals and herbicides and their effectiveness."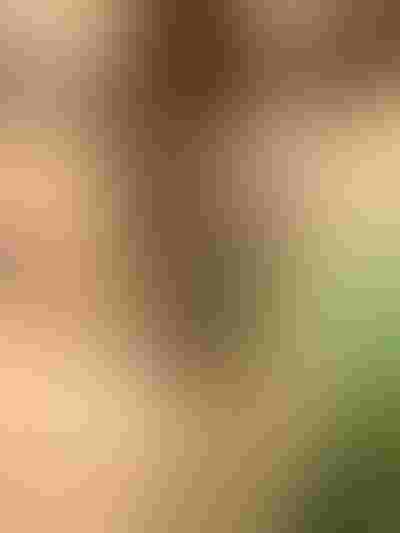 Even Louie, Glenn's dog, is helping with weed control. (Shelley E. Huguley)
Weed flushes coupled with the inability to treat fields in a timely manner, led Schur to revert to old tillage practices.
"We started cultivating some cotton for the first time in three years. It still works and it's still looks good."
Typically, Schur utilizes minimum till and strip till. "But from now on, we'll probably have to look at some kind of tillage on a field-to-field basis, especially since we've got some chemical resistance in pigweeds and others.
"Our chemicals are not as effective as what they have been. We may have to start looking at a lot of different variants and maybe go back to some of the old school things and try some new things."
Cover crops
Schur, who farms with his wife Dena and son Layton, also utilizes cover crops in his system, but says weeds have been an issue there as well.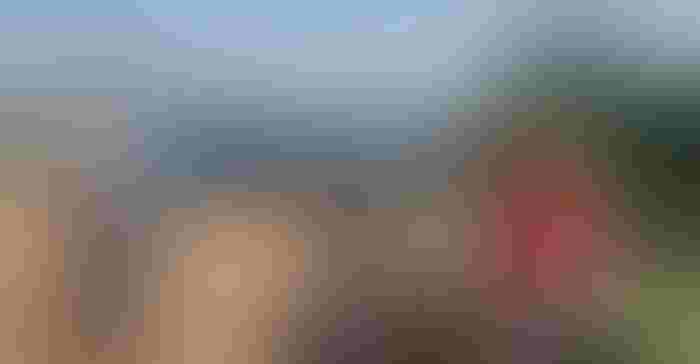 Rick Kellison, left, visits with Glenn and Dena Schur on their Hale County farm. Kellison is project director of Texas Alliance for Water Conservation. 
"We've tried some cover crops, and we've taken some hay grazer and millets, cow peas, and some of those things, and really what we've gotten into is a weed problem, even though they are very, very thick. And with the rain, it brought a lot of unwanted weed pressure from it, so that's been our main challenge this time.
"As far as tonnage, I think it's going to produce a lot. And we're grazing some of it currently, so it's made our pasture situation better and given our permanent pasture a chance to recover from the last two or three years."
Sorghum
Schur also grows dryland sorghum and a "little bit" of irrigated. "We planted most of our irrigated sorghum early in the season because we were planning on having to irrigate a lot. Normally, we plant sorghum early to try to be through with it early enough to divert our water all to cotton. This time, the rain has helped. Some of the early sorghum looks good cause it caught all the rain."
Schur also produces seed sorghum and seed millet. "Generally speaking, everything looks good, but we could use some rain."
While Schur is aware of some sugarcane aphids in his sorghum, he said head worms have been a bigger issue. Often, head worms equate to cotton bollworm, he says.
Early in the season, Schur treated his cotton for flea hoppers. "We stayed on top of all those issues, but I do think we're probably going to have an issue with bollworms, especially on some of the Bt cotton."
But even if he must treat the worms more aggressively this year, he says the Bt technology has saved him money. "In the last several years, we've probably only treated less than 20% of the cotton in a year. So, dollars and cents wise, I'm probably ahead, even if we have a real bad year this year."
Subscribe to receive top agriculture news
Be informed daily with these free e-newsletters
You May Also Like
---