Ag's invasive species problem likely to get worse before better
Ag's invasive species problem likely to get worse before better
"The world is shrinking. We have to do business and science in the global arena. We must try to prevent the introduction of new pathogens, new weeds, new insects, etc.."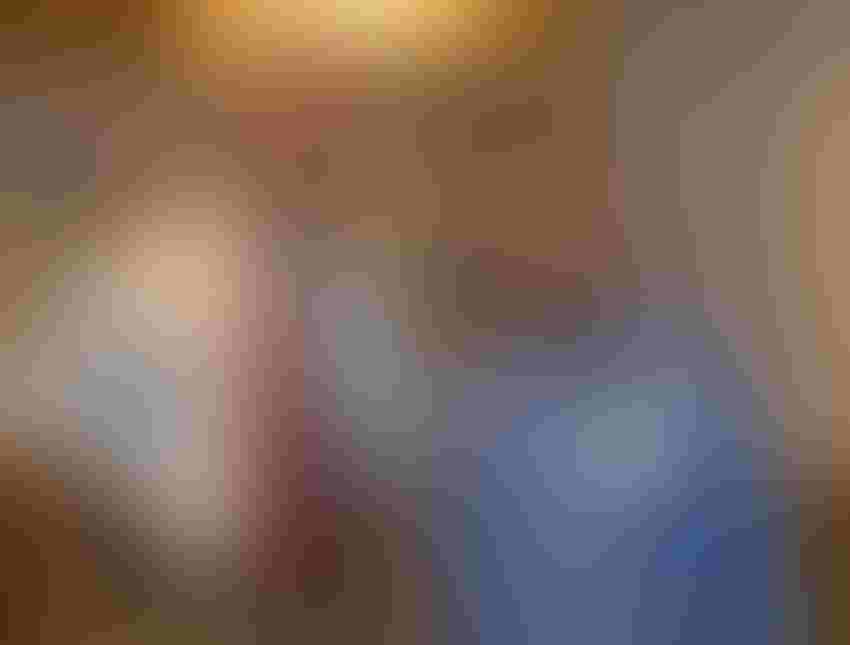 <p>Tim Brenneman, left, professor of plant pathology at the University of Georgia in Tifton, discusses peanut industry efforts to combat the tomato spotted wilt virus with Ramon Leon, assistant professor of weed science at the University of Florida West Florida Research and Education Center in Jay.</p> <p> </p>
Agriculture must take action now to manage the possible onslaught of new organisms, new insects and new diseases that is expected to escalate.
"One thing that is very clear is our world today is getting smaller at least figuratively," said Tim Brenneman, a professor of plant pathology at the University of Georgia in Tifton, Ga., in an address to the annual meeting of the American Peanut Research and Education Society in Clearwater, Fla., July 14.
"The world is shrinking. We have to do business and science in the global arena. We must try to prevent the introduction of new pathogens, new weeds, new insects, etc.," Brenneman said. "We need strong research and Extension programs in place to identify and address potential new risks as they arrive."
Brenneman cited the U.S. Department of Interior 2014 Invasive Species Action Plan which states that invasive species pose one of the greatest threats to the ecological, economic and cultural integrity of U.S. landscapes. The action plan states that invasive species are expected to escalate.
In his comments, Brenneman discussed the success the peanut industry has had in battling tomato spot wilt virus which still presents great challenges. He said the virus almost put the Georgia peanut industry out of business in the mid-1990s.
 "We did get a handle on it. The tomato spotted wilt index was developed and implemented. The price we paid was to completely change the way we grow peanuts: planting dates, cultivars, insecticides, row patterns, seed spacing, etc.," Brenneman said. "One of the prices we paid that I think we overlooked is the price we paid in our breeding programs. There was a lot of promising germplasm that breeders essentially got rid of. If it didn't have spotted wilt resistance, we didn't use it anymore."
Brenneman said the industry needs to be on the lookout for tomato spotted wilt virus due to a high level of thrips and a higher level of spotted wilt found in test plots compared to recent years. "We are still waiting to see how this story is going to pan out," he said. 
Subscribe to receive top agriculture news
Be informed daily with these free e-newsletters
You May Also Like
---