Ag data: its value, who owns it and where's it going?
Ag data: its value, who owns it and where's it going?
Data by itself standing in a vacuum has no value, but once information is gleaned from the data, it then becomes valuable.In November, a coalition of major farm organizations and agriculture technology providers, or ATPs, announced an agreement on ag data privacy and security principles.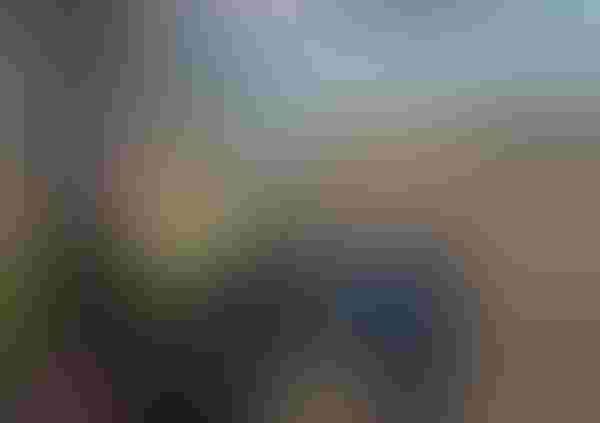 Terry Griffin asked the audience if anyone knew what was at the bottom of most privacy or disclosure statements, the ones often signed in order to download software or to use most any digital services. No one raised a hand. "Neither do I. I never read that far either," he said, half joking.
Griffin, who specializes in big data analytics and the value of precision agricultural data, spoke at the Cotton Incorporated 2014 Crop Management Seminar Nov. 12, in Tifton, Ga., on the topic of Big Data, specifically Big Ag Data.
Big data, Griffin said, is defined differently by different groups. For him, big data is data too big to be handled within Excel, the common numbers-crunching spreadsheet software. "It's kind of like the ol' adage of 'trying to drink water from a fire hose;' Imagine that kind of data coming through; it's hard to capture it all," said Griffin, who was raised in Arkansas and received a Ph.D. in agricultural economics from Purdue University "But big-data systems do capture all that data."
Where does big data come from? Issues of big data, information privacy and agriculture are not new, he said, and have been around since the mid-1990s when GPS technology opened to the public and started its mass adoption across agriculture. This is when tractor cabs, implements and smart phones began communicating with satellites for precision use.
Precision ag technology, for example, creates monster-sized data, which can include field-specific information on planting, preseason and in-season crop-input choices and investment, management strategies and harvesting practices. Data by itself standing in a vacuum has no value, but once information is gleaned from the data, it then becomes valuable. Companies can use the information to give growers "field prescriptions," which are valuable to a grower who can focus inputs for optimal yields on a per-field basis.
But that information can be even more valuable to second or even third parties, Griffin said. The data is a commodity, especially when that data can be combined and analyzed with data from other farmers in the region, state, country or globally, for that matter. A farmer can use his or her data to make better-informed management decisions. But the data combined with other farm data can be crunched, tweezed or bludgeoned into showing trends, predict market futures or the adoption of new crop technology, all valuable uses.
Data's value is in the information
Big companies like Monsanto are getting into the ag data business, Griffin pointed out. Two years ago, Monsanto bought Precision Planting, an Illinois-based company that invents and sells products and implements for planters and has the FieldView technology, which "offers an application designed to monitor all critical aspects of planter performance and crop data analysis," according to information from the company. Monsanto reportedly paid $210 million upfront for the company with another $40 million payment contingent on performance.
Griffin also pointed to Monsanto's purchase last year -- for a reported $1 billion – of The Climate Corporation, a global company providing weather data and analytics for farmers, and the company was approved recently to be a provider of federal crop insurance products. It has a wealth of on-farm data at its fingertips.
"The application of data science in agriculture is relatively new, and with the development of new technologies comes some level of uncertainty about its potential implications. In our experience, farmers are more likely to embrace new technologies that will drive the evolution of agricultural production when they have certainty about the use, privacy and control of the data they personally generate on their own farms," said David Friedberg, CEO of The Climate Corporation, in a statement.
Monsanto launched its Integrated Farming Systems platform two years ago, a way to collect and analyze data for precision applications. Recently, the research and product development teams for this platform, along with the Precision Planting group, transitioned to The Climate Corporation led by Friedberg, according to information on The Climate Corporation website.
According to Friedberg, "The Climate Corporation intends to provide farmers basic data services for free. We will not use the data generated, or provided, through these services, for any purpose, without a farmer's explicit consent. We will provide these services for free because they will enable advisory services that we, together with others, will offer and which will ultimately drive value creation.
"We aim to build a business that charges service fees for analytics, insights, and recommendations that result in improved agricultural productivity - our service fee will be a fraction of the new value created."
American Farm Bureau Federation survey results released in October show more farmers see benefits from the latest agricultural data technologies but are wary of risks involved with big data collection. About 77 percent of farmers surveyed feared regulators and other government officials might gain access to their private information without their knowledge or permission, and 76 percent of the respondents said they were concerned others could use their information for commodity market speculation without their consent.
Industry segments wrestle with principles
On Nov. 13, a day after Griffin's presentation in Tifton, a coalition of major farm organizations and agriculture technology providers, or ATPs, announced an agreement on ag data privacy and security principles. The coalition includes American Farm Bureau Federation, American Soybean Association, Beck's Hybrids, Dow AgroSciences LLC, DuPont Pioneer, John Deere, National Association of Wheat Growers, National Corn Growers Association, National Farmers Union, Raven Industries, The Climate Corporation, and USA Rice Federation.
"The principles (established by the group) provide a measure of needed certainty to farmers regarding the protection of their data," said AFBF President Bob Stallman. "These principles are meant to be inclusive and we hope other farm organizations and ATPs join this collaborative effort in protecting farm-level data as well as educating farmers about this revolutionary technology."
The coalition will create an easy-to-use transparency evaluation tool for farmers to compare and contrast specific issues within ATP contracts and to see how the contracts align with the group's principles, which, Stillman said, must be addressed before most farmers feel comfortable enough to share their business information with data providers. A snapshot of the coalition's principles includes:
A farmer owns information generated on his farm, but he must take responsibility to agree or not to agree let other groups, possibly wanting the data for economic reasons, to use his data.

Collection, access and use of farm data should be granted only with the affirmative and explicit consent of the farmer. This will be by contract agreements, whether signed or digital.

A farmer must be notified that his data is being collected and about how the farm data will be disclosed and used. This notice must be provided in an easily located and readily accessible format.

A farmer needs to know who if anyone will have access to his data beyond the primary ATP and how they will use it.

ATPs shall notify farmers about the purposes for which they collect and use farm data.

ATPs should explain the effects and abilities of a farmer's decision to opt in, opt out or disable the availability of services and features offered by the ATP.

ATPs agree they should provide for the removal, secure destruction and return of original farm data from the ATP, and any third party with whom the ATP has shared the data, upon request by the account holder or after a pre-agreed period of time.

ATPs will not use farm data to illegally speculate in commodity markets.

The ATP should clearly define terms of liability. Farm data should be protected with reasonable security safeguards.
November seemed to be a month for ag data actions. On Nov. 11, AgGateway, a large nonprofit consortium of businesses serving the agriculture industry, released a white paper sayin it will "help the agriculture industry consider ways to incorporate data privacy best practices and standards into their operations. The paper is also intended to provide recipients of farm data and their customers with areas to consider when using that data."
"This is a living document that we anticipate will continue to be updated," said Deb Casurella, president of Independent Data Management, LLC, who chairs the AgGateway Data Privacy and Security Committee. "Data privacy, use and security are key issues for farmers today, especially as they create and use an increasing amount of data to better manage their operations.
"In the short run – in the infancy of big data systems -- those conducting the best analytics will have the most value capture," Griffin said. "In the long run, or at the end of the game, he who holds the data will control the value in a mature industry. We know this not just from economic theory but by also watching other industries that have been playing this game longer."
At this time, he said, you can argue there are a thousand repositories of ag data, maybe more. He sees a time down the road where there is just one repository, either privately owned or a public-private group, where ag data is housed – a single place that works across all platforms and rivaling data-collection groups, all in an effort to capture the greatest value of the data.
Griffin also said the value of farmers participating in big data systems brings more value to the system than it does the farmer.
In addition, he told the audience of cotton farmers and cotton industry representatives to remember, "When we have truly big data, anonymity no longer exists."
Subscribe to receive top agriculture news
Be informed daily with these free e-newsletters
You May Also Like
---