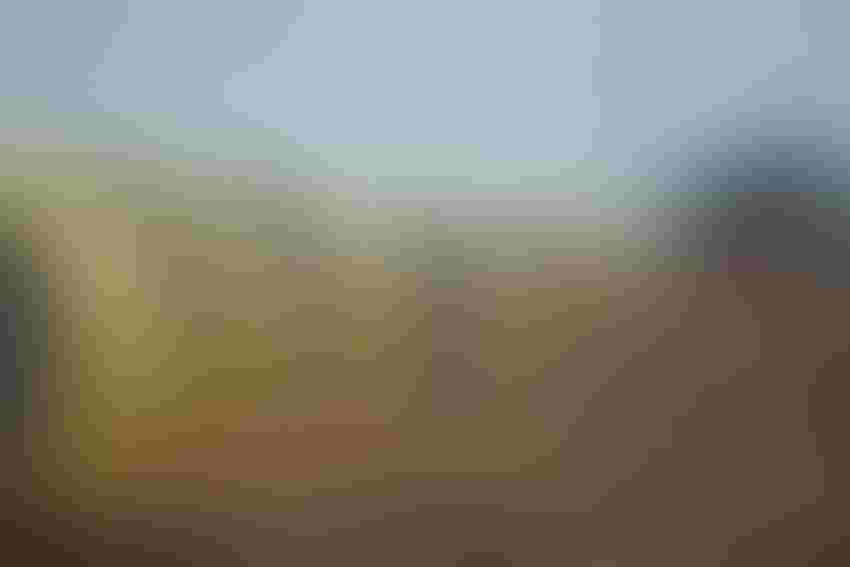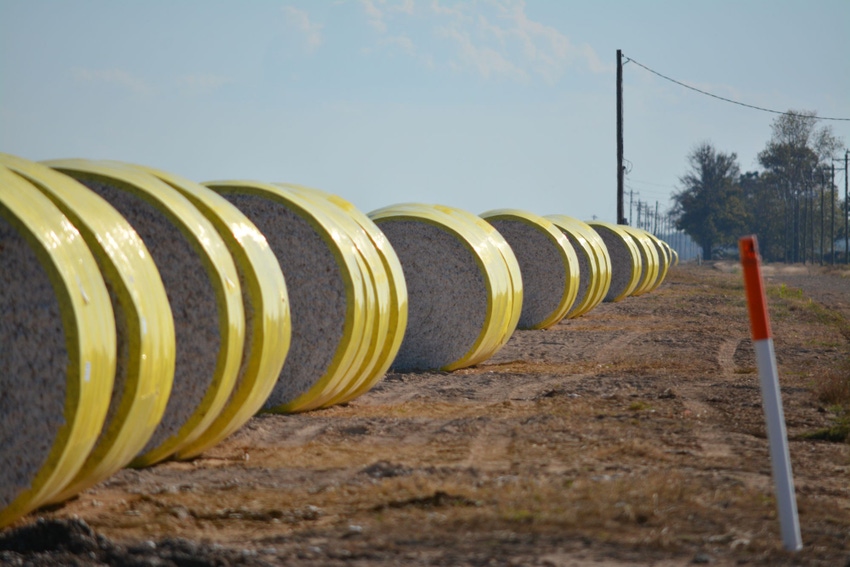 Dozens of round modules grace the edge of a cotton field near Portland, Ark., in 2016.
The 2017-18 U.S. cotton crop could reach 19.2 million bales, according to a USDA World Agricultural Supply and Demand Estimates report based on a planted acreage forecast of 12.2 million and the outlook for favorable moisture conditions this spring.
The 19.2-million-bale estimate, released as part of USDA's May 10 WASDE report, would mean the 2017-18 crop would be the largest since 2006 when U.S. growers harvested 21.6 million bales of cotton on 12.8 million acres.
In the report, USDA also increased its export forecast for the 2016-17 (Aug. 1 – July 31) marketing year to 14.5 million bales. USDA economists said the new number reflected higher-than-anticipated exports sales to date. Ending stocks were reduced to 3.2 million bales as a result of the increase in exports.
"Production is anticipated to rise 12 percent from 2016-17, based on 12.2 million planted acres as indicated in the (March 31) Prospective Plantings Report, combined with below average abandonment – due to relatively favorable moisture – and average yields," the economists said in the WASDE report.
For 2017-18 they said domestic mill use is "projected higher at 3.4 million bales, while exports are expected to fall to 14.0 million, as competitors' supplies grow. Ending stocks are projected at 5.0 million bales, or 29 percent of total use (due to the larger 2017-18 crop)."
Average reach 74 cents?
The marketing year average price received by producers could range from 54.0 to 74.0 cents per pound, according to the World Agricultural Outlook Board economists. Some technical analysts say cotton futures could still climb to 84 cents a pound this year.
The WASDE report indicated world cotton stocks are continuing to decline after reaching unprecedented levels while China placed millions of bales of excess cotton in its strategic reserve beginning in 2011.
"The world 2017-18 cotton projections show a decline in stocks of 2.4 million bales, as consumption exceeds production for the third consecutive season," the report said. "Global production is expected to rise nearly 7 percent, despite marginally lower average yields, as area rebounds to its highest level in three years."
Production is forecast to rise in all major producing countries, led by the United States (2.0 million bales higher) and India (1.5 million bales higher). Meanwhile, global consumption is projected to rise 2.3 percent, as a growing world economy drives mill use higher around the world.
"Projected world trade is also raised slightly from 2016-17, as import-oriented consumers such as Vietnam and Bangladesh are accounting for a larger share of world consumption," USDA economists said. "Ending stocks are projected at 87.1 million bales, 75 percent of world consumption.
Chinese stocks falling
"Falling China stocks exceed the projected global decline while stocks outside of China rise for the second consecutive year. Despite the projected decrease, China stocks are still equivalent to more than 100 percent of China's total disappearance." (China's stocks reached the equivalent of 64 million bales before the government began auctioning them off in 2015.)
Intercontinental Exchange cotton futures were almost unchanged for the day (May 10) despite the forecast for increased U.S. cotton supplies.
Chicago corn futures, on the other hand, were 6.5 to 7 cents higher on USDA's forecast of a smaller crop in 2017. The WASDE report put 2017 corn production at 14.1 billion bushels, down from last year's record high of 15.2 billion, based on smaller corn acreage and an adjusted yield.
The WASDE yield projection of 170.7 bushels per acre for 2017 would be more than five bushels below last year's average yield. The much-lower yield is based on a weather-adjusted trend assuming normal planting progress and summer weather from 1988 to 2016.
"The yield model includes a downward stochastic adjustment to account for the asymmetric response of yield to July precipitation," the World Ag Outlook Board economists said, adding the smaller corn crop is partly offset by the largest projected beginning stocks since 1988-99, leaving total corn supplies down from a year ago but still the second highest on record.
Soybean futures lower
Soybean futures were down 3 to 4 cents per bushel following USDA's forecast of only a slightly smaller 2017 crop compared to 2016's production of 4.3 billion bushels. With sharply higher beginning stocks, soybean supplies are projected at 4.7 billion bushels, up 4 percent from 2016-17.
USDA said the 2017 U.S. rice crop could total 201 million hundredweight, down 23.1 million from 2016, based on the large reduction in long-grain rice acreage indicated by growers in the March Prospective Planting Report.
Total 2017-18 rice supplies are forecast to decrease 7 percent from the previous year to 273.1 million hundredweight, primarily due to the expected reduction in long-grain rice acreage.
The 2017-18 wheat crop forecast by USDA says it expects U.S. supplies to be down 9 percent from 2016-17 due to lower production that would be partially offset by higher beginning wheat stocks.
All wheat production is projected at 1.82 billion bushels, down nearly 500 million bushels from the prior year, due to a sharp reduction in planted acres and projected lower yields due to adverse weather and disease problems in some locations.
To see the May 10 report, click on http://bit.ly/2qUKbQL.
About the Author(s)
Subscribe to receive top agriculture news
Be informed daily with these free e-newsletters
You May Also Like
---