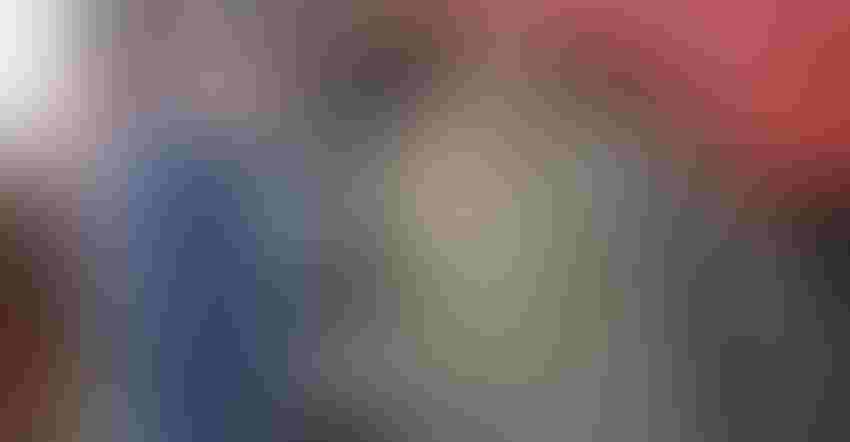 HARVESTING DATA: More than corn shelling was happening when Dan Quinn (left) and Josh Synesael harvested replicated, field-scale corn population trials.
Tom J. Bechman
If you try something new and do it across the whole field, you're missing an opportunity to learn how it compares to what you did before. At the very least, leave a couple of untreated strips if you're applying fungicides on soybeans, or make a couple of passes with your normal seeding rate before switching to a higher or lower rate in corn. Otherwise, you won't know if better or worse performance was due to the change you implemented, or just the weather patterns within the season.
Ideally, Dan Quinn, Purdue University Extension corn specialist, says to consider including replicated trials in at least one field with the practice or change you want to try. "It's much easier to do today with GPS-controlled equipment on the planter and with a calibrated yield monitor in the combine," he says. "At planting, you may be able to make seeding rate adjustments, for example, from the cab. The same applies if you're varying nitrogen starter rates.
"With GPS and autosteer, you can make all passes on one setting across the field before changing to the next setting. Then you can go back and add other passes at other settings you're comparing and fill in the gaps, with every pass still lining up for easy harvest."
In fact, Quinn and Shaun Casteel, Purdue Extension soybean specialist, are hoping to expand on-farm testing with farmer-cooperators, starting in 2022. If you want to discover how you can learn more on your farm, email Quinn at [email protected] or call 765-494-5314.
Seeding rate trial
Each year, Indiana Prairie Farmer and Purdue cooperate on a replicated field trial at the Throckmorton Ag Center near Romney, Ind. The 2021 trial compared two hybrids at five different seeding rates, from lower than anyone would likely plant — except perhaps on sandy soils without irrigation — to higher than most people plant in 30-inch rows.
"We need rates which are on the low end and on the high side to make sure we cover the range of possibilities," Quinn says. "If yield was still going up and more than covering seed cost at the highest rate, we would conclude we didn't go high enough."
Bob Nielsen, Purdue's corn specialist for 40 years, designed the layout for this trial, which was essentially an on-farm, field-scale trial. Nielsen is still onboard part time, working with Quinn to answer questions about growing corn in 2022.
Quinn assisted Pete Illingworth, a member of the farm crew, in taking population counts on the trial in June. He also rode along with farm crew member Josh Synesael at harvest to help record data in the trial.
Beck's provided both hybrids used in the trial. To learn how this year's seeding rate results turned out, and how they compare to normal recommendations, watch for tomorrow's story. Read the first installment of Quinn's new column, Corn Success.
About the Author(s)
Subscribe to receive top agriculture news
Be informed daily with these free e-newsletters
You May Also Like
---