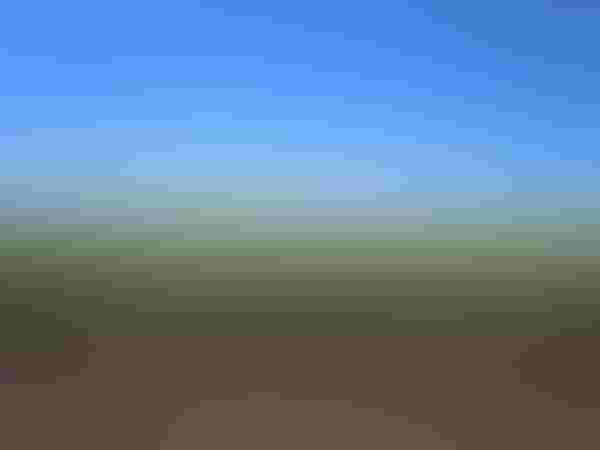 Southern Plains farmers have planted some 400,000 acres of winter canola this fall, including 340,000 acres in Oklahoma.
"We still have reports coming in from other states as well as Oklahoma farmers," says Gene Neuens, Producers Cooperative Oil Mill, oilseed field representative. "We will have better information when we get planting seed figures from seed companies in a few days."
Right now, Oklahoma's 340,000 acres is followed by Kansas with 40,000 acres and Texas with 25,000 acres.
"Probably more significantly," Neuens said, "is how much plantings of winter canola have spread geographically. Farmers are continuing to show interest in the crop even farther away from its original planting area."
Winter canola has been planted as far north as the edge of Nebraska, in northern Kansas, near Fredericksburg, Texas, and San Antonio. Other fields of canola have been planted south of Abilene, Texas.
Farmers in the Texas Panhandle have planted extensive acreage as have producers in northeastern Colorado.
Approximately 90 percent of the new crop is in good to excellent condition, Neuens said. Dry conditions in southwestern Oklahoma and northern Kansas required farmers to "dust in" the crop, trusting sufficient rain would come to get the crop growing.
"Farmers and crop technicians are seeing evidence of army worms and diamondback moth larvae in the young canola plants," he said. "Farmers need to walk across fields, get down on their knees and look under the young plants to see if either of these pests is there."
If you are enjoying reading this article, please check out Southwest Farm Press Daily and receive the latest news right to your inbox.
Neuens said he and Heath Sanders, who works for the Great Plains Canola Association, and Josh Bushong, Oklahoma State University Extension canola specialist, are always available to help producers solve problems and make decisions about their canola crop. 
Neuens can be contacted at 405-760-4205. His email address is [email protected]. Sanders' phone is 580-678-2754. His email address is [email protected]. Bushong's phone is 405-361-6941 and his email is [email protected].
All three are experts on winter canola production and also are able to direct a person to other experts on the crop's growth habits, harvest and marketing, he said.
With canola acreage growing each year, Ron Sholar, executive director of the Great Plains Canola Association, and others are trying to convince the USDA National Agricultural Statistical Service to record annual acreage and yield reports yield a bit differently than in the past.
"Because winter canola was developed from the original canola, which is a spring crop grown in the summer like cotton and corn, winter canola acreage is still included in the USDA spring crops reports," Neuens said. "We need to get the winter variety of the crop reported in the winter crop category like winter wheat."
Winter canola was developed by crop scientists at Oklahoma State University and Kansas State University about a decade ago to find a crop which could be grown in rotation with continuously-grown wheat. Grown for decades year after year in the same fields, wheat had accumulated different perennial weeds like winter rye and cheat grass.
Seed from these weeds is found in wheat seed at harvest. When farmers sell their wheat seed at local grain terminals, the presence of the weed seed seriously reduces the price paid for the grain.
Winter canola is a completely different crop from winter wheat, and grown in a one- to two- or three-year rotation with wheat, interrupts the growth pattern of the weeds. Within a few years, this rotation greatly reduces or removes the weed threat from the wheat, Neuens said.
As well as its contribution as a perennial weed remover from wheat fields, winter canola is a great money crop in its own right, he said.
"Old crop canola, that is the crop harvested last spring, is selling for $9.80 per bushel. Winter wheat's current price is $7.21 to $7.26 in southwestern Oklahoma."
Price paid for winter canola seed is usually $3 to $5 more than winter wheat prices, he said.
Also of interest on Southwest Farm Press:
Subscribe to receive top agriculture news
Be informed daily with these free e-newsletters
You May Also Like
---