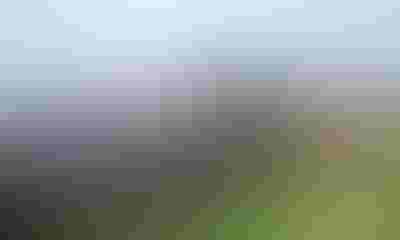 *This is part 1 of 2 installments.
Nitrogen (N) is in the news. This vital crop nutrient, essential for corn production, continues to be targeted as a pollutant in Iowa surface waters. Application of nitrogen fertilizer is blamed by the Des Moines Water Works for high nitrate levels in the water supply for Des Moines. The utility earlier this year filed a lawsuit against drainage districts in three northwest Iowa counties, alleging the districts and indirectly farmers are responsible for high levels of nitrate in the Raccoon River, a source for the Water Works.
Related: Nitrogen loss in corn, late planting soybeans, avoiding spray drift

NITROGEN TIMING: Soil fertility agronomist John Sawyer explained the corn nitrogen application timing study at the recent ISU research farm field day at Kanawha in northern Iowa. He's written a new publication on nitrogen management for corn.
While the conversation has centered mainly on nitrogen fertilizer and manure applied by farmers for corn production, other key considerations are that most Iowa soils are naturally very high in "organic" nitrogen, meaning large levels of nitrogen exist in soils whether fertilizer is applied to them or not. And, crops are grown in an open soil system, where nitrogen can be lost with water flow through the soil or to the atmosphere as nitrogen gasses when soils are excessively wet.
New ISU publication explains importance of nitrogen in soils
When soil conditions are right (warm and moist), microbes break down or mineralize the organic N into ammonium and then convert it to nitrate, explains John Sawyer, Iowa State University Extension soil fertility specialist. It's these "inorganic" forms that can be taken up by plants, mainly as nitrate, and nitrate is also potentially leached into groundwater or with tile drainage when water flows through the soil. Surface runoff typically has much lower nitrogen concentrations. Much of the mineralization process happens during the springtime and summer when corn and soybeans are growing and taking up nitrogen, but mineralization also occurs before planting and after harvest if soils are warm.
The importance of nitrogen in soils, and nitrogen cycling, is one of several points explained in a new 10-page publication "Nitrogen Use in Iowa Corn Production," available from ISU Extension. John Sawyer is the author. One reason he wrote the publication was "so we have information for people when they ask: Why do farmers apply nitrogen?" The publication also looks at the economic and environmental aspects of N application.
What happens if you don't apply nitrogen to a corn crop?
The yield potential of corn not fertilized with N will be very limited as the soils ability to supply plant-available N is depleted. Long-term research in Iowa shows corn yields will average only about 60 bushels per acre for continuous corn and 115 bushels per acre for corn following soybeans when corn is not fertilized with N.
~~~PAGE_BREAK_HERE~~~
"If we do apply N at optimal rates, then we can get yields over 200 bushels per acre in both rotations," says Sawyer. "There's a big return from N application in terms of productivity, which of course drives profitability." In addition, nitrogen applications help maintain the soil resource, that is, soil nitrogen and therefore soil organic matter.
Related: How much nitrogen do you apply as sidedress?
However, when optimal rates of N are applied, it increases the nitrate loss in water leaving a field through tile drainage systems. While nitrogen application rate is important both economically and environmentally, there's only so much you can do in reducing nitrogen loss strictly through rate of application. "For fields already at an optimal application rate (the economic rate recommended by our MRTN Corn N Rate Calculator) those fields are where they need to be," notes Sawyer.
Two uncertain factors for nitrate loss are soils and weather
If you want to have a reduction in tile-flow nitrate-N to meet the 10 ppm nitrate-N limit the government has set for drinking water, and you want to meet that simply by reducing the rate of N application, more often than not it will result in a loss in yield and net return if you're already at the MRTN rate. ISU studies show even without N applied, on average there is still about 7 ppm of nitrate-N in tile-flow drainage, says Sawyer. Soil has a lot of organic N that cycles in the soil and will produce nitrate that can be lost from the soil system during a corn or soybean crop, the same as nitrate from a fertilizer or manure application.
There are two uncertain factors that affect nitrate loss -- soils and weather. "We're working in a system that is complex regarding N," says Sawyer. "You can't control the weather, which can affect nitrogen loss through leaching and denitrification, and availability of N to the corn plant. And you can't control soil nitrogen cycling, which is also related to weather."
When is the best timing for spring application of N?
Timing of application is another consideration, as more farmers are now applying N in spring instead of the fall. That can help reduce risk of N loss. But when is the best timing for the spring application? It depends a lot on the weather.
~~~PAGE_BREAK_HERE~~~
Keep in mind that just because you apply N in spring preplant, or during the growing season as a sidedress or a later application, that doesn't mean all the N gets into the corn plant, says Sawyer. It goes through the soil cycling process. "Whether N is applied preplant, at planting, or as a sidedress, it still goes through the soil system and thus has an impact on nitrate-N loss to water systems." For more information on nitrogen and nutrient management, visit agronext.iastate.edu/soilfertility.
Efficient nitrogen use improves yields, protects water
The new publication, "Nitrogen Use in Iowa Corn Production," (CROP 3073), is available from ISU Extension providing an overview of nitrogen use in crop production. Included is a guide for how economical optimum nitrogen rates can be used to increase crop yields, use nitrogen efficiently and enhance water quality.
Nitrogen is essential for crop production. It's involved in many important plant biochemical processes. "To achieve optimal yields in corn, nitrogen management is critical," points out Sawyer.
Of great importance to farmers, crop advisers and suppliers is the maximum return rate to nitrogen (MRTN) system, the approach used across the Corn Belt for figuring how much nitrogen to apply per acre. The publication explains these nitrogen rate guidelines for Iowa, which are provided in both the publication and the online Corn Nitrogen Rate Calculator. Also, new rate guidelines have been added for southeast Iowa.
New publication explains N application rate guidelines for Iowa
The publication highlights long-term nitrogen rate research conducted in Iowa, showing that corn yields average 60 bushels per acre for continuous corn and 115 bushels per acre for corn following soybeans when corn is not fertilized with N. However, corn fertilized with proper nitrogen levels can easily yield 200 bushels per acre or more. Such yield increases highlight the importance of nitrogen use in corn production.
The new publication also provides an overview of corn nitrogen fertilization use in different rotations, such as corn following alfalfa, nitrogen cycling in soils, importance for soil organic matter maintenance, economic return to nitrogen application, and nitrogen use relative to water quality. To get this and related publications on soil fertility, visit the ISU Extension Online Store store.extension.iastate.edu.
Subscribe to receive top agriculture news
Be informed daily with these free e-newsletters
You May Also Like
---