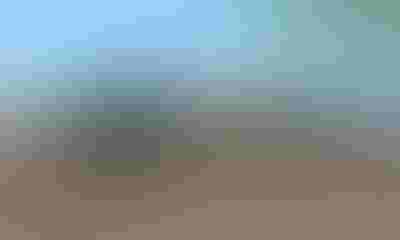 Maybe you have already passed this dilemma, or maybe rains have you facing it now. You planted corn and started a soybean planter in 15-inch rows, but now you're finished planting corn. You still have soybeans to plant and it is time they were in the ground to achieve maximum remaining yield potential.
Plus, the first corn you planted is up and needs to be sidedressed. The tractor you use for sidedressing is the tractor that pulls the soybean drill. What are your options?

Finish planting: This farmer helped finish soybean planting after he finished corn. He is careful which fields he plants in 30-inch rows, however.
One option is to jump in with the 30-inch row corn planter not equipped with row splitters and help finish planting soybeans before beginning sidedressing nitrogen on corn. That's the option one farmer took. But what about giving up yield for 30 inch rows vs. 15-inch rows?
His past experience where he experimented in a field with good to mostly productive soil types didn't indicate a difference in yield for 30 vs. 15 vs. twin rows. However, that wasn't a scientific test.
He opted to help finish planting soybeans last week with the corn planter on 30-inch rows. However, he was careful which fields he planted in 30-inch rows. His theory is that if the field is primarily lower, better soils, he won't see a yield difference in 30-inch rows vs. 15-inch rows.
However, if there are rolling soils included, often with 'red clay hills' from abuses decades ago that led to soil erosion, he prefers 15-inch rows for soybeans. That's because soybeans don't tend to get as tall on those soils, he notes.
He feels it's beneficial to yield to have rows closer and get more plants overall on those soils where productivity is not as great in the first place. He also varied seeding rates with the corn planter on soybeans this year, putting more seed on the lighter ground and fewer seeds on lighter, darker soils.
Continued reading: Tips and Tricks For Double-Crop Soybeans
Subscribe to receive top agriculture news
Be informed daily with these free e-newsletters
You May Also Like
---