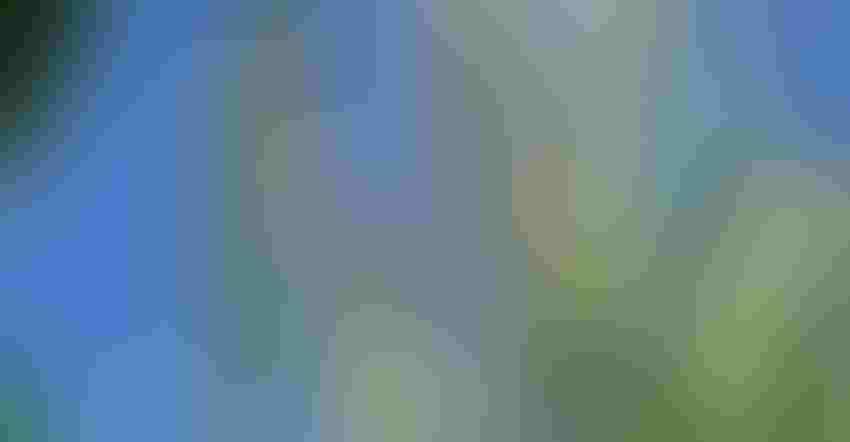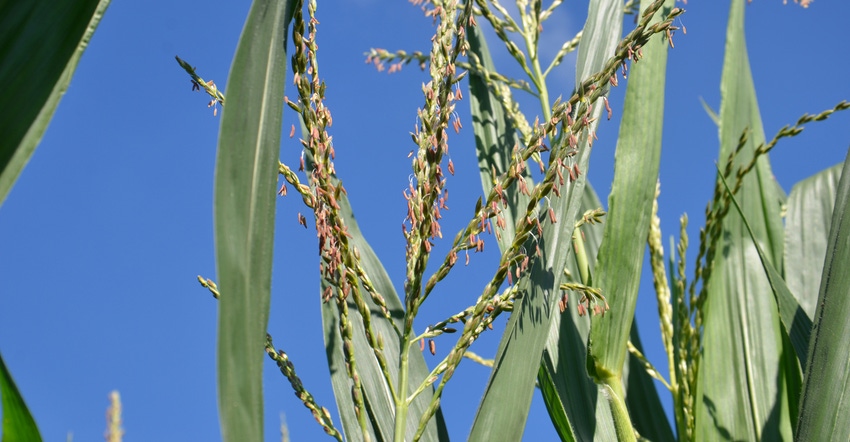 PERFECT START TO POLLINATION: Pollen grains were ready to fall and silks were out to receive them in this hybrid in the Corn Watch '18 field during the last week of June.
The sun was out when Dave Nanda checked the Corn Watch '18 field during the last week of June. Planted April 28, corn was tasseling. One hybrid was nearly fully tasseled, with a large percentage of plants silked out. The other hybrid was beginning to tassel and shoot silks.
"The farmer puts one hybrid in 12 rows of the planter and a second hybrid in the other 12," says Nanda, an independent crop consultant based in Indianapolis. "He wants to spread out pollination and pairs up hybrids which should pollinate a day to two days apart. That should make pollen available for a longer period in the field."
Nanda visits the Corn Watch '18 field every two weeks. Corn Watch '18 is sponsored by Seed Genetics-Direct, Washington Court House, Ohio. Nanda was surprised to find corn tasseling and silking so early. He believes a warm May and June pushed corn plants along at a fast pace.
Compare and contrast
Even though temperatures above 90 degrees F were predicted for the next several days, Nanda was confident that pollination would proceed normally.
"There has been plenty of moisture from the start," he observes. "In fact, it had rained recently and soils were still sticky when I made that late June visit and found plants pollinating."
Humidity levels were also relatively high. As long as actual air temperature doesn't go above 95 degrees, Nanda says pollination should occur normally. "Most pollination occurs during the morning hours before you get into the hottest part of the day," he explains. "You don't get much pollen shed and pollination after about noon anyway. Then it begins again the next morning."
Nanda determined that with healthy silks emerging and plenty of pollen available, all systems should be go for good pollination.
He contrasts that to 2012. The Corn Watch project was called Crop Watch then. The Crop Watch '12 field was in a different location, with some soils like the soils in the 2018 field, but with other soils underlain by gravel at 3 to 4 feet. It wasn't irrigated. The 2012 season featured extremely dry conditions early in the season, with very high air temperatures. In fact, the thermometer topped 100 degrees F on more than one occasion in late June and early July.
Pollination occurred, or attempted to occur, at the very same time in the 2012 field as it did in this field in 2018 — the last week of June. The difference, Nanda says, was that plants in 2012 were already stressed by a lack of sufficient moisture coupled with heat. About everything that could go wrong with pollination went wrong that year. Where pollination did occur, it often resulted in only partially filled ears, or only a few grains on a cob.
"It's a stark contrast between conditions this year and in 2012," Nanda says. "At this point, we have the foundation for a good crop this year."

2012 VS. 2018: Corn plants didn't have a chance to pollinate and produce a crop under extremely hot, dry conditions in 2012. On the left is the Crop Watch '12 field during the last week of June. On the right is the Corn Watch '18 field during the last week of June. This hybrid, just beginning to tassel and shoot silks, should pollinate in good fashion.
About the Author(s)
Subscribe to receive top agriculture news
Be informed daily with these free e-newsletters
You May Also Like
---