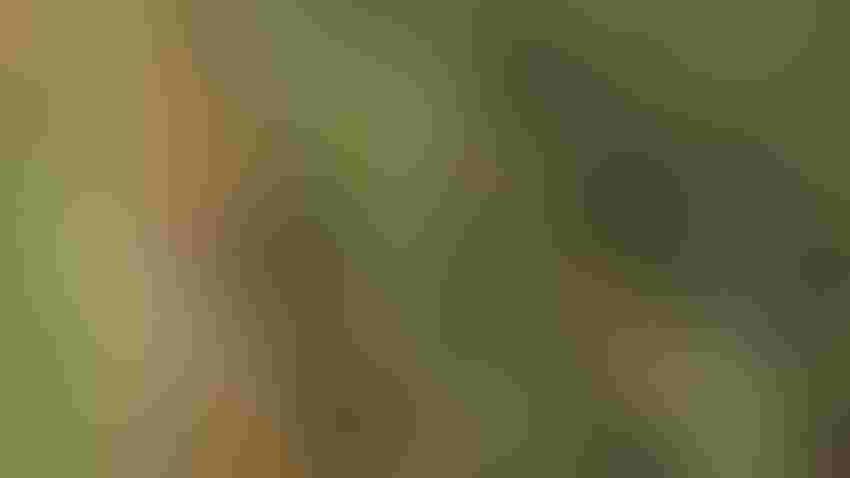 TOUGH CONDITIONS: Corn in the early stages on drought-stricken rain-fed fields this spring in many parts of eastern Nebraska emerged unevenly and tasseled unevenly, putting a hit on yield potential. But many of these sections of fields, where producers may think no ears will be produced, could produce some sort of yield under the right conditions thanks to more recent rains.
Curt Arens
If you've been watching the U.S. Drought Monitor over the past few months, you know that the eastern third of Nebraska, with some exceptions, has been drier than normal since last summer.
While recent precipitation has alleviated some of the worst of the drought conditions, many of those storms came with a price — hail and wind.
With a drier-than-normal winter, coupled with a dry spring, rain-fed cornfields were looking tough, even late into the spring and early summer. Uneven stands, where part of the seed grew and other sections of the same field germinated later, have caused large parts of many dryland fields to tassel at different times and different heights in the same fields.
Stand variability
Nebraska Farmer asked Golden Harvest agronomist Jamie Kathol about the impact this will have on yields this fall, and the breadth of the condition throughout his territory. Kathol works from the eastern border of the state around Tekamah; west to Boone County, Ord and Burwell; and north to Ainsworth. There is considerable stand variability and uneven emergence in many rain-fed fields that he has scouted this spring.
"Uneven tasseling that we've seen this summer really stems from uneven emergence in many of those dryland fields," Kathol says. "If we look back to planting conditions, it was just too dry, and there was too little soil moisture at the depth of the seed to germinate corn seed in some parts of many fields."
There was a big difference in emergence between tilled fields and no-till this spring, he says, because residue on the no-till fields didn't break down in many cases because of lack of precipitation. This scenario offered planting challenges for some growers, he notes. With more precipitation later in the spring and early summer, there is hope for those fields though, he says.
"If there is a section — maybe 10 feet by 10 feet for instance — in a field where the stand is stunted and corn is tasseling when it is very short, producers might be surprised at how well the field will still produce," he says. "That scenario is better than if you have one plant that is normal next to another that is late in germination and so on through the field. It seems the plants respond better when there is an entire section of field that is stunted, over uneven emergence within the same row."
There are tough sandy or light spots in fields across his region every year, Kathol says. But this season has been more challenging than most because of the severity of the drought early in the spring after an extremely dry winter.
Disease and insects
The dry weather has kept disease pressure low so far, Kathol explains. But with more precipitation in recent weeks in some areas, he expects that to change. And tar spot is the one he is most worried about.
"Recently, we've had a lot of wetting and drying in the field, and those situations seem to favor tar spot," he says. "Iowa has experienced low occurrence of tar spot so far this season as well, but we know they will have it later in the season. I expect northeast Nebraska to be in the same situation."
Kathol is also monitoring for gray leaf spot and northern corn leaf blight, among others.
He is also watchful for western bean cutworm in his region. "In past years, WBC typically stayed west of U.S. Highway 81," he says. "But the last two years have been different, and I've seen WBC push east to Hubbard and Jackson and on into Iowa." There are egg masses on the upper sides of leaves, so the potential for trouble is there, he adds.
As for grasshoppers that have been prevalent in many regions, although they are damaging pastures and grazing lands, typically Kathol doesn't see them as a major issue outside of a few end rows where they may desiccate corn silks and leaves.
Learn more about in-season corn issues by emailing Kathol at [email protected].
Subscribe to receive top agriculture news
Be informed daily with these free e-newsletters
You May Also Like
---