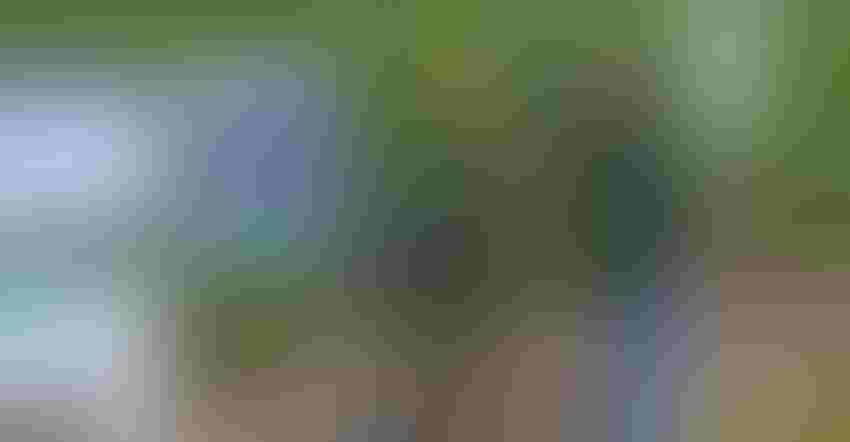 SPLIT-N APPLCIATIONS: Jason Webster uses a row unit with Precision Planting's Conceal fertilizer delivery attachment to explain the advantage of split-nitrogen application methods.
Tom J. Bechman
If someone told you they had an approach that would deliver exactly 200 bushels of corn per acre, you might be willing to accept it as a good option. You might change your mind once you learn that compared to eight other options in a nine-option study of ways to apply nitrogen to corn, the option that produced 200 bushels per acre yielded the least.
That's what Jason Webster found after conducting an in-depth trial comparing nitrogen application methods at the Precision Technology Institute near Pontiac, Ill. Webster manages the research farm, conducting various research studies each summer.
"We included a triple-split application in the study in 2019, and it yielded better than anything else," Webster says. "We conducted the study for three years, and we see a real advantage for putting on nitrogen more than once during the season."
The 2019 study was in continuous corn. That's why nitrogen rates may sound higher than what you might apply in a corn-soybean rotation. In each of the nine options, Webster applied 225 pounds of actual nitrogen, using 32% liquid N. Weed-and-feed applications before planting were applied on the surface. Sidedress applications were injected with a liquid N applicator.
Planting nitrogen applications were made using Precision Planting's Conceal fertilizer application system, with either single or dual bands — one on either side of the row. Each 3-inch-wide band with the Conceal system is placed 1.5 inches below the surface.
Case for multiple N applications
The control application method in the study was 50% nitrogen applied as weed-and-feed and 50% injected as sidedress N. This approach has shown the most advantage in past trials, Webster says. "It also performed well in 2019, outyielding a one-shot, 100% weed-and-feed program by 14.1 bushels per acre.
"However, we picked up another 11.4 bushels per acre over that method by going to 50% application off the planter with the Conceal system with dual bands and 50% sidedress. Making it a triple application, with 25% as weed-and-feed, 25% at planting and 50% sidedress, added another 2.1 bushels per acre."
The bottom line is that applying all your nitrogen in one shot won't deliver maximum yield or the most dollars per acre of return. In the 2019 study, when comparing the three single-timing application methods, the five double-timing methods and the one triple-timing method, the single-timing methods were clearly at the bottom, Webster says. Considered as a group, dual application options outyielded single application methods by over 15 bushels per acre.
Besides timing of applications, total rate per acre is always a question mark. In the 2019 study, Webster added two treatments. He increased nitrogen rate by 25% and lowered it by 25% on successive treatments.
Lowering the rate in this continuous-corn setting cost money, he notes. Yields were 9 bushels less than the control, and net returns were $32 per acre lower. On the other hand, increasing rate produced the second-highest yield in the test, and the second-highest net return per acre.
Subscribe to receive top agriculture news
Be informed daily with these free e-newsletters
You May Also Like
---