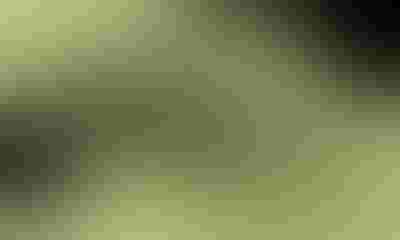 Emerald ash borer, a tree-killing pest of ash trees, has been confirmed in Iowa City in eastern Iowa. The Iowa Department of Agriculture made the announcement February 9. The discovery was the result of the University of Iowa's Facilities Management & Landscape Services personnel contacting the Iowa EAB Team after locating trees on campus appearing to be under attack by this invasive pest. Upon further examination, a suspect specimen was collected and later confirmed positive by national identifiers with the USDA.

BAD BUG: Emerald Ash Borer, a tiny metallic green insect that kills ash trees, has now been found in Johnson County. In Iowa, 30 counties are now confirmed positive for EAB, more than a third of those coming in 2015 alone. This exotic pest of Asia first made its presence known in Iowa in 2010.
There are now 30 counties in Iowa confirmed positive for EAB, more than a third of those coming from last year alone. This exotic pest of Asia first made its presence known in Iowa in 2010. On the national scene, EAB has spread to 25 states destroying tens of millions of ash trees.
Watch for a small, metallic-green beetle; woodpeckers are a clue
EAB is a metallic-green beetle that measures approximately ½ inch long. The immature stage of the insect feeds on the inner bark of ash trees, disrupting the trees ability to transport water and nutrients. EAB infested ash trees include thinning or dying branches in the upper canopy, evidence of woodpecker activity, S-shaped feeding galleries under dead or splitting bark, D-shaped exit holes, and water sprouts (along the trunk and main branches). 
"The Iowa City find is a classic example where the woodpeckers are finding the infested trees before people on the ground," says Mike Kintner, the Iowa Department of Agriculture & Stewardship's EAB and gypsy moth coordinator. "EAB attack is difficult to detect early on so the dormant season is an opportune time to follow up on ash trees where woodpecker activity is evident and where they just might be feeding on EAB larvae that are overwintering underneath the bark." 
University of Iowa officials estimate there are approximately 560 ash trees on campus, with ash composing of about 7% of tree species. The university has been planning for the inevitable attack of EAB and has been practicing tree diversification throughout the landscape. 
Statewide quarantine on moving firewood is still in effect
The movement of firewood from county to county throughout Iowa or moving firewood to or from other states poses the greatest threat to spread EAB and other plant pests. The Iowa EAB Team cautions Iowans not to transport firewood across county or state lines. A statewide quarantine remains in place, restricting the movement of hardwood firewood, ash logs, wood chips and ash tree nursery stock out of Iowa into non-quarantined areas of other states.
Now, in the winter, the window for all preventive treatments has closed. If a landowner is interested in protecting a valuable and healthy ash tree within 15 miles of a known infestation, he or she should have landscape and tree service companies bid on work, review the bids during fall or winter, and treat beginning in the spring of 2016 (early April to mid-May).
If you suspect an ash tree has EAB, contact an Iowa team member
If you suspect that your ash trees are infested with this pest, contact Iowa EAB Team members to have suspicious looking trees checked in counties not currently known to be infested. Team members include officials from Iowa Department of Ag & Land Stewardship, Iowa State University Extension, Iowa Department of Natural Resources, USDA Animal Plant Health Inspection Service and the USDA Forest Service.
The State of Iowa will continue to track the movement of EAB on a county-by-county basis. Before a county can be officially recognized as infested, proof of a reproducing population is needed and an EAB must be collected and verified by USDA entomologists. To learn more about EAB and other pests that are threatening Iowa's tree population, visit IowaTreePests.com. Contact any of the following members of the Iowa EAB Team for further information:
•Mike Kintner, IDALS EAB coordinator, 515-745-2877, [email protected]
•Robin Pruisner, IDALS state entomologist, 515-725-1470, [email protected]
•Paul Tauke, DNR state forester, 515-725-8450, [email protected]
•Tivon Feeley, DNR forest health coordinator, 515-725-8453, [email protected]
•Emma Hanigan, DNR urban forestry coordinator, 515-725-8454, [email protected]
•Jesse Randall, ISU Extension and Outreach forester, 515-294-1168, [email protected]
•Mark Shour, ISU Extension and Outreach entomologist, 515-294-5963, [email protected]
•Laura Jesse, ISU Extension and Outreach entomologist, ISU Plant and Insect Diagnostic Clinic, 515-294-0581, [email protected]
•Donald Lewis, ISU Extension and Outreach entomologist, 515-294-1101, [email protected].
•Jeff Iles, ISU Extension and Outreach horticulturist, 515-294-3718, [email protected]
Subscribe to receive top agriculture news
Be informed daily with these free e-newsletters
You May Also Like
---