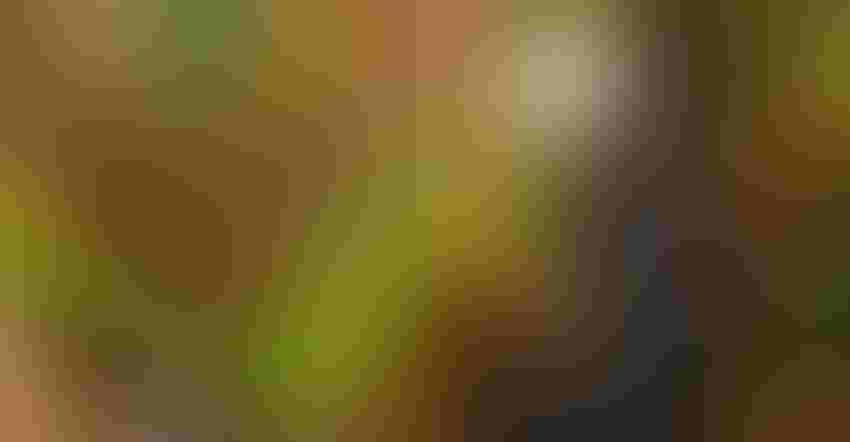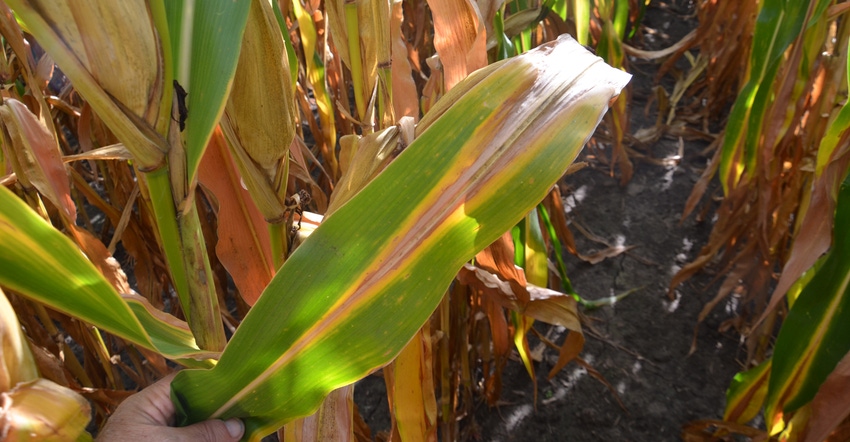 PREVENT THIS PICTURE: What you don't want to see are corn leaves showing nitrogen deficiency in the middle of grain fill. Plan now for 2021 to make sure you have enough nitrogen all season.
Tom J. Bechman
When should you start thinking about your nitrogen program for corn for 2021? Will you follow the same plan as always, or should you tweak it?
Tim Laatsch, technical agronomy manager for Koch Agronomic Services in North America, suggests having a conversation about your 2021 nitrogen program with your retailer soon. Whether you adjust your program will likely depend on how you've approached nitrogen fertilization in the past. There's both economic and environmental pressure to make sure you're applying nitrogen correctly so corn best uses what's applied.
Laatsch, who has direct responsibilities for the eastern Corn Belt and who also farms in southern Illinois, is a strong believer in the 4R concept. "You need to choose the right source, apply the right rate, use the right form of placement and apply nitrogen at the right time," he says. "Think through the options for managing nitrogen carefully.
"The nitrogen cycle that occurs in the soil is complex, and if not managed carefully, you can lose nitrogen before it reaches the plant. If nitrogen leaves the field, it can impact the environment. For all these reasons, we believe nitrogen management requires a systems approach today."
Prevent nitrogen losses
Including nitrogen stabilizers to minimize nitrogen loss should be an important part of the planning process, Laatsch says. Koch offers three products in this category: Centuro, which protects against denitrification and leaching in anhydrous and UAN applications; Anvol, a next-generation product following Agrotain that works with urea and liquid nitrogen; and Superu, which contains urease and nitrification inhibitors to protect against all three forms of loss: denitrification, volatilization and leaching.
Other companies also offer nitrification inhibitors.
"If you're in an area like central and northern Illinois, where fall anhydrous application fits, strongly consider including a nitrification inhibitor," Laatsch says. "The farther away you apply from when the plant uses nitrogen, the greater the chances for loss. The longer you can keep nitrogen in a form that is less subject to loss, the better."
In his own farming operation, Laatsch uses a nitrification inhibitor with spring and in-season applications. If you're broadcasting nitrogen or even using Y-drops to surface-apply liquid nitrogen during the season, significant losses can occur through volatilization — especially if you make the application in hot, humid conditions, he notes.
Sidedress applications help get nitrogen closer to the time when more of it is used by modern hybrids, but that approach isn't without risk, Laatsch says. Wet weather, like what occurred in the 2015 season, can cause you to miss the sidedress window and be forced into rescue-type operations.
Although researchers note that corn uses a significant amount of nitrogen around and after the tasseling stage, results demonstrate growers are better off erring on the early side with postemergence nitrogen applications, Laatsch says. Stabilizing these applications ensures that adequate nitrogen will be available during the reproductive stage, he adds.
If you see firing and signs of nitrogen deficiency before black layer, consider adjusting your program for 2021. Recent research reports indicate the corn plant continues to rely on nitrogen to help elongate kernel size all the way to black layer, Laatsch says.
"Develop a plan now for next year that will provide enough N all the way to maturity without allowing nitrogen losses into the environment," he concludes.
About the Author(s)
Subscribe to receive top agriculture news
Be informed daily with these free e-newsletters
You May Also Like
---