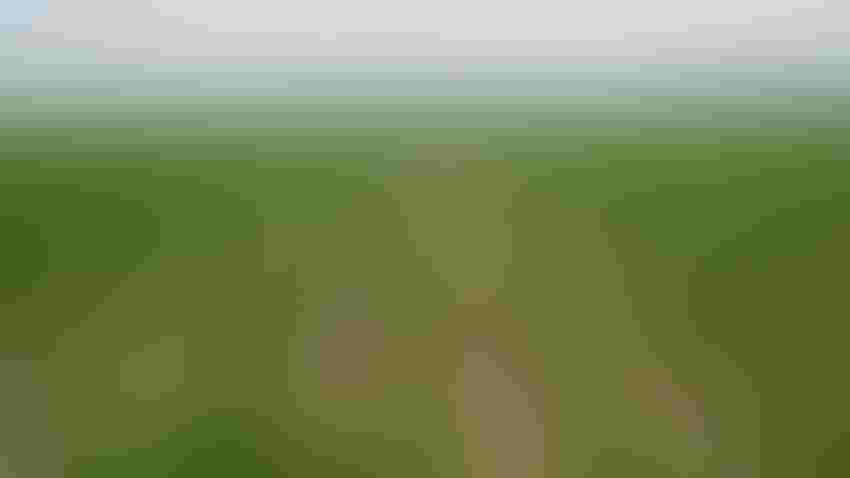 COMPARING POPULATIONS: Research trials like this one, on a farm scale, continue to compare hybrids and their response to different seeding rates.
Tom J. Bechman
Go to any seed corn meeting and corn populations likely will be discussed. Yet for all the talk, how much do you really know? Are you certain that you're dialing in the right seeding rates?
Bob Nielsen, a longtime Purdue Extension corn specialist who's now retired, studied plant populations vs. yield in nearly 100 trials, aided by Jim Camberato, Purdue Extension soil fertility specialist, and graduate students.
"We concluded that which plant population is best depends a lot upon the year, and you can't determine that in advance," Nielsen says. "Plant population affects two other key components of yield: kernels per ear and weight per kernel.
"As you increase plant population, each of those other factors tends to decrease. But by how much and what impact that has on yield depends heavily on the environment and weather. That makes it difficult to arrive at a universal recommended plant population."
Straight talk
Nielsen points to facts uncovered or borne out by their research. Here are highlights:
Population trend. When Nielsen began his career at Purdue in 1982, average corn population in Indiana, as reported by the USDA National Agricultural Statistics Service, was just under 22,000 plants per acre. By the end of '22, it was 29,000. That's an increase of 267 plants per acre per year. Illinois reports an increase of 290 plants per acre per year, and Ohio reports 270 plants.
"That's a very slow but steady increase over time," Nielsen says. During the same period, yield continued to increase at about 1.8 bushels per acre per year.
"The increase in population is likely tied to a slow but steady increase in stress tolerance among hybrids, thanks to good work by plant breeders," Nielsen adds.
More trends. Thanks to work by graduate students, Nielsen documented that as population increases, number of kernels per ear decreases by a small amount. Weight per kernel follows a similar trend.
"That's logical, since increasing plant population is a physiological stress," he explains.
Optimum populations. Based on over 80 trials, Nielsen and company determined that the agronomic optimum plant population for maximum yield was 32,142 plants per acre. However, the economic optimum plant population for maximum profit was typically 2,000 to 4,000 plants per acre lower.
Caveats to optimum populations. Graphing out yield by population, Nielsen determined that yields increased slightly in response to plant population before peaking and decreasing slightly — it was relatively flat.
"From 28,500 to 35,750 plants per acre, maximum yield only varied 0.5% plus or minus," he observes. "And even at 23,500 final stand, we achieved 97.1% of maximum yield. That's a very narrow response range."
Hybrid recommendations. Nielsen and Camberato compared paired hybrids that seed corn companies believed would respond differently to populations in 30 trials. They saw different hybrid responses in only 12. Of those 12, hybrid differences matched company expectations in only seven trials.
"We concluded that hybrid differences are just not consistent or reliable enough to be of great value," Nielsen says.
Seeding rate. Remember that your target final population won't be your seeding rate. "Know what percent of seeding rate you normally hit with population," Nielsen advises. "If it's 95% and you want 28,000 plants, you would seed 29,474. Adjust based on your own performance."
Watch a YouTube presentation by Nielsen on plant population below.
Subscribe to receive top agriculture news
Be informed daily with these free e-newsletters
You May Also Like
---