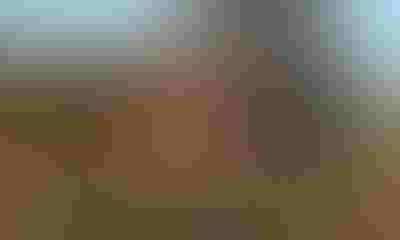 For the past couple weeks, prices for corn and soybeans have moved upward. November soybean futures have taken a run at $10 per bushel. December corn futures on the Chicago Mercantile Exchange have moved toward $4. Should you plant some soybeans on some of the undecided acres where no nitrogen has been applied?
A price ratio of 2.51 looks tempting (November beans divided by December corn). This is the largest ratio we've seen in a long time. When the price ratio is 2.5 or greater, it's considered to be more favorable for soybean profitability than for corn—considering cost of production, yields, etc., for the two crops.

GOOD START: Don Willemsen planted no-till corn into this cereal rye cover crop field in Mahaska County on April 25. "We drilled rye last fall after soybean harvest, got good growth to protect the soil, then sprayed glyphosate to kill it 10 days before planting corn this spring. The cover crop teamed with no-till is working well."
As tractors rolled across Iowa in late April, many farmers were well into planting their 2016 corn crop and some were starting on beans. Don Willemsen, who farms with his brother Dave in southeast Iowa, was planting corn in a cover crop field east of Pella. "Did you think we'd be talking about $10 beans and $4 corn if I would have been riding with you in this tractor two weeks ago instead of today?" the editor asked.
Strength of recent crop price uptrend has been surprising
Just about every spring there is a crop price rally, usually weather-related," Don Willemsen answered. "But the strength of the move upwards this spring has been somewhat surprising." The large anticipated 2015-16 ending stocks for corn and soybeans along with a robust planting intentions report by USDA in March raised questions about low crop prices continuing this year. But crop production concerns in South America, a potential drought in the U.S. and some strength in exports have recently improved prices.
The corn price rise in recent weeks hasn't been as dramatic as the soybean price increase. "We need to pay attention to price rallies to market any old-crop corn and soybeans still in storage, and maybe some new crop. Any price rallies will likely be short-lived. This is the best soybean price opportunity we've seen for the 2015 soybean crop since late last summer," he noted.
Limited acreage shift from corn-to-soybean acres foreseen
Would the soybean price strength be enough to get the Willemsen brothers to change their plans and plant more soybeans and less corn? "No, we usually plant 50-50 corn and soybeans and we'll stick to it this spring," said Don. "We like the benefits of rotating crops, plus fields going to corn already have fertilizer applied. There may be some farmers with swing acres, but not a lot. Many have nitrogen already applied for corn."
USDA's March planting intentions survey showed U.S. farmers will devote more acres to corn and nearly as many acres to soybeans in 2016 as last year, despite low grain prices. Barring disastrously bad weather this summer, all those acres likely mean another big crop is on the way. Grain prices have dropped in recent years as international demand has softened. At the same time, U.S. farmers have harvested enormous crops.
Will we grow large crops again this year, or is El Nino fading?
In years with an El Nino weather pattern, crop yields are favorable in the Corn Belt. That's been the situation the past couple of years. "There's definitely a perception that we'll have large crops again this year, and that's going to hold prices down for another year," says Iowa State University Extension grain economist Chad Hart. "It's likely we'll have another year of large supplies and low prices."
Hart sees signs demand may start to improve again, but not enough to catch up with such large supplies. "Looking at the demand side of the market, we're seeing some improved spots. Ethanol demand remains strong. Feed demand for both corn and soybeans grows as the livestock industry rebuilds. Demand may rebound a little bit moving through next year, but supplies continue to just overhand the market. That's why it's hard for crop markets to get much traction for upward movement right now."
El Niño could shift into neutral phase before becoming La Niña
If the El Niño weather pattern gives way to a La Niña weather event as some climatologists believe it will this summer, that could lead to hot, dry conditions in the Midwest that could reduce yields. But with the ample supply of subsoil moisture Iowa has entering the growing season this year, a switch to La Niña wouldn't be as much of a concern for the 2015 growing season as it would be for 2016.
ISU Extension climatologist Elwynn Taylor estimates that currently the top 5 feet of soil in Iowa averages about 10 inches of moisture, which is adequate to get the 2016 crop started successfully. Then timely rains will be needed during the growing season. "After that 10 inches to start with in the spring, the soil needs roughly to have 10 more inches of moisture distributed throughout the growing season to produce an acreage crop of corn and beans. It would need 15 inches to produce a bumper crop," says Taylor.
Climatologists point out that the shift from El Niño to La Niña may not happen fast. Sometimes it goes into the neutral phase for a while before shifting to La Niña. "The effect of such a change would depend greatly on the timing," says Taylor. "If we can get this year's corn crop through the pollination period in good shape, a return to hot, dry weather later on in the summer or fall wouldn't hurt yields as much."
Figure weather forecast into your decision to plant corn
It's rained, and the soil is still a little wet. Should you go ahead and plant corn? It's late April or the beginning of May. "With the rain showers we had in some areas this week, I've received calls from farmers asking what I think about this question," says Mark Johnson, ISU Extension agronomist in central Iowa. Here's what he's telling farmers, to help them make their decision.
"Most of the fields in our area are in very good condition right now," says Johnson. "Ideally, we want the soil profile to be full going into planting and not be water-logged. After a rain, water that infiltrated is pulled down through the soil profile by gravity, until the excess is drained. At that point, the soil is at field capacity. Then over a period of time, plants use water from the soil pores until the layer of water in the pores becomes so thin the roots cannot take it up. That is the wilting point."
Works best about 2 days after moisture is down to field capacity
So, an ideal situation going into planting would be to have the soil moisture supply at field capacity. "And that's where most of the soils in our area are right now—or maybe it's a little less than field capacity in some locations. I'm not aware of any fields being above field capacity at this time," says Johnson. "It's possible some fields somewhere in the nine counties I serve are above field capacity, but with the current weather forecast, they should be able to get down to that level over the next two to three days."
That is, assuming the weather forecast is accurate or close to it. "Fieldwork is best when it's done about two days after the soil gets down to field capacity," he emphasizes.
Prospects of having a good 2016 planting season still look good
Prospects of having a good planting season in 2016 remain good at this point in time. Of course, that could change, but the weather forecast for next week is favorable.
"I think you'll see a lot of corn planted in Iowa between Thursday, April 28 and Sunday evening May 1," says Johnson. "Keep in mind that after May 1, there are still nearly three weeks of the optimum-to-near-optimum planting window for corn left in central Iowa." With today's corn hybrids, yield potential drops off only a little as you move past mid-May as long as the corn is planted before May 18.
How late can you plant soybeans and not lose yield potential?
Johnson says, "The optimum soybean planting window in Iowa extends all the way to May 20. So there is plenty of time left for beans to be planted. Hopefully, no one is getting in a hurry to plant soybean acres yet. Personally, I wouldn't start before April 25, unless soil and weather conditions are very good and the forecast is very favorable for warm and moist soils and no heavy rain in the nearby forecast."
Subscribe to receive top agriculture news
Be informed daily with these free e-newsletters
You May Also Like
---