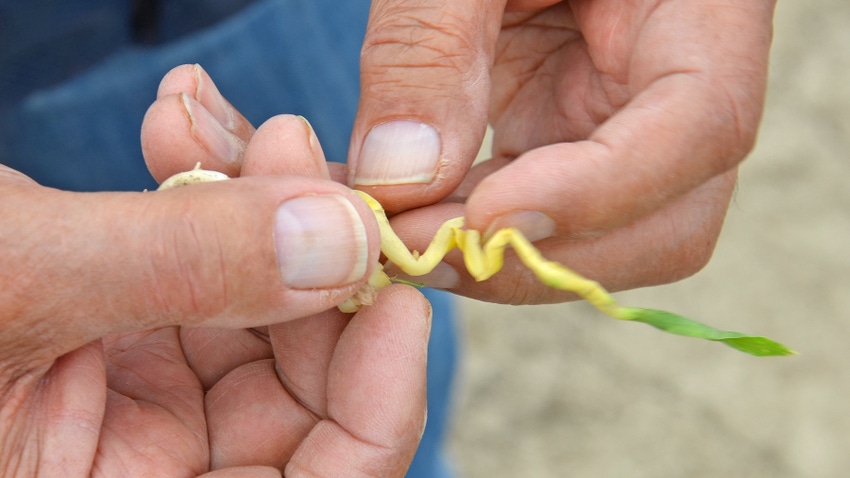 LOSING BATTLE: This seedling took weeks to emerge after corkscrewing underground. Germinating in cold, wet soil had an impact.
Tom J. Bechman
Did you plant corn early, tempted by several warm days? Did some fields emerge OK? Did other fields encounter emergence problems? Mother Nature seemed to like it either unusually cold or unusually warm this spring, and corn germination and emergence aren't designed to deal with a season with a split personality.
Ross Ennen, a Pioneer senior research associate, and Mark Jeschke, a Pioneer agronomy manager, reviewed the report "Soil Temperature and Corn Emergence" for Pioneer's 2023 Agronomy Research Summary. They related key factors that impact corn emergence when temperatures lean to the cool side with accompanying large swings in temperature between days and nights. Then they suggested ways to reduce cold weather stress in future seasons.
Big temperature swings
If corn had its way, it would germinate when soil temperatures are from 85 to 90 degrees F. Asking it to germinate at much cooler temperatures is already pushing the envelope.
"Corn seed is particularly susceptible to cold stress during imbibition," they report. That's when seed first takes in water. If dry seed takes in cold water, it can result in physical damage called imbibitional chilling, which ruptures internal membranes. Stands can be reduced.
Soil temperature fluctuations from day to overnight can be harmful in any soil, but it's more pronounced in sandy soils, Jeschke says. In 2015 in tests on a sandy soil in Eau Claire, Wis., soil temperature differences between 6 a.m. and 6 p.m. were sometimes greater than 20 degrees F. The daytime soil temp would average 50 degrees but drop to 38 degrees at night. An average 16% stand loss was observed due to temperature shifts.
"Fluctuations in nighttime temperatures after planting can add stress to germinating seedlings," the authors note. "Be aware of predictions for nighttime lows when you're picking planting dates."
Residue effect
Proponents of no-till systems acknowledge that soils can stay cooler when covered with residue. Pioneer studies over the years have discovered just how much difference in temperature can develop between bare soil and soil covered by residue.
In 2011, data loggers in a strip-till field in Perry, Iowa, recorded temperatures and accumulated growing degree days for a month, from April 1 to April 30. Soils in the portion tilled for planting accumulated 99 GDDs. Under residue between rows, only 28 GDDs accumulated. About 125 GDDS are required from planting to emergence.
Researchers went back to the same field in 2019 and found a 15-degree difference in midday soil temp between soil under low residue and soil under soybean residue.
"Using a row cleaner to clear residue off the row in high-residue fields allows for warmer daytime soil temperatures and faster accumulation of GDDs," the authors report.
Mitigate stress on emergence
Here are four tips offered by Ennen and Jeschke:
1. Watch the forecast. If a cold spell is expected, stop planting one or two days in advance. Let seed take its first drink in warmer soils.
2. Be aware of temperature swings. Especially in sandy or lighter soils, nighttime temps can dip below recommended planting levels. If the temperature drop is intense enough, it can hurt emergence.
3. Remove residue. Consider strip-tilling or using row cleaners to clear away residue, letting soils warm up.
4. Select the right hybrids. Especially in northern areas, emphasize higher-stress emergence scores and select the right seed treatments.
Subscribe to receive top agriculture news
Be informed daily with these free e-newsletters
You May Also Like
---