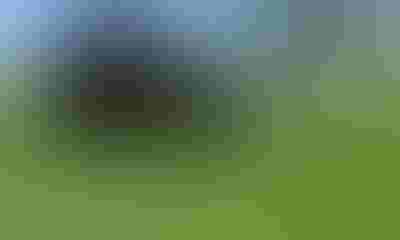 When is the best time to control Canada thistle and multiflora rose in pastures? That time is approaching soon, says Brian Lang, Iowa State University Extension field agronomist in northeast Iowa. Multiflora rose is best sprayed when it is in full bloom. 

RIGHT CHOICE: Only a few herbicides are highly effective at controlling Canada thistle in pastures; choose and properly use the right one, advises ISU's Brian Lang. An extensive root system is what makes this weed so difficult to control.
This topic is discussed in the following ICM News article by ISU weed management specialist Bob Hartzler at:  www.extension.iastate.edu/CropNews/2011/0526hartzler.htm. Additional management options (biological, mechanical, grazing, basal bark and foliar herbicide treatments) for multiflora rose control are provided in this nine-page publication from Ohio State University: efotg.sc.egov.usda.gov/references/public/RI/MFRose_b857_OhioState.pdf.
To eliminate Canada thistle, you have to kill the roots
Canada thistle is best controlled if sprayed right before or soon after buds start to develop, says Lang. The persistent nature of Canada thistle is due largely to its extensive root system. In order to eliminate this weed, the entire root system must be drained of energy reserves. No matter what strategy is used (herbicides, tillage, mowing), it will take repeated measures to bring established patches under control. 
Canada thistle is not tolerant of shade, thus the first step is to invigorate competition from desirable forage species planted in the pasture, he advises. This may involve fertilization, liming, overseeding and adjusting animal stocking rates. Overgrazing is a common cause of infestations since the animals over-eat the surrounding vegetation and not the thistles. 
Simply applying herbicides while ignoring pasture health won't work
Simply applying herbicides while ignoring the health of the pasture will generally not provide acceptable results. Only a few herbicides are highly effective on controlling Canada thistle in pastures. Standard herbicide programs for biennial thistles are generally not adequate against established stands of Canada thistle. 
Herbicide programs containing either picloram (Tordon, Grazon) or clopyralid (Stinger, Curtail) have proven most effective against Canada thistle. While more costly than other treatments, their performance warrants the cost when Canada thistle is the target, says Lang. ISU Extension research trials in eastern Iowa found that spring applications (late-May to early June) of herbicides provide better control of Canada thistle than fall applications, and there was little benefit to a combined fall and spring treatment. 
Extensive root system makes this weed difficult to control
"Aboveground shoots of Canada thistle are relatively easy to kill with herbicides," notes Lang. "It's the extensive root system that makes the weed so difficult to control." "Both picloram and clopyralid are also persistent in the soil and readily absorbed by roots, with picloram being more mobile in soil than clopyralid," he says. The added mobility of picloram is also the reason for picloram products to be classified as Restricted Use Pesticides, since picloram can easily move off the target site with runoff water."
Controlling equisetum (horsetail) in corn and soybean fields
For those farmers and others who are trying to put a little hurt on Equisetum weed that's showing up in corn and soybean fields, here is some advice from ISU's Bob Hartzler. "While no herbicide offers control of this weed, research suggests our best chance at suppression is with flumetsulam (Python, Hornet). Python is labeled for both corn and soybean, whereas Hornet is registered for use in corn." FYI, you'll find the Equisetum fact sheet at www.weeds.iastate.edu/mgmt/2006/horsetail%20.pdf.
Subscribe to receive top agriculture news
Be informed daily with these free e-newsletters
You May Also Like
---