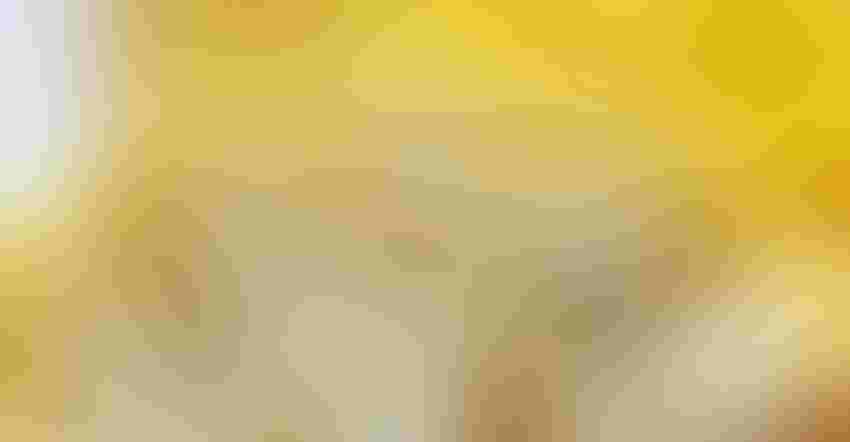 BIGGER BOUNTY: Corn growers may be pulling in more kernels in the coming years as new gene-editing technology proves capable of adding more kernel rows to the ear. Two companies are working together to bring this new trait to farmers' fields in the future.
Martin Harvey/Getty Images
Farmers may be counting more than the average 16 rows on an ear of corn to assess yield potential. Pairwise successfully created a new corn phenotype with increased kernel-row numbers, and it is already in field trials across the Midwest.
Using gene-editing technology, the young startup company, which is part of the Leaps by Bayer program, is already conducting real-time, on-farm field trials of this new trait that is positioned to raise corn yield potential.
"So, the traits that we're working on are actually around increasing the amount of productivity per acre that a farmer would see on a per-plant basis in the field," says Ryan Rapp, chief technology officer for Pairwise. "That is pretty different than what's going on in agriculture. Historically, we've reached higher yield because we've used higher plant density. This is actually about making each individual plant produce better."
Pairwise is working with Bayer on bringing the new technology to fruition. Linda Lutfiyya, who heads Bayer's Partnership Management for Biotech and Breeding, says while this is the first year of field testing, the company is optimistic about the discovery and can see it advancing into Phase 1 of the pipeline in the next couple of years.
"We have a goal to achieve more with less," Lutfiyya says of Bayer's vision. "That means increase crop efficiency." She says the discovery targets a specific place in the genome to achieve a specific phenotype. "And we believe that phenotype has a very high potential to get us to that increased crop efficiency."
From lab to field
The relationship with Bayer and Pairwise is still in its infancy, only 3 years old. However, this new gene editing came about quickly in terms of traditional trait development.
Rapp explains that when farmers think about the introduction of a new transgene, it can take up to 10 years to get it tested and in the field. "It took us about two years to work with Bayer and start this project, go through the development process, all the way through to field testing," he says.
Rapp credits the accelerated process to being able to build on some proven pieces of technology from Bayer. "But really, it is the focus that a small company can bring when they're working with a big company like Bayer," he adds, "so that the attention is really focused on delivering those traits."
Ultimately, this new yield-boosting trait would be added to a traditional corn hybrid like many others before it — through stacking. "As we think about our next-generation products," Lutfiyya explains, "we absolutely envision that this would be stacked with some kind of trait portfolio package."
She points out that every season, growers have tough decisions to make depending on their operations — they consider environment, fertility and how to protect against insects and weeds. "We see some kind of combination of this increased productivity trait through kernels per ear with some of those traits," Lutfiyya says.
However, this new gene technology will need to be tested in conjunction with others to find the optimum pairing to provide farmers with both protection and productivity.
Future of corn productivity phenotype
Pairwise has fields of corn planted with this new corn kernel-boosting phenotype in Iowa, Illinois and Minnesota. Because of the need for more trials, Lutfiyya says it is hard to determine when the product will be commercially available, but adds it is not likely in the next two years.
Just how many rows or what the corn ear looks like is still being held close to the vest by both companies. "The real strength of this technology is being able to generate a range of rows," Lutfiyya explains. "We can do that range between 16 and whatever. That's really a big part of the power of this technology is being able to develop that range of phenotypes, which will help us understand what that ideal row number will be."
The edits, which were confirmed by trait-testing at Pairwise, will undergo further evaluation to assess increased yield potential for farmers. However, Rapp says this advancement in corn productivity will directly affect corn growers' operations.
He notes that taking yield estimates by counting kernels in the future would "be counting very different numbers" with the insertion of this type of technology.
Subscribe to receive top agriculture news
Be informed daily with these free e-newsletters
You May Also Like
---