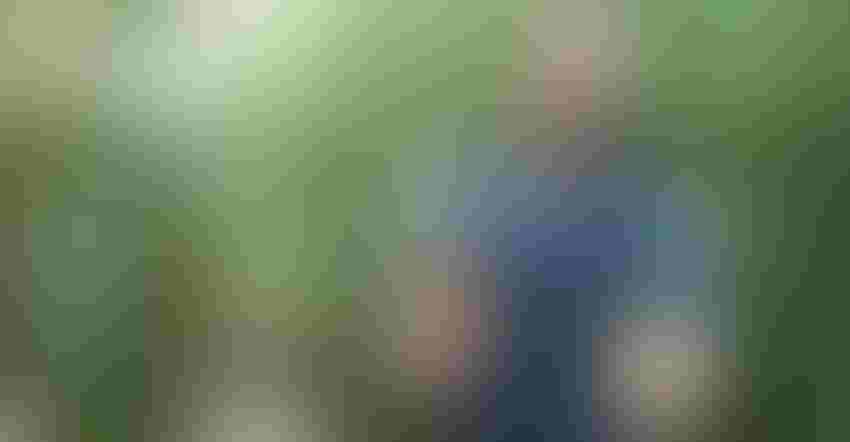 ORANGE EARS: The orange ear of corn Evan Rocheford holds didn't come to exist by accident. His father, Purdue University professor Torbert Rocheford, developed orange corn over a 20-year span.
Purdue University
Orange corn, which helps African countries improve diets and which you can buy for corn grits, didn't happen by chance. Torbert Rocheford spent 20 years using traditional breeding methods to develop it.
The Purdue University corn breeder and his son Evan, with the help of grants and the Purdue Foundry program, formed a startup company called NutraMaize LLC to market the corn in the U.S. Find their first product, Professor Torbert's Orange Corn Grits, at professortorberts.com.
Evan Rocheford explains the present use and possible future value of orange corn in the following interview with Farm Progress.
What is the nutritional make-up of orange corn vs. regular corn? Orange corn is significantly higher than yellow corn in antioxidant carotenoids, which are the same type of natural pigments that give carrots their orange color and health-benefiting reputation. Some carotenoids can be converted to vitamin A, an essential nutrient, while others serve different specialized functions in the body, such as shielding the central region of the eye from UV light damage as we age.
Does the orange color affect whether people will buy the corn? Most people find the orange color very appealing and appetizing. Americans are used to eating many delicious and nutritious orange-colored fruits and vegetables. Most people are excited about the vibrant color of our corn, particularly since it was created naturally.
How does it taste? Many people describe it as having a nutty, buttery flavor when prepared as grits or corn bread. Initial tests indicate these unique flavors are passed on to products using it as an ingredient, such as tortillas and corn chips.  
You're selling corn grits. Is there a broader future market in the U.S.? We see our unique variety of orange corn as being much more than just a food product. We think it can be a platform for delivering more health-benefiting nutrients on a population-wide scale. This concept of naturally increasing the nutritional content of staple crops people are already consuming led to the development of our orange corn originally.
The big difference is that in many places in Africa, they need more provitamin A carotenoids, whereas here in the U.S., we should be consuming more macular carotenoids that are critical for maintaining healthy eye function as we age. Since our corn has an abundance of these eye-protecting carotenoids, we think there's a significant opportunity to partner with food manufacturers to create more nutritious versions of popular corn-based foods such as breakfast cereals, tortillas and snacks.
Is the corn being grown in Africa? Our partner, HarvestPlus, has had great success introducing "orange maize," as they call it, in 11 African countries. Indeed, in some places like Zambia and Nigeria, these programs have been so successful that neighboring countries like the DRC (Congo), Zimbabwe and others have started initiatives of their own. Many families around the world are already benefiting from this more nutritious corn.
Are there opportunities for local farmers to grow it? We currently have enough contract growers to meet our demands. However, as we move into broader markets, we'll be looking for more farmers who have experience handling identity-preserved grains. Farmers interested in working with us can reach out to us through our company website, nutramaize.com. We will keep their information on file for future growing seasons.
About the Author(s)
Subscribe to receive top agriculture news
Be informed daily with these free e-newsletters
You May Also Like
---