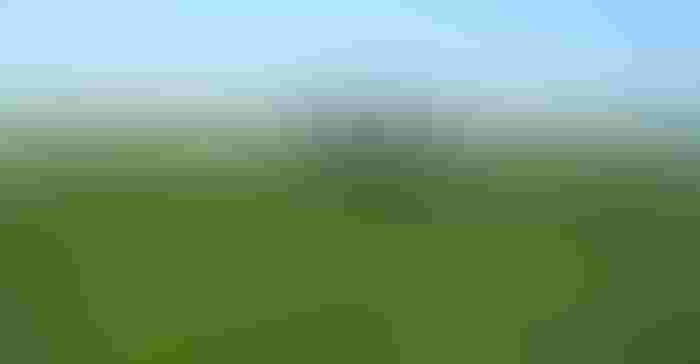 Conventional wisdom dictates that for every bushel of corn produced per acre, it takes at least 1 pound of nitrogen. For the past 20-plus years, however, Tim Schmeeckle has been challenging that wisdom — and with successful results.
"We started years ago at about 1.1 pounds of nitrogen per bushel of corn. Then we dropped to 0.9 and thought we were doing really well," says Schmeeckle, who farms near Gothenburg, Neb. "Then I dropped to 0.7 and then 0.65, and that was the year I had the best yields."
How did he get there? A big piece of the puzzle is split nitrogen applications, and Schmeeckle has dabbled with split-applied nitrogen since 1983. It was a decision based on economics and stewardship — corn takes up a relatively small amount of its total nitrogen requirement before V8, and takes up most of it between then and tassel. Split-applying reduces the risk of it being lost to leaching or denitrification.
"It was the most economical decision to split-apply," he says. "There were years we were knifing in anhydrous up and down the hills, and I would get a rain, and we would lose the anhydrous. I switched to liquid nitrogen and built a cultivator to sidedress. We started to put some on preplant, sidedress and the rest through the pivot. Now we use a high-clearance machine to sidedress.
"When we switched to liquid nitrogen to spoon-feed the corn crop, it was partly an economical decision, but it was also about being a good steward. The days of putting it all on before the corn comes up are over."
Applying N in-season
This typically involves applying a base rate — anywhere from 60 to 75 pounds, depending on what soil samples indicate — preplant with an Orthman strip-till machine. This helps clear out residue from the previous crop, while also leaving a strip for the ground to warm up quicker. Schmeeckle typically applies a UAN 32% solution, along with a 15% to 20% blend of thiosulfate.
"In normal years without moisture, that preplant application will carry us to about V10," Schmeeckle says. "Around V9, we'll take a soil sample with a Soil Scan 360, and find out what the parts per million is and hit it with the rate needed at that time.
"The Soil Scan 360 is kind of like the fuel gauge in your car. It tells you how much nitrogen you have yet to use, and how much nitrogen you need through the season. I like to make the second application as late as possible — usually V10 to VT. I've always thought, 'Why put it out early and be vulnerable to losing it?'"
Schmeeckle makes his sidedress applications with a high-clearance machine — a Hagie STS12 equipped with an 80-foot boom and Y-Drops from 360 Yield Center. Schmeeckle, who has used Hagie high-clearance machines since 2013, became a 360 Yield Center dealer in 2016 and began using Y-Drops and the Soil Scan 360 that same year.
"I already had the sprayer before I used it to do high-crop applications," he says. "I liked the front boom on the Hagie. It made it easy to have everything out front. So, it fit right in. It's set up to spray. We've got Y-Drops, and I've set up a rope wick for it."
He takes another soil sample after past pollination and brown silk, and if he's short on nitrogen, he applies the balance through the center pivot where possible.
However, he can't apply on gravity-irrigated fields after the field is ridged. He still applies a base rate, usually about 75 pounds of nitrogen with the strip-till machine up front. Instead of applying liquid product through the Hagie, he applies dry fertilizer — usually a dry urea product — as late as he can before ridging the field.
Soil biology: the next frontier
The next frontier for Schmeeckle is soil biology — and this includes practices such as introducing cover crops to the rotation, which has mostly involved drilling cereal rye after corn is harvested.
In addition, this is his third year applying biological products, and since 2018, he's applied Midwest BioAg products such as L-CBF Boost 4-0-3-2S, a carbon additive made from sugarcane molasses to help stimulate soil biology and cycle nutrients in the soil, and CX-1, a liquid plant-based compost extract that contains different fungal species to boost soil biology and nutrient efficiency. These are typically applied early in the season with nitrogen, and later on with herbicide.
"I've heard it takes a minimum of five years to get your biologicals built up," Schmeeckle says. "It's going to take some time. Soil biologicals are one of the practices I chose to adopt as part of NRCS' Conservation Stewardship Program. As part of this program, NRCS tested my soils before we started, and they'll come back in four or five years and do the test again to see if we did change our biological population."
While Schmeeckle has hovered about 0.65 to 0.7 pounds of nitrogen per bushel of corn produced, he's setting his sights higher — or, in the case of nitrogen, lower.
"I don't think 0.5 is out of range, especially if we can get our soil biology working well," he says.
Subscribe to receive top agriculture news
Be informed daily with these free e-newsletters
You May Also Like
---