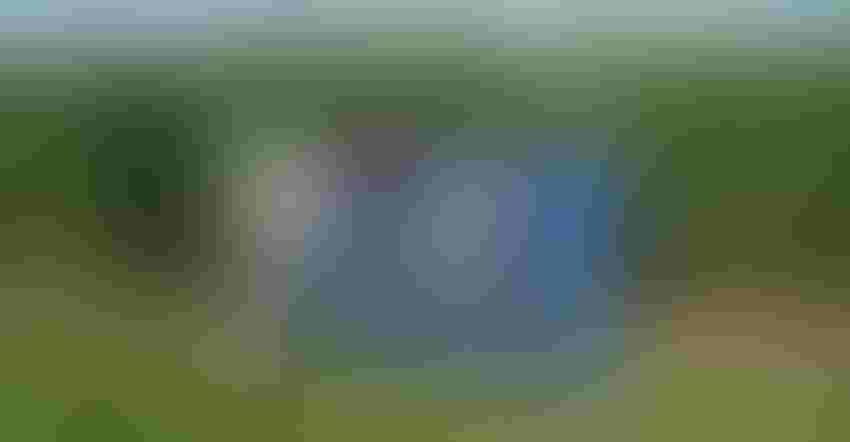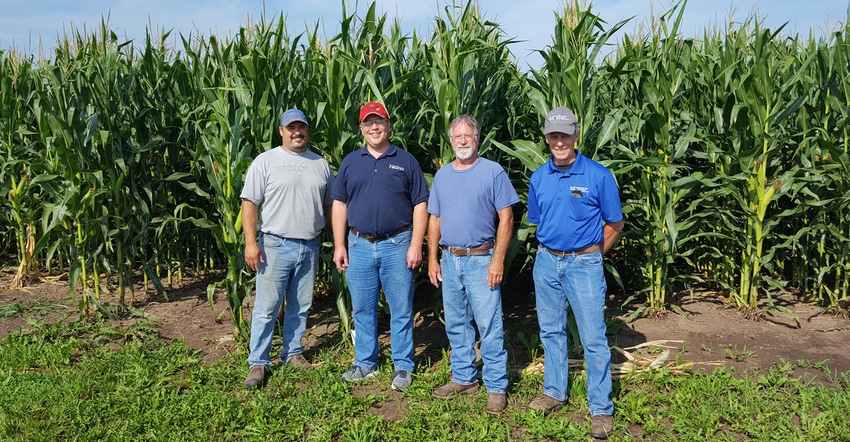 COLLABORATIVE WORK: Working together on the Minnesota Corn-funded Sustainable Answer Acre project are: farmer Tom Cotter (left); Nathan Augustine, Northern Country Co-op agronomist; farmer Al Slowinski; and Steve Lawler, Mower Soil and Water Conservation District soil scientist and resource specialist.
Courtesy of Minnesota Corn
When it comes to nitrogen, farmers want to know what keeps it in their fields so their crops can use it, and they want to know what will keep it out of the water that leaves the farm.
The Minnesota Corn Innovation Grant Program is supporting the Sustainable Answer Acre research project, a collaboration among public and private groups in south-central Minnesota all working together to find the solution.
Steve Lawler, a resource specialist at the Mower Soil and Water Conservation District, coordinates all the volunteers and organizations for Sustainable Answer Acre. The sandy ground 4 miles north of Austin is environmentally sensitive, and thus offers an excellent outdoor lab to test how to control the flow of nitrogen.
Sustainable Answer Acre has just concluded its third year of research. Participants have looked at how split applications of nitrogen or using satellite imagery to set nitrogen rates compares to the more conventional technique of applying the full recommended amount of nitrogen onto the field before the emergence of the crop. Also on the site, other plots are proving the benefit of cover crops and reduced tillage as a means to enhance soil health. These practices may also offer nitrogen management benefits.
Program to gather 5-plus years of data
The Sustainable Answer Acre project planners look to gather a minimum of five years of data, and perhaps keep the project going for years after that. Northern Country Co-op's retail location in Lansing, Minn., offered the land for this use, and it has been one of the driving forces behind the research project.
"We want to demonstrate the value of sustainable practices," says Tom Cotter, one of three farmer-advisers to the project. Cotter has used cover crops on his own farm operation for more than 20 years, and he has employed a combination of strip-till and no-till for corn and soybean production for the last six years.
Cotter represents the spirit of the project in his approach to farming: He's a pragmatist.
"I like to spread my risk. I don't like to do all the same thing, in all my fields, in the same year," Cotter says.
He favors no-till cultivation for both his corn and his soybeans, because it's the best method for maintaining soil health on his farm, he believes. But this year he strip-tilled his corn as a response to high fertilizer prices. Strip-tilling places fertilizer right in the narrow band where the corn is planted.
When it comes to cover crops, Cotter often plants annual ryegrass between the rows of his young corn plants (stages V4 to V6), because annual rye will go dormant in the summer heat and doesn't compete with the corn for the nitrogen. This year, however, with drought stretching through all of July, Cotter skipped annual rye because he guessed it just wouldn't germinate. Instead, he waited and planted cereal rye toward the end of the season, and that has worked well.
The Sustainable Answer Acre project has attracted a constellation of partners, and Lawler foresees more joining the effort as time goes on. To date, Northern Country Co-op and Mower SWCD have been joined by the University of Minnesota; Riverland Community College, Austin, Minn; and the Minnesota Corn Growers Association. The Nature Conservancy, a private, nonprofit environmental group, joined the program to underwrite the cost of soil testing for Sustainable Answer Acre's soil health experiment plots.
"Riverland College has never had a soils lab for its agronomy program," Lawler says. "Now they use Sustainable Answer Acre as their soils lab, and they've put it into their official work-study program, so we get students here on their work-study contracts."
The latest group considering taking part is the Mower County FFA, which could use a plot for its Soils Contest Judging site.
"The most exciting aspect of this project is the collaboration," Lawler says. "We have groups that don't necessarily come into contact with one another, and here they are working together, and communicating and problem-solving together."
To learn more about corn-farmer-funded research or to apply for a Minnesota Corn Innovation Grant, visit mncorn.org/research.
Source: Minnesota Corn Growers Association, which is solely responsible for the information provided and is wholly owned by the source. Informa Business Media and all of its subsidiaries are not responsible for any of the content contained in this information asset.
Subscribe to receive top agriculture news
Be informed daily with these free e-newsletters
You May Also Like
---