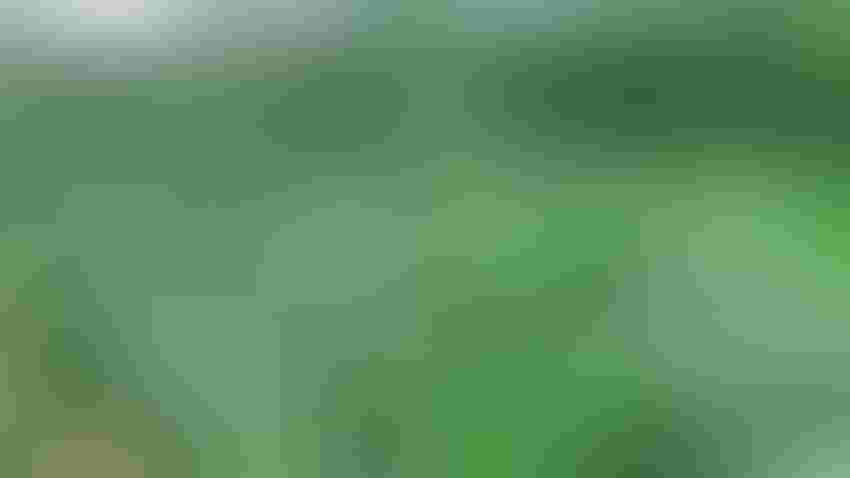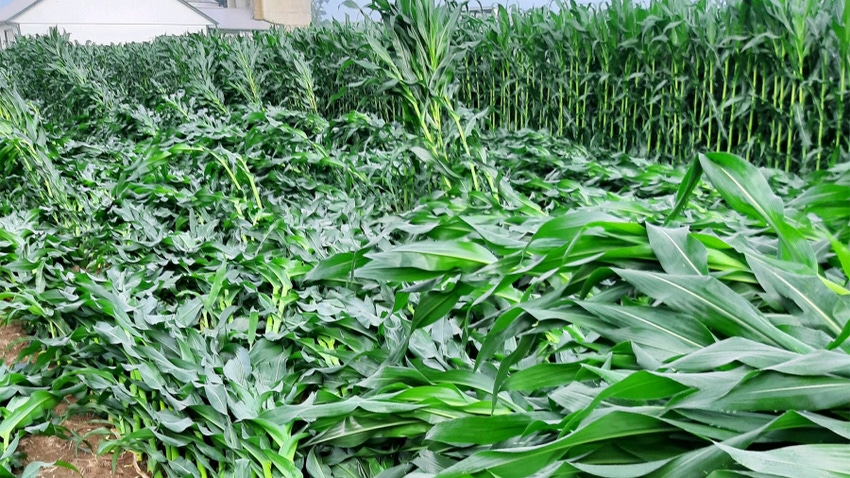 LODGED CORN: Corn lies flat on this farm in Womelsdorf, Pa. A combination of loose soil, poor root growth and corn rootworm feeding likely led to this corn becoming lodged.
Eric Rosenbaum
When crop consultant Eric Rosenbaum visited a dairy farm in Womelsdorf, Pa., last week, he was pleasantly surprised at how nice the corn looked.
"The operation chisel-plowed in early April and planted during the early April planting window," he says. "Germination and emergence was perfect; it was the nicest field of corn I saw all year. It handled the drought extremely well, and since rains returned, it grew from 3 feet to 8 feet in a period of two weeks."
But as he walked more of the field, something unusual started to appear. And it was easy to see. Rows and rows of tall, green corn had fallen to the ground. The corn was lying down, lodged. Was a windstorm the culprit? Was too much rain to blame?
A little digging into the soil started revealing some clues.
"The soil is so loose that even today you can push a shovel into the soil 12 inches deep with little effort," Rosenbaum says. "Never seen such a loose soil in mid-July. While tillage helped germination and emergence, it limited the soil's ability to provide structural support to the plant. These corn plants are like skyscrapers without a proper foundation."
But there were other factors that likely contributed: a very dry early season that prevented proper root growth and feeding from the dreaded corn rootworm.
"The root system growth did not keep pace with aboveground growth," Rosenbaum explains. "Seeing this a lot this year in both corn and soybeans. Our theory is that subsoil conditions were too dry to encourage roots to penetrate deeper soil zones. Plants under nutrient and water stress from the drought were unable to dedicate resources to fully expanding root systems.
"Once rain returned, readily available nutrients were present in the immediate area surrounding the roots, and plants did not need to dedicate resources to meet their needs."
Then there is corn rootworm.
"Rootworm damage in rootworm-traited hybrids is not new, but the rootworm pressure was so bad in this field that it prevented the first two sets of brace roots from anchoring the plant to the soil," Rosenbaum says. "Next year, this farm will look to have another mode of action for rootworm."
Poor root development
Apparently, small roots are not just a problem on this one farm. Rosenbaum says he has dug up roots on some 20 farms this summer, and he has seen the same issue with small roots come up again and again.
He explains why this likely occurred and how the early-season drought may have contributed to it.
"Usually, when there is normal subsoil moisture, roots tend to dive deep for moisture," he says. "I don't think we had normal subsoil moisture in parts of our region this spring. Late summer and early fall 2022 had drought conditions, and winter 2022-23 lacked normal precipitation for a large part of our area.
"We did see more compaction this year than expected, given planting conditions were near perfect. Sidewall compaction and surface compaction issues were easy to find in no-till fields and did affect root growth. Usually, when there is enough soil moisture, these compaction issues are temporary as water acts like a lubricant allowing plants to grow through the compaction."
Can plants recover?
Given that it is still relatively early in the season and the plants themselves still have a lot of growing to do, if you have lodged plants, there is a good chance they will "right themselves."
In a 2021 article on "flattened corn," Dan Quinn, Extension corn specialist with Purdue University, writes that corn lodging, or leaning, occurs when the plant bends — or lies down — without its stalk breaking. Some plants can reorient themselves with little trouble, while others can become shaded and a reduction in photosynthesis can occur.
One concern Rosenbaum has is the fact that the lodging occurred so close to pollination. This can be a potential issue, especially if the leaves from neighboring plants cover the exposed silks of the lodged plants. Poor pollination can result.
If the plants' roots have been pulled out — also known as root lodging — the plants can still recover as the growing upper stalks will bend, or "goose-neck," and the plant can right itself.
Planning for next season
Rosenbaum says that anything a producer can do to improve soil resiliency, including doing more no-till or planting cover crops to improve the soil structure, can help prevent lodging.
Rotating away from continuous corn also can help, he says, especially if you are using the same corn variety year after year.
Speaking of corn varieties, look at the Bt traits your corn hybrids are expressing. Using a hybrid that expresses more than one trait can protect your fields from insect resistance.
Texas A&M AgriLife Extension publishes a handy Bt trait table guide with common varieties and the Bt traits they express. Keep in mind that seed companies label the traits of their hybrids differently. Also, be aware of the percentage of non-Bt corn refuge that must be planted.
Rosenbaum's concern is that as corn plants get larger, standability issues will start popping up on other farms.
"I expect more standability issues as the year goes on, due to small root systems and the overall stress early-planted corn was under," he says. "I'm worried about the physical size of the root mass and its ability to provide structural support, but also concerned about root diseases and stalk cannibalization as we move into the late grain fill periods."
If you have lodged corn, Rosenbaum has tips to see what the underlying issue is:
First, see if the stalk broke or if the roots are just not holding up.

Examine the roots and assess size of the root mass.

Check for evidence of corn rootworm and root diseases.

In the stalk, pay attention to the color of each node. Any discoloration may indicate stalk disease.
Ultimately, time will tell what the effect will be on yields.
Subscribe to receive top agriculture news
Be informed daily with these free e-newsletters
You May Also Like
---