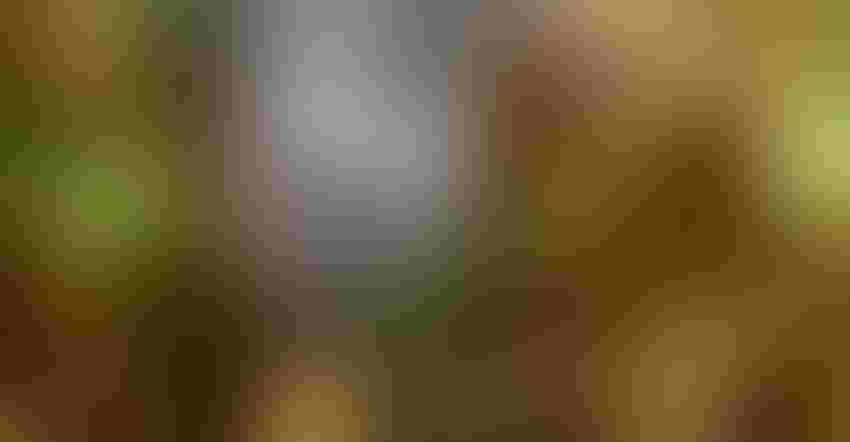 LOOK FOR SYMPTOMS: Nathan Bush walked to this spot guided by GPS after flying the field with his UAV and finding some areas were drying faster than others.
If you want to grow as many bushels of corn per acre as possible, a good place to start is looking for symptoms of nutrient deficiencies. Dave Nanda says once you know how to recognize deficiency symptoms, you can determine if you need to make management adjustments.
Nanda is director of genetics for Seed Genetics-Direct. He walks cornfields during the growing season, noting things like diseases and nutrient deficiencies. What he advises doing about them depends upon when he sees these symptoms and under what type of weather conditions. It's difficult to make recommendations for corrective action early in the season or for management changes for the next year unless you keep everything in the context of weather patterns and how the field was managed, he says.
Deficiency symptoms
In any case, the most important first step is identifying the nutrient deficiency, Nanda says. Unless you walk fields and can make positive identification of what you see, you don't have enough information.
The Purdue Corn and Soybean Field Guide is a good resource, he says. It provides pictures and descriptions of major nutrient deficiencies.
Here are three you may run into frequently in corn:
Nitrogen. V-shaped yellowing of lower, older leaves begins at leaf tips. Eventually, the entire leaf can turn brown and die.
Potassium. Yellowing on leaf edges, not down the midrib, distinguishes potassium deficiency symptoms from nitrogen deficiency. As the season progresses, affected areas of leaves turn brown.
Sulfur. Light green color usually appears on upper leaves first. Interveinal yellowing and leaf striping occur. Maturity can be delayed.
Timing matters
When you find these symptoms is extremely important, notes Nathan Bush, an agronomist with Greene Crop Consulting, Franklin, Ind. Bush flew an unmanned aerial vehicle over several fields in 2019, and then used his tablet and GPS to walk to spots that appeared to be not as healthy, especially late in the season.
In one field where corn was nearing black layer, he found both nitrogen and potassium deficiencies on the same plant — even on the same leaf.

1 PLANT, 2 DEFICIENCIES: This plant ran out of two key nutrients. The leaf with yellowing along the edges shows potassium deficiency. However, the same leaf also has yellowing and necrosis working up the midrib from nitrogen deficiency. The other leaf also shows nitrogen deficiency.
Obviously, plants ran out of nutrients. What you don't know is if there were enough nutrients in the soil, but roots couldn't take them up, or if soils were truly deficient, Nanda says. If you see it earlier in the season, taking both soil samples and tissue samples from such a spot would be a good practice. Late in the season, all you can do is pull a soil sample to check for potassium deficiency.
Dry weather and soil compaction are among the stresses that can limit the ability of roots to take up nutrients, Nanda says. If you find these symptoms earlier in the season, it's usually more indicative of a serious problem.
Subscribe to receive top agriculture news
Be informed daily with these free e-newsletters
You May Also Like
---