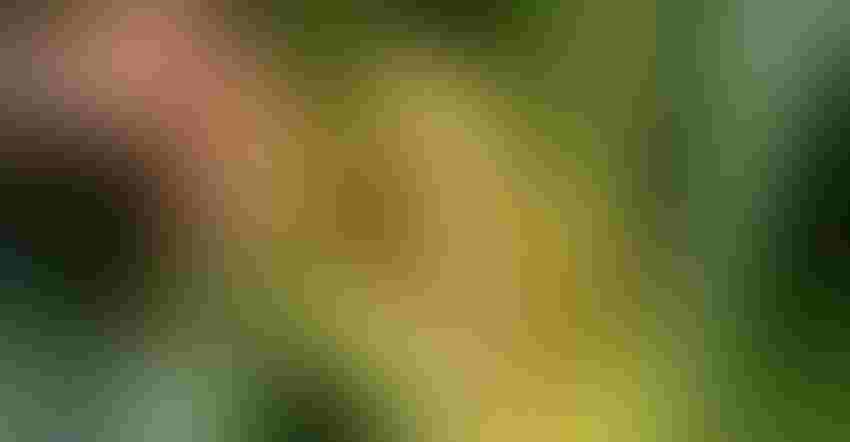 GRADE YOUR EARS: This ear would earn an "A" after pollination, because kernels are pollinated to the tip. Final grade also depends upon grain fill, since tip kernels can be aborted later.
Pollination was spread out this year from early July to early August because of the wide range in corn planting dates. In fields that pollinated when weather conditions were favorable, kernel set will be better than in fields where deteriorating weather conditions stressed plants that pollinated later.
You can tell a lot about the season's weather conditions by pulling back husks and looking at ears, says Dave Nanda, Indianapolis, an independent crops consultant. If you do this soon after pollination finished and find kernels clear to the tip, then you know pollination occurred properly, Nanda says. Likely weather conditions were favorable at that point. The plant sensed that conditions were good, so it could set and fill as many kernels as possible.
"The plant's goal is to make as many progeny as possible," Nanda says. Corn plants don't know that you won't be planting seed from those ears next year.
In years like 2012, when plants were under severe stress from drought and high temperatures, ears didn't pollinate properly in many cases. There was often limited kernel set across entire ears. In more normal years, if there is stress before or during pollination, ear tips may be blank. Ear tips pollinate last, Nanda says. If there is stress on plants when those tip kernels are ready to pollinate, the plant may elect to abort them. That's why sometimes the tip of the ear can be empty for up to 1 inch of the cob.
Second key period
Even if ears are pollinated to the tip and kernels are developing after pollination has ended, there's no guarantee that all those potential kernels will actually materialize. If conditions turn sour during grain fill, after pollination, the plant can still choose to abort kernels and save available nutrients for kernels that it believes it can finish properly.
Nanda says that is why the grain fill period following pollination is also key to top yields. Grain fill typically lasts around 50 days, he notes. It ends when kernels reach physiological maturity and a black layer forms at the base of each kernel. Once the black layer forms, nutrients can no longer flow freely in or out of the kernel.
There are several ways plants can become stressed during grain fill besides weather conditions, Nanda says. Insects or diseases can trigger stress, if the infestation is severe enough. That's why it's important to continue scouting fields for insects and diseases even after pollination is over, Nanda adds.
One disease people watch for late in the season is southern rust. It developed quickly very late in 2016 because conditions favorable to the disease were nearly perfect. The message from those hit hard by southern rust in 2016 is to continue scouting until harvest.
The organism that causes southern rust must be brought north from the Gulf of Mexico for the infection to develop each year.
Corn Watch '17 is sponsored by Seed Genetics-Direct, Washington Court House, Ohio.
Subscribe to receive top agriculture news
Be informed daily with these free e-newsletters
You May Also Like
---