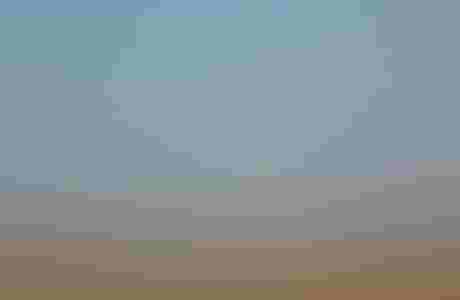 At a May 8 press conference at the State Capitol in Des Moines, officials of MidAmerican Energy Company announced plans to add up to 1,050 megawatts of wind generation capacity in Iowa by year-end 2015. The wind energy expansion will enhance economic development and provide in excess of $360 million in additional property tax revenues over the next 30 years. Landowner payments totaling $3.2 million per year also are expected as a result of the expansion.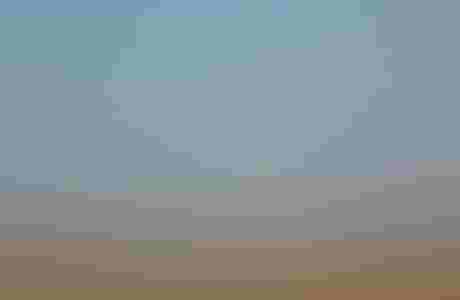 IOWA'S WIND INDUSTRY: Iowa has 5,137 megawatts of installed wind energy generation capacity, making it the third largest state nationally in production of electricity from wind. However, 25% of Iowa's electrical power is generated by wind, ranking it first nationally in that category.
The company plans to build 656 new turbines by the end of 2015. MidAmerican has already erected 1,267 wind turbines, many in western and north-central Iowa. The firm pays farmers lease payments to allow turbines to be built on farms. MidAmerican declined to say where the new wind farms would be located. "If you look at a good wind map, you'll get an idea of where we'll be targeting," said Bill Fehrman, CEO of MidAmerican Energy.  
Added wind generation capacity will help hold down electric bills
The expansion is planned to be built at no net cost to company customers and will help stabilize electric rates over the long term by providing a rate reduction totaling $10 million per year by 2017, commencing with a $3.3 million reduction in 2015.
Iowa Gov. Terry Branstad welcomes the planned expansion. "As a leader in wind generation, the state of Iowa appreciates the opportunity to expand our renewable energy portfolio," he said. "MidAmerican Energy's proposed project will be the largest economic development investment in the history of Iowa, bringing needed jobs here, as well as significant economic benefits."~~~PAGE_BREAK_HERE~~~
Lt. Gov. Kim Reynolds added, "MidAmerican Energy has been a long-standing partner with the state of Iowa, and we look forward to working with them on this wind proposal. In addition to helping boost our state and local economies, the expansion would create approximately 460 construction jobs over a two-year period and an estimated 48 permanent jobs in our state."
Wind energy creates jobs and helps make Iowa more attractive to companies looking for a greener energy supply
Branstad and Fehrman said green energy has been critical in attracting companies like Facebook that recently announced it will build a $300 million data center near Des Moines. Facebook has pledged to get 25% of its energy from renewable sources by 2015. Renewable energy was important in negotiations with the California-based company. "This sends a message to the nation that Iowa is innovative, is cutting-edge," says Reynolds.
Greg Abel, president and CEO of MidAmerican Energy Holdings (the parent company of MidAmerican Energy) recognized and thanked Branstad and Reynolds for their unwavering support of renewable energy in Iowa. "The administration has continued its focus on creating an environment that allows for significant investment in Iowa, and we are pleased to be working hand-in-hand with them to grow our state and create good jobs," said Abel.
Abel also thanked Iowa's congressional delegation for their strong support of the production tax credit extension. "Iowa's congressional delegation created the opportunity for this investment through their support at the federal level and continued an environment that makes this type of investment possible," said Abel.~~~PAGE_BREAK_HERE~~~
MidAmerican Energy began building wind projects in 2004. To date, 1,267 wind turbines have been installed by the company in Iowa, representing a total investment of approximately $4 billion. In light of the recent federal production tax credit extension, the firm is asking to expand its wind generation capacity to enhance its renewables portfolio. MidAmerican estimates that by January 2016, when all new wind generation is expected to be operating, it may be capable of generating approximately 39% of its retail generation output through wind generation during that month.
Proposed wind energy expansion needs approval of Iowa Utilities Board
"The proposed wind expansion will not only add to MidAmerican Energy's and Iowa's position as a national leader in wind generation capacity, it'll help reduce future rates to our customers by as much as $10 million per year and further enhance our corporate principle of environmental respect by reducing our carbon footprint by 10.3%," said Bill Fehrman, president and CEO, MidAmerican Energy.
If the expansion is approved by the Iowa Utilities Board, MidAmerican Energy will own and operate approximately 3,335 megawatts of wind generation capacity in Iowa by year-end 2015. Currently, MidAmerican Energy owns and operates approximately 2,285 megawatts of wind generation capacity in Iowa and is No. 1 in the U.S. for ownership of wind generation capacity among rate-regulated utilities.
MidAmerican Energy Company, Iowa's largest energy company, provides electric service to 734,000 customers and natural gas service to 714,000 customers in Iowa, Illinois, Nebraska and South Dakota. It is headquartered in Des Moines. Information about MidAmerican Energy is available on the company's website and its Twitter, Facebook and YouTube pages which can be accessed at the MidAmerican Energy website.
This is the biggest single economic investment ever in Iowa
The MidAmerican Energy project becomes the biggest single economic investment ever in the state. "We've made that announcement a few times lately," said Branstad. Over the past year three companies have laid claim to that title and have switched off. First, Orascom Construction Industries announced it was building a $1.4 billion fertilizer plant in southeast Iowa, then CF Industries said it would invest $1.7 billion in its fertilizer plant near Sioux City. Then Orascom recently announced it would boost its investment to $1.8 billion.~~~PAGE_BREAK_HERE~~~
But unlike those two fertilizer plant projects, this wind energy generation project will receive no state incentives. MidAmerican Energy officials say the company is not seeking state assistance for the project, but it will receive federal wind production tax credits. Fehrman says the one-year extension of the federal tax credits helped them decide to go ahead with the project. "Without that, the environment for doing projects of this magnitude would not be possible," he said at the press conference.
Tremendous deal for farmers and the tax base of rural counties where the wind farms are located
The company expects to pay landowners $3.2 million annually for the rights to use their land for the turbines, and to generate more than $360 million in additional property tax revenues over the next 30 years. "This is a tremendous deal for farmers and the tax base of these rural counties," Branstad said.
In January 2013 Congress voted to extend the federal production tax credit until the end of the year, making projects that begin construction this year eligible. Projects completed in 2014 are eligible, too, as long as they start in 2013.
The wind energy tax credit was an issue in the 2012 presidential campaign, and possibly helped President Barack Obama to his five-point win in Iowa in the election last November. Republican Mitt Romney said he'd end the tax credit, arguing that the U.S. should have a level playing field on which all sources of energy compete on their own merits. Obama warned that killing the tax credit would cost thousands of jobs in the wind industry; there are an estimated 6,000 wind industry jobs in Iowa. Leaders in Iowa, including Republican Gov. Branstad and the entire Iowa congressional delegation, sided with Obama, promoting the federal tax credit of 2.2 cents per kilowatt hour as a vital economic development tool.
Wind energy comes from local farms, produces electrical power for local consumers, and adds value to local communities
Commenting on MidAmerican Energy's announcement last week that it plans to seek authority to add up to 1,050 megawatts of wind generation in Iowa by year-end 2015, Sen. Chuck Grassley, R-Iowa said, "Continued investment in wind-energy production emphasizes the value and success of the federal production tax credit. Wind energy has proven that it's a force in America's energy supply, providing clean, renewable, homegrown power. Wind energy comes from local farms, it's for local customers and, most often it adds investment value to local communities."~~~PAGE_BREAK_HERE~~~
A Grassley amendment to the Energy Policy Act of 1992 established the federal production tax credit for wind energy. The idea was to try to level the playing field with coal-fired and nuclear electricity generation. Today, the wind-energy industry supports 75,000 jobs nationwide. Under the wind-energy production tax credit, which Grassley has worked successfully to extend numerous times, producers such as MidAmerican are eligible for a tax credit for each kilowatt-hour of electricity produced by a qualified project during the first 10 years of operations. Right now, the tax credit is 2.2 cents per kilowatt-hour. "This tax credit is available only when wind energy is produced, so it's tax relief that rewards results," says Grassley.
Calling on policymakers to show additional renewable energy leadership
Ralph Rosenberg, executive director of the Iowa Environmental Council, says MidAmerican's announcement is a welcome development for wind energy, the Iowa environment and the economy. "But announcements like this aren't the only way Iowa policymakers need to show leadership for renewable energy in Iowa," he adds.
"Our leaders must continue their calls for making long-term extensions to the federal wind energy production tax credit. The state could do more to promote small scale, locally owned renewable energy development by adopting utility incentive rates (sometimes called 'feed-in tariffs') to ensure that Iowans who install solar panels or a wind turbine receive a fair price for the electricity they generate. It's also important for Iowa's public policies to encourage development of the state's underutilized solar resource as well as energy efficiency."
Subscribe to receive top agriculture news
Be informed daily with these free e-newsletters
You May Also Like
---