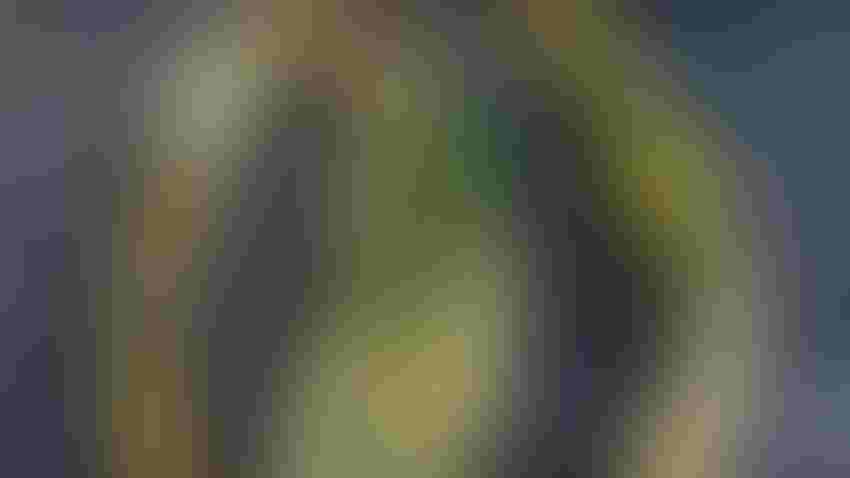 POTASSIUM LACKING: Notice the yellowing and even browning along the outside margins of these corn leaves. These leaves were below the ear on respective plants. The symptoms indicate a potassium deficiency.
Photos by Tom J. Bechman
Sometimes you don't need a stalk test right before harvest to determine if your corn plants ran short on nitrogen. Sometimes all you need to know is right before your eyes in visual nitrogen deficiency symptoms. And occasionally, other nutrients are deficient and show up as deficiency symptoms as well.
"We always look at the lower leaves, even when scouting near harvest," says Dave Nanda, director of genetics for Seed Genetics Direct, sponsor of Corn Watch '23. "We can learn many things, such as if there was late-season disease pressure. But leaves, especially lower leaves in the canopy, are very good indicators if plants run short on one or more nutrients before achieving physiological maturity at black layer.
"Symptoms of major nutrients are usually clear cut and easy to detect. They often show up on lower leaves in the field first. You don't know why plants ran short, but you at least know which nutrients were limiting in the plant later in the season."
Nanda shares advice on how to identify deficiencies of major nutrients:
Nitrogen. A nitrogen deficiency produces the most classic symptoms of all. If corn is short on nitrogen all season, it will likely be stunted and pale in color instead of dark green, and it will produce smaller ears.
If there is sufficient nitrogen most of the season but then it runs short while filling kernels, classic leaf-firing symptoms are likely to appear, first on lower leaves and then, if the deficiency is severe enough, moving up the plant.
"Yellowing begins at the tip of leaves and moves down the midrib, often in a V-shaped or inverted V-shaped pattern," Nanda explains. "As the deficiency becomes more severe, leaf tissue may die and turn brown."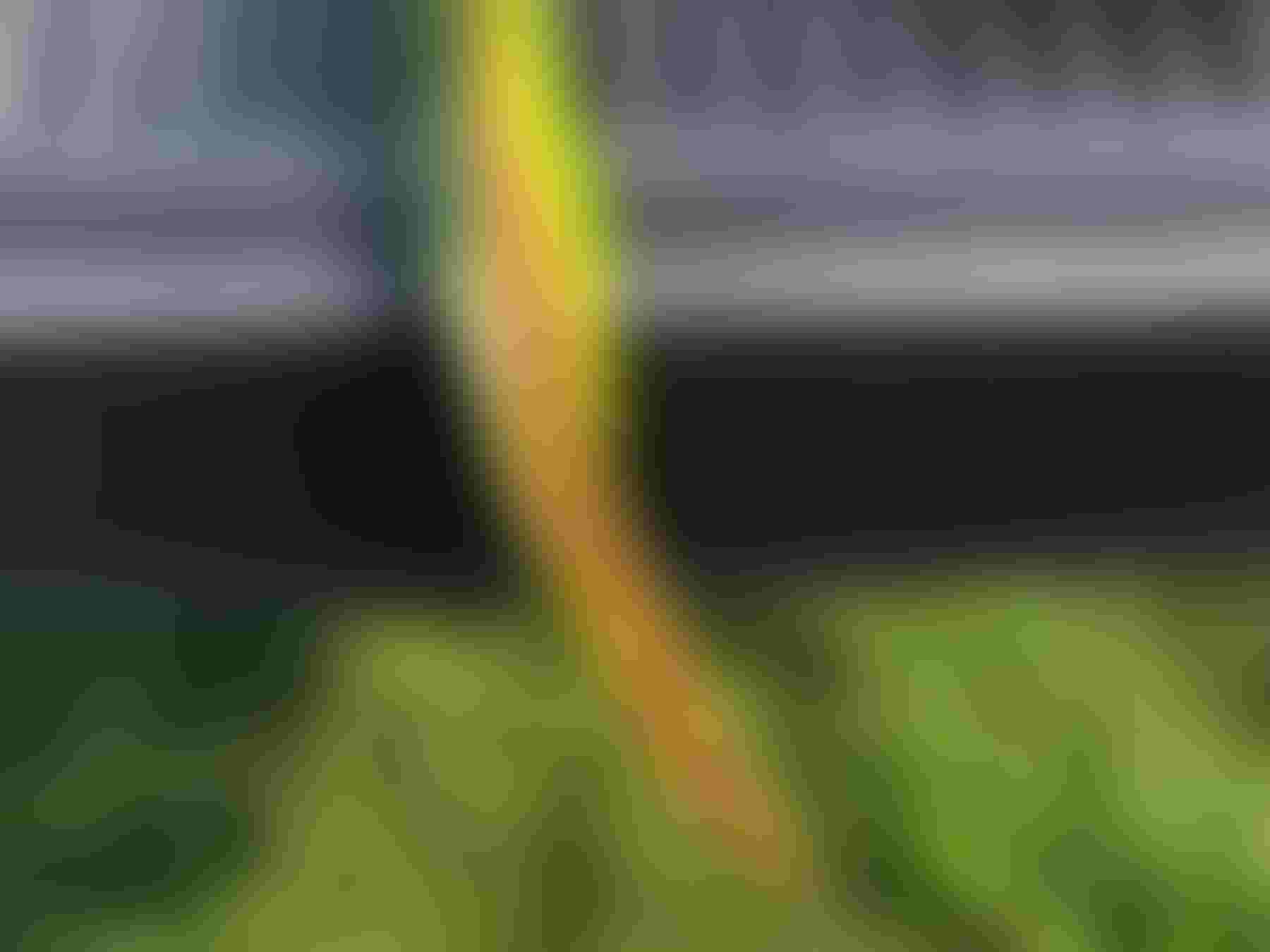 NOT ENOUGH NITROGEN: This lower corn leaf indicates a classic sign of N deficiency. Yellowing starts at the tip and moves toward the midrib in a V-shaped pattern.
Potassium. Potassium deficiency also causes yellowing and browning of leaves, but it starts along the outside leaf margins at the tip and moves up and down the margins, instead of moving into the midrib, Nanda says.
Here's how the Purdue Corn and Soybean Field Guide describes the symptoms of potassium deficiency in corn: "Yellowing leaf margins on lower leaves beginning at the tips. Eventually, affected areas turn brown."
If the potassium deficiency is severe enough, it may also reflect itself in the size and shape of ears, according to the Purdue guide. Ears tend to be small and pointed with poorly filled tips.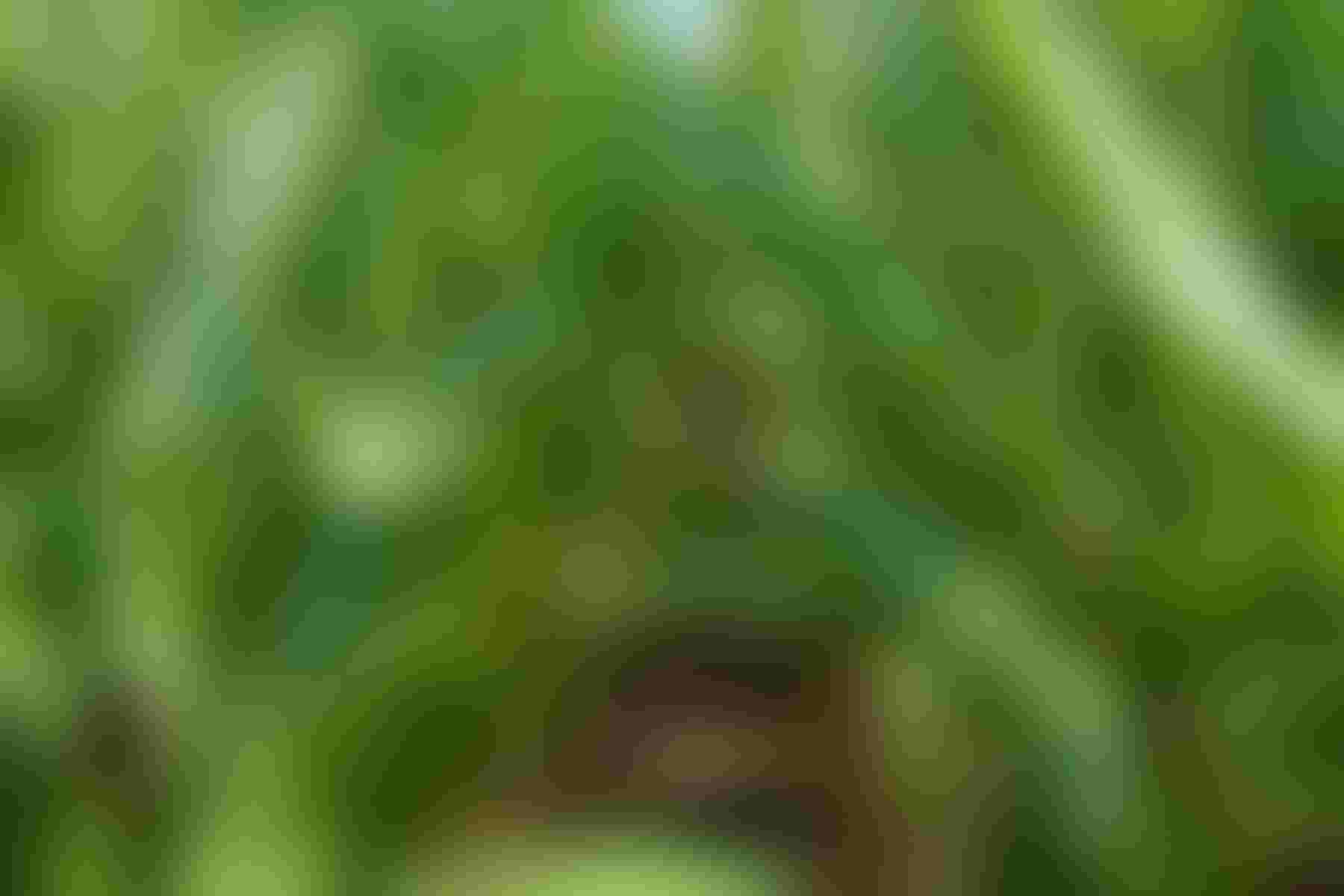 FULL-SEASON DEFICIENCY: If nitrogen is short beginning early in the season, corn plants may be stunted and off-color, often pale green instead of dark green. Ears will likely be smaller, too.
Phosphorus. Phosphorus deficiency reflects itself as stunted dark green to purplish plants. In severe cases, ears may be twisted, with irregular kernel rows and imperfectly developed tips.
"It's more common to see phosphorus deficiency early in the season, particularly if it is cool and wet," Nanda says. "There may be enough phosphorus in the soil, but plants can't get it. After it warms up, plants can take it up, and reddening and purpling often disappear."
Subscribe to receive top agriculture news
Be informed daily with these free e-newsletters
You May Also Like
---