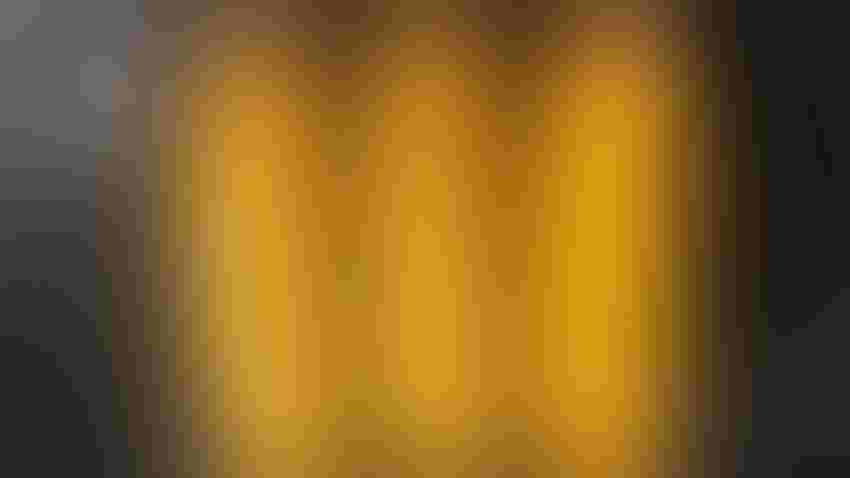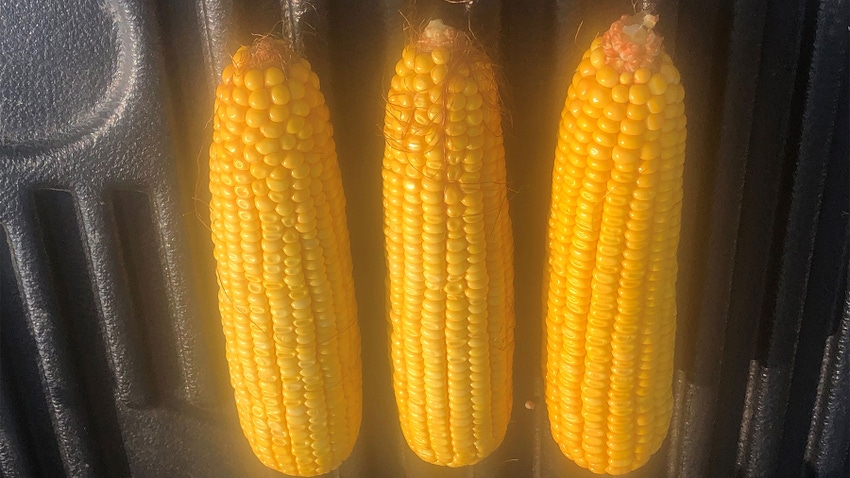 REPRESENTATIVE EARS: These ears were pulled at random in a 1/1,000-acre sample area. Differences in row count may indicate variability in the field. An average is used to estimate yield.
Tom J. Bechman
If it's a good year, it's exciting to walk cornfields before harvest, completing yield estimates. If you do them correctly, you can make decisions about marketing with more confidence because you have a handle on ballpark yields.
"You won't likely hit it on the money, but if you do a thorough job of estimating yields, it will likely be more accurate than you might think," says Dan Quinn, Purdue Extension corn specialist.
Quinn typically uses the tried-and-true method, which relies on counting ears and determining representative numbers for kernels per ear in 1/1,000 acre. Part of the secret, he says, is making sure you select areas at random. Then select ears to examine within the area at random, as well.
Then, repeat the process in several locations within the area where you want to arrive at a representative yield estimate, Quinn adds. The more areas you sample, the higher the odds you will get closer to the actual yield.
Learn by example
Here's an example based on an actual field sampled in late August. This example walks through sampling at one location. The next step would be to repeat it several times and average the results.
1. Mark off 1/1,000 acre. For 30-inch rows, that's 17 feet, 5 inches. Use a tape measure or a rope with stakes, marked at the proper distance for various row widths.
2. Count ears per 1/1,000 acre. Some people also like to track number of late emergers and barren plants, but the goal is finding number of ears, Quinn says. One option is to use side-by-side rows at each 1/1,000 acre location, providing another replication.
3. Select three ears from each 1/1,000 acre at random. One option is to predetermine which ears you will pull, such as ears No. 5, 14 and 22, or whatever numbers you select, Quinn explains. Pull back the husks, and count rows around and kernels in length. Because rows around will be an average of three, it may not be an even number, even though number of rows around per single ear is always an even number.
4. Determine the fudge factor for kernel depth and weight. Common choices range from 90 for small kernels to 70 for super-large kernels, with 80 being a reasonable choice for most modern hybrids in an average year. Weather during grain fill will play a big role in kernel size and which number is most representative, Quinn says.
5. Make the calculation. The formula is: number of ears times rows around times kernels per row divided by the fudge factor. Using the three ears pictured, here is the math for the one location in a real field: 30 x 16 x 41 = 19,680 / 85 = 231.5 bushels per acre.
6. Repeat, repeat, repeat. Average the results to get a more representative whole-field estimate.
Subscribe to receive top agriculture news
Be informed daily with these free e-newsletters
You May Also Like
---