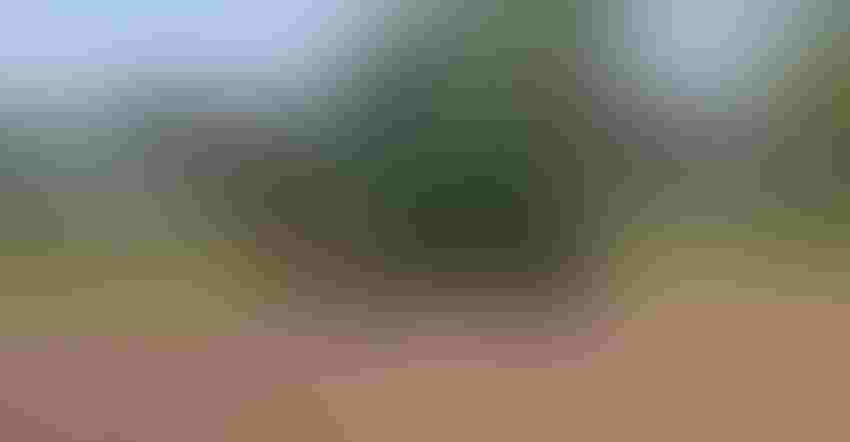 CATCH WEEDS EARLY: Postemergence applications with residual herbicides made when corn is very small typically have a better success rate, Purdue's Bill Johnson says.
Last spring a farmer pulled back plants in knee-high corn and nearly fainted because of what he saw. He knew immediately what the weed was: tall waterhemp. He just didn't know it was on his farm. This plant was off to a healthy start by mid-May.
"It's not unusual for waterhemp to creep up on people," says Bill Johnson, Purdue University Extension weed control specialist. "There may be a few plants one year and you don't notice them, and after the combine spreads it, next year weeds pop up out of nowhere. Each plant can produce many seeds."
Surprise weeds
"Once you see waterhemp at this stage, you're into $50 weed control systems," Johnson says. "Don't expect miracles with weeds more than 12 inches tall. Your goal is to burn it back for the season."

WEED EXPLOSION: Tall waterhemp exploded out of this corn canopy, leaving the farmer in shock. He recovered, and a herbicide combination knocked down the weeds for the season.
Start with a tankmix containing something with dicamba, such as Distinct, Status or DiFlexx. You can add Callisto, Laudis or Impact to it for additional foliar and residual control.
Now that you know waterhemp is there, and if you're in a corn-soybean rotation, prepare ahead of soybeans, Johnson says. Start with a clean field and use residuals at planting. If you assume waterhemp is glyphosate- and ALS-resistant but not PPO-resistant, try this approach:
Choose from Authority, Valor or Zidua preemergence plus metribuzin, at a rate of at least 6 ounces per acre; or Dual, Warrant, Outlook or Sharpen at a rate of at least 2 ounces per acre; or Prowl.
Come back with a timely postemergence treatment on 2- to 3-inch-tall waterhemp plants with another layer of residuals, Johnson recommends. In straight Roundup Ready 2 soybeans, options include Flexstar, Cobra or Blazer with Dual, Warrant, Outlook or Zidua. In LibertyLink soybeans, you could go with Liberty plus Dual, Warrant or Zidua. If you have Xtend beans, options include XtendiMax, Engenia or FeXapan plus Warrant.
If waterhemp is also PPO-resistant, you lose Flexstar, Cobra or Blazer as options, Johnson notes.
Late scouting
What about big Canada thistles later in the season? Both corn and weed size are pushing the limit for control without injury to the crop in this situation, Johnson says.

LATE ON THE DRAW: It would have been much easier to tame these Canada thistles if they'd been spotted and sprayed earlier, Bill Johnson says.
His first choice would be applying something with Stinger in it, such as Hornet. The second choice is dicamba, with products such as Distinct, Status, DiFlexx, XtendiMax or generic dicamba offerings. Check corn growth restrictions on whichever dicamba product you choose, as they differ slightly for each product.
With either a Stinger or dicamba product, the best you can hope for is to burn back top growth. Come back in the fall with herbicides that will attack thistles within the roots. It's easier to control thistles following corn since they're not clipped during harvest, Johnson says.
Editor's note: This is the first in a series of articles about "real-field" recommendations. Recommendations are not all-inclusive. See the 2019 Ohio, Indiana and Illinois Weed Control Guide for more options. Watch the Indiana Prairie Farmer website this week for more stories like this one.
About the Author(s)
Subscribe to receive top agriculture news
Be informed daily with these free e-newsletters
You May Also Like
---