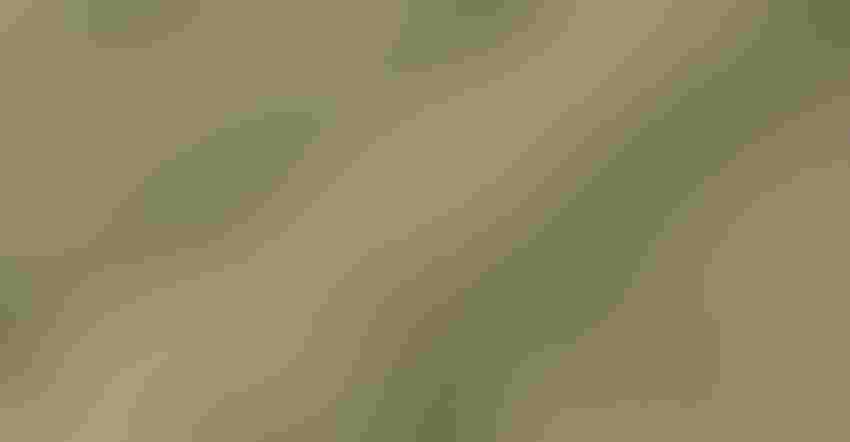 GOOD START: Note even spacing and uniform height of this three-leaf corn at the V3 stage. Also note that tough perennial weeds that escaped earlier efforts have been sprayed postemergence.
It's a miracle that a puny seedling grows into a tall corn plant within months. The most crucial time in its life is the seedling stage.
If farmers understand how seedlings grow, they can do a better job of meeting the needs of seedlings — and improve odds for higher yields. Let's look at what happens as young corn plants develop and how you can help them grow.
Stages V1 and V2: Corn seedlings need a total of 110 to 120 growing degree days to germinate and emerge. Seedlings emerge when the coleoptile, that first spearlike leaf, pierces the ground. First and second leaves develop six to seven days after emergence.
The first roots supply water and nutrients to the young seedling. Roots are very small, so the availability of nutrients close to the roots helps stimulate early growth, just like babies need milk close to their mouths soon after birth.
Seedling emergence: Young plants face hurdles such as nutrient deficiencies, seedling diseases like pythium and Stewart's bacterial blight, and insects like black cutworms. Corn rootworm larvae attack roots during June and early July. In a wet spring, watch for slugs. They appear harmless but can cause considerable damage, especially in low-lying areas.
Stages V3 and V4: Around two weeks after emergence, the third leaf starts developing. Seedling roots stop further development, and secondary roots known as nodal roots start growing. These become part of the permanent root system.
Nodal roots grow fast and take over responsibility for gathering water and nutrients for the whole plant. Root hairs also start growing.
Make sure weeds are under control at this point. Apply postemergence herbicides if necessary. Even small weeds can affect yield by reflecting light that indicates competition to nearby corn plants.
The growing point of a corn plant stays belowground for three to four weeks and is protected from frost or insects on the surface. A frost or freeze at this stage may hurt leaves, but the growing point isn't destroyed since it's belowground.
Don't cultivate too close after this stage because roots may be damaged by pruning. Don't think about replanting now.
STRONG ROOTS: This six-leaf corn plant at the V6 stage has developed a strong permanent root system. Note the hair roots and the location of the original seed, indicating planting depth.
Stage V5. Four nodes develop belowground. The first node aboveground is the fifth node. Even at this early stage, leaf and ear shoots start developing. Take care of young plants, and you'll have productive, healthy adult plants. The growing point comes aboveground at this stage.
Stages V6 to V8. Be sure to sidedress with nitrogen before plants are too tall, if you're going to apply additional nitrogen. Check for deficiency of nutrients like sulfur as well as zinc, magnesium and other micronutrients. Watch for signs of disease lesions on leaves. If it's non-GMO corn, look for shot-hole damage from corn borer feeding.
Nanda is president of Agronomic Crops Consultants LLC. Email him at [email protected], or call 317-910-9876.
Subscribe to receive top agriculture news
Be informed daily with these free e-newsletters
You May Also Like
---