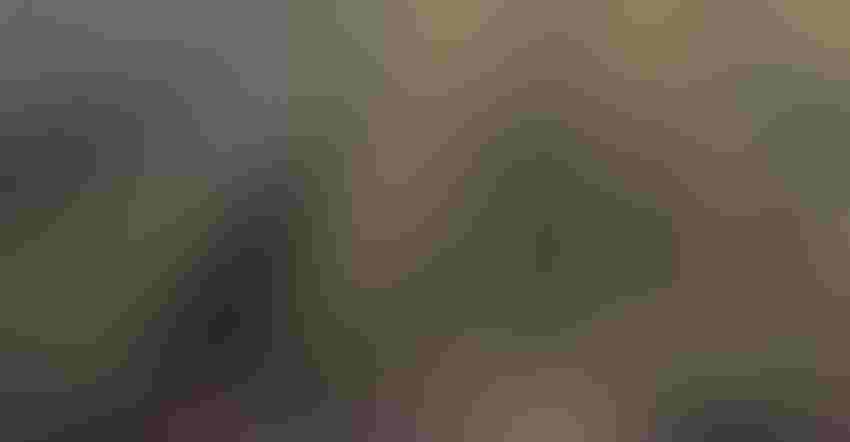 LOSING THE GAMBLE: Corn was still standing when this field was harvested in the fall of 2018, but fields were very wet, as evidenced by the ruts to the left of the combine head. Some stalks came out by the roots and plugged the head.
Tom J. Bechman
I want to minimize drying costs. How long can I let corn stand in the field? How can I tell if stalk rot is starting to invade?
The Indiana certified crop advisers panel answering this question includes Traci Bultemeier, an agronomist with Pioneer near Fort Wayne; Jesse Grogan, a retired agronomist based in Lafayette; and Bryan Overstreet, an ag educator for Purdue University Extension in Jasper County.
Bultemeier: There are more financial risks to leaving corn standing in the field as opposed to drying costs. Monitoring stalks is key; the environmental effect on grain fill directly impacts stalk standability. If corn cannibalized stalks to fill that amazing ear, it came at a cost to standability, even though you may not "see" it — yet.
Then there are stalk rots. Splitting stalks open throughout harvest will help prioritize which fields need harvested first. Note condition of the pith — is it healthy and white or brown and soft? Are nodes pink, brown or white? Pink or brown indicate infection by gibberella or diplodia. On the outside, look for brown or black lesions, which indicate anthracnose.
When stalks are broken well below the ear, it can be challenging to gather them into the head. Typically, severely downed corn will have spongy cobs and most likely ear molds. Carefully setting the combine to adjust for these grain changes is important.
When you must stop over and over to make adjustments while getting snowed on, you'll wish you'd spent the money on drying.
Grogan: A level of harvest loss is expected when leaving corn in the field to dry. Choose healthy, perhaps earlier, hybrids to finish when heat is available for drydown to help minimize drying costs. Begin checking stalks when grain moisture is 35% to 40%. Check for stalk rots at three- to four-day intervals as corn dries.
Do a push test. Walk in a zigzag pattern and push stalks till they reach the next row. Calculate how many don't snap back and break over. Schedule harvest for fields that show about 10% stalk lodging. Or pinch stalks about 6 to 12 inches above the surface. Stalks that are hollow will likely lodge. Harvest conditions vary each year due to in-season conditions and weather.
Overstreet: The weather will be a big factor. If it's a dry fall without many storms, you have a good chance of stalks standing tall for a long time. Some hybrids have much better stalk quality and ear retention than others. The old standard is after Nov. 1, you will lose at least 1 bushel a day to ear drop. To know for sure, scout your fields for ear drop, and check stalk quality by doing the push test. Rank your fields by how stalks are holding up and plan harvest accordingly. You need to determine yourself how much loss you want to take to save a few dollars in drying charges.
At midnight on Halloween, you can join Linus looking for the Great Pumpkin and go to your cornfield and listen for the Great Ear Drop, when you lose that first bushel an acre of corn to ears falling on the ground. If you don't make it on Halloween, it will be a repeat show each night until the field is harvested.
Subscribe to receive top agriculture news
Be informed daily with these free e-newsletters
You May Also Like
---