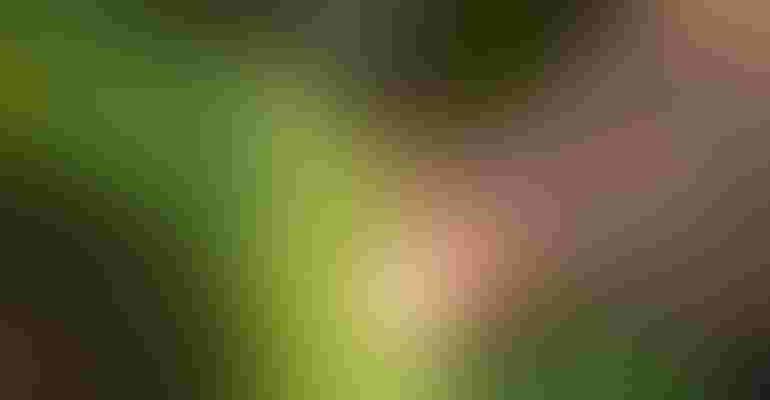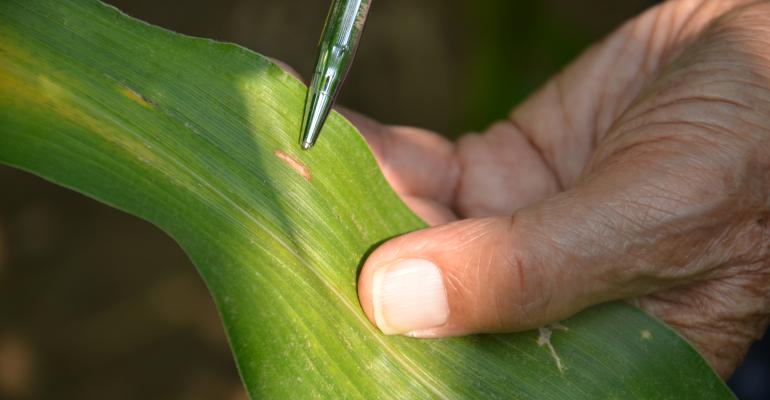 FUNGICIDE ROI: Purdue's Dan Quinn says fungicide posted high ROI numbers in corn in '22. He adds, however, that disease, like this gray leaf spot lesion, was present in their trials.
Tom J. Bechman
Does applying starter fungicide to corn at planting pay? How about spraying fungicide over corn at the R1 stage? Purdue Extension corn specialist Dan Quinn can answer those questions with confidence for 2022. The fungicide Xyway applied as a starter treatment at planting increased yield at 4 of 5 test locations in 2022, but the yield increase was statistically significant at only one location.
Delaro Complete applied at R1 increased yield at all five locations, and the yield increase was significantly higher than the control treatment with no fungicide at 3 of 5 locations. The R1 fungicide outyielded the starter fungicide at every location, although the difference wasn't always significant.
Related: Intensive corn management pays off in '22
More importantly, the R1 fungicide application produced the highest return on investment of any inputs tested in the trials, at around 300%! The starter fungicide posted an ROI over 100%. Those calculations are based on the starter fungicide adding $27.40 per acre in cost and the R1 fungicide costing $24.49 per acre. Corn price was figured at $6.66 per bushel.
"We definitely saw the benefit of fungicide, especially fungicide applied at R1, in our intensive management trials in 2022," Quinn says. The five locations were Columbia City, West Lafayette and Butlerville in Indiana; East Lansing, Mich.; and Lexington, Ky.
"However, it's important to note that we had foliar disease at all five locations," Quinn adds. "So, our results should be indicative of what these specific fungicides can do in the presence of disease.
"Also, remember these are only one year's results. We can say what happened last year, but that doesn't mean we will see the same results in 2023."
Quinn and his crew took disease measurement scores during the season. At Butlerville at R5, corn with no fungicide applied rated at 2.94 for foliar disease, on a 0-to-5 scale where higher numbers mean more disease pressure. The most intensive management practice, which received both starter and R1 fungicide, rated 0.6. Plots with Xyway alone rated 1.83, and plots with Delaro Complete alone scored 0.9.
Why fungicides helped
"One of our basic research questions was whether intensive management practices could keep plants green longer and increase kernel weight during grain fill," Quinn explains. "If treatments can do those things, yields should increase, raising odds for positive return on investment."
To find out, they measured kernel dry weight for each treatment, including plots receiving no treatments vs. those receiving fungicides. Some data is still being analyzed and compiled, but early indications are toward a definite increase in kernel weight in plots receiving an R1 fungicide application.
"We believe an R1 fungicide application has the potential to keep plants healthier longer, extend the grain fill period and increase kernel weight," Quinn says.
In 2022, the midseason nitrogen application vs. a normal sidedress application also contributed to longer stay-green potential and increased kernel weight. "That was likely due to unusually dry conditions in June, when sidedress applications were made," Quinn says. "It will be interesting to see if that trend continues in the future."
About the Author(s)
Subscribe to receive top agriculture news
Be informed daily with these free e-newsletters
You May Also Like
---