Farmers go digital to reach landlords, community, new business
Farmers go digital to reach landlords, community, new business
Think DifferentGrant Noland encourages farmers to always add a personal touch when communicating with their landlords. "What you are doing on the farm is information they want and need, but they also want a look inside how your family operates and what makes your family tick. A little trivia can generate a buzz and attract new opportunities."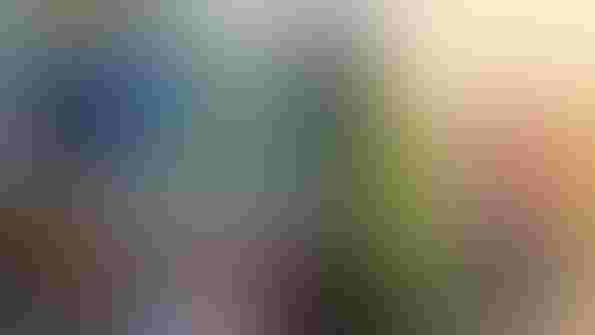 <p>Left top: Garret, Reggie and Will Strickland; middle top: Noland family; bottom: Stephenson family, Crossroads Family Farms; right: Plagge family.</p>
The Noland family didn't originally have a website in mind for their farm.
"Our family farm was expanding. We were speaking with people to get our name out, and we didn't have anything to give to them when they asked for more details," says Grant Noland, who created the website (nolandfarms.com) for their incorporated Blue Mound, Ill., farm in 2010. "It was a recurring theme we heard, and we wanted a professional appearance as we sought more land."
Noland Farms was founded by Neil Noland in the 1950s. His son Dennis is current president and son Duane is secretary. Grant, Neil's grandson, is treasurer for the corn and soybean operation and responsible for developing new partnerships and growth.
Grant also manages their website, which highlights their family and farming practices, hosts their quarterly newsletter for landlords and prospective clients, and links to contact information and farm activities.
"It is tough to remember to take photos and keep the site timely, but it is worth it," Grant says. "We advertise our website on all of our trucks and equipment to hopefully drive some traffic to the site."
While accuracy and clarity is the goal, Nolands also focus on the business with a personal touch. "Our landlords don't want marketing information," Grant says. They want to see photos of not just a tractor, but of our family members operating the tractor."
Generate conversation
Grant likens their quarterly newsletter to a Christmas card. About 90% are still mailed to current and prospective farm partners, and 10% are emailed. "People want to know more about the people they work with and what we do, and we want our landlords to feel like they know us well," he says. 
The little things generate a surprising amount of response–a small article about growing edamame, his grandmother's birthday, her memories of being high school homecoming queen.
"It has also exposed us to new opportunities during the last five years as people see the newsletter at a neighbor's house or notice our vehicles," Grant says. "That has gotten us referred to interested landlords and farm managers."
The Nolands now have a line item in their farm budget for marketing. While Grant manages the website, the newsletter is designed professionally.
"A dollar spent yields many times that. We have added more acres and more landlords as the result of the increased communications," he says. "Not all landowners are in the area, and many are not retired farmers and are distanced from agriculture. This helps close the information gap."
Grant keeps electronic communications in perspective. "Have fun with it. If you can't quantify your growth with these tools, at least you have a snapshot or scrapbook of history of your farm and are documenting what your family has done," he says.
Grow your business
New business development was behind Brad and Stacey Stephenson's decision in 2010 to build a website, crossroadsff.com, for their Crossroads Family Farms, based in Fortville, Ind.
"We wanted to concentrate on our absentee landlords and put a face to our farm on the web with a high-level description of our operation," Stacey says. "We've found that many landowners don't know how to find a 'new' farmer for their ground, and having a website helps when they research possibilities. We have been contacted and taken on by landlords because of the site."
The Stephensons researched many websites and layouts before creating their own. To enhance communication with absentee landowners, they added a landowner-only section where landlords can log in and access other information about their farms, such as yield maps. They also have an online quarterly newsletter and list the charitable groups they support, which has drawn visitors to the site.
"We know we have constant activity," Brad says. "We have retailers, other providers and competitors who have been to the site."
With experience and the recent addition of their daughter, Shelby, to the farm team, they are revamping the website with a slide show of farm photos to the front page, additional information to the landowners' page and a page for weekly updates, which Shelby will regularly update, along with their Facebook (Crossroads Family Farms) posts and Twitter account (@crossroadsff).
While the feedback is encouraging, Brad notes the biggest challenge is keeping online information fresh, especially during the busy farming season. "It can be time consuming, especially with updating photos," he says. "But we have found that having a website is a good starting point for prospecting business and an icebreaker with landowners."
The Stephensons recommend that farmers consider hiring someone to help set up and even maintain any new website they are planning. "Get professional help to get things updated more quickly," Brad says. "Not one shoe fits all. Have a purpose and a message that meets your needs and communicates with landowners."
Keep landowners regularly informed
Reggie Strickland, Strickland Farming Partnership, Mount Olive, N.C., has discussed the possibility of adding a website for their farming operation for the last five years. While some employees think a website would be beneficial, Strickland does not see the need yet.
"I don't believe we have much demand for one, but we continue to revisit the idea frequently," he says. "We may try more social media first and see how that goes."
Strickland instead produces a brochure and a detailed fact sheet about the farm, which he shares with prospective landowners and suppliers. They also have a regular newsletter that is printed and mailed from the farm.
"The newsletter has been very useful in communicating with landlords," he says. "We have been sending it out three times per year, but we plan to send it out quarterly in the future. We want to get in front of landowners more frequently and keep up with our competition. Plus, it seems we always have more information to share than we have room to print."
A part-time professional manages the two-page newsletter, which features a personal family story, spotlights an employee and talks about crop production in each issue.
Educate the Public
Valerie Plagge, who farms with her husband Ian near Latimer, Iowa, decided to try blogging as their farm's communications tool. As American Soybean Association DuPont Young Leaders in 2012, the Plagges attended a session that taught them how to blog. Valerie created "Corn, Beans, Pigs and Kids" to tell their farm story.
"We are unique in that all of our income comes from the farm, and we are a young family," she says. "The audience I aimed for at first was composed of general consumers, so I talked about kids and being a mom to attract readers. It has become much more than that."
Plagge soon learned their landlords were reading the blog. While she had not focused as much on the farming operation itself, she decided to include more farm activity posts so landlords could stay in the loop. Last fall she posted "31 Days from a Tractor Seat" to share their harvest journey.
"Our landlords now read it on a regular basis. Some ask if fields in the photos are theirs. It is a nice way to keep tabs on what we are doing, and they learn more about their renters," she says. "We remind them about the blog a couple of times per year when we mail their checks."
While the farm couple wanted to be open and honest to build trust with readers, they had to decide how much and what information they were willing to divulge publicly. They now maintain a line about what specific business practices are discussed.
"I want to be a trustworthy information source for my readers," she says. "I had a reader tell me once they weren't sure what to think about an issue, but knew they could get accurate information from me. Find the connections and have a respectful dialogue with all your readers."
Blog tips
Plagge has tips for farmers who are interested in creating a blog for landowners and consumers:
To reach a wider audience, avoid using "ag talk" or jargon. Give simple explanations.

When answering questions or comments about your blog, be real, direct and simple. Be respectful of those you interact with on your blog.

Know your audience and find groups to promote your posts at local and state levels. You may find Facebook groups. Google your community for bloggers and see who pops up.

Blog on a regular basis so your readers know they can find a new post with some regularity. Be consistent in your messaging.

Stay on track with issues you discuss so you are knowledgeable.
About the Author(s)
Subscribe to receive top agriculture news
Be informed daily with these free e-newsletters
You May Also Like
---