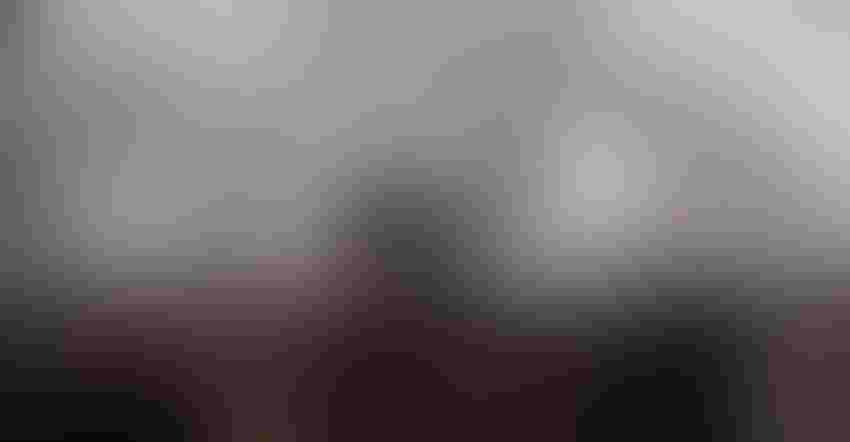 President Trump speaks during a visit to the Southeast Iowa Renewable Energy ethanol facility on June 11, 2019, in Council Bluffs, Iowa.
Scott Olson/Getty Images News/Getty Images North America
On June 11, 2019, President Trump visited Southwest Iowa Renewable Energy in Council Bluffs, Iowa, to celebrate regulatory changes allowing year-round E15 sales.
On June 11, 2020, several of the ethanol leaders who gathered with Trump that day gathered again for a conference call with reporters to discuss what's changed with ethanol in the year since.
While there are no official statistics for E15 sales, Renewable Fuels Association chief economist Scott Richman used data from Minnesota and Iowa to draw some conclusions. Minnesota and Iowa are the leading states in offering E15. Last year, ethanol sales in Minnesota increased by one third and in Iowa, sales increased by 38%. In previous years, sales would plunge in summer months because of restrictions, but last year sales of ethanol kept pace in the summer in Minnesota, Richman said.
Using the sales data from Minnesota and Iowa and extrapolating based on sales per station level, he estimates 430 million gallons of E15 were sold in the U.S. in 2019, which is close to a 50% increase over 2018.
There were other bright spots for ethanol, too. The U.S.-Mexico-Canada agreement was approved, a phase one trade deal with China was agreed to and 10th Circuit Court of Appeals struck down three Small Refinery Exemptions.
Then the Saudi-Russian oil price war destroyed oil markets and COVID-19 hit the United States, emptying office buildings of commuters and shutting down non-essential businesses.
About half the nation's ethanol capacity was idled, said Geoff Cooper, president and CEO of the Renewable Fuels Association.
In April 2020, ethanol use was down 50% compared to a year earlier, Richman said, which was the sharpest cutback he's seen in his 30 years working in the ethanol industry.
Things have started to improve, he said, with consumption picking up as stay-at-home orders have expired and people have returned to work. Ethanol production is up 50% from the low point in April, but it's still 25% below pre-COVID levels, Cooper said. More than 40 ethanol plants are still idled and many more are running below normal operating capacity.
It's unclear what kind of impacts the fuel market will experience as a result of COVID-19, he said. Ethanol will need help to recover and Cooper said he hopes the phase four COVID-19 stimulus bill includes direct relief for ethanol producers.
The HEROES Act, approved by the House, includes money for ethanol producers. Sen. Chuck Grassley, R-Iowa, and Sen. Amy Klobuchar, D-Minn., have introduced legislation in the Senate to provide direct relief to ethanol producers.
In a letter to Trump commemorating the one-year anniversary of his visit to Southwest Renewable Energy, the RFA asks the president to stop Small Refinery Exemptions.
"We ask that you stand up for the Renewable Fuel Standard," the letter reads. "Please direct your EPA to abide by the January court ruling and end the abuse of the refinery waiver loophole."
Subscribe to receive top agriculture news
Be informed daily with these free e-newsletters
You May Also Like
---