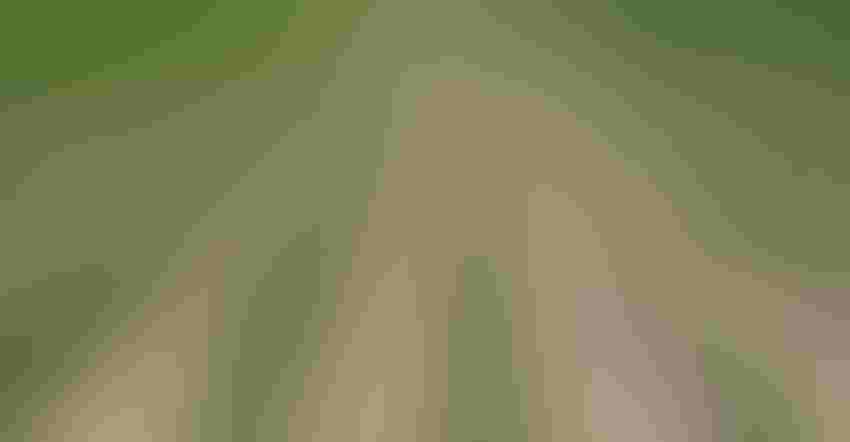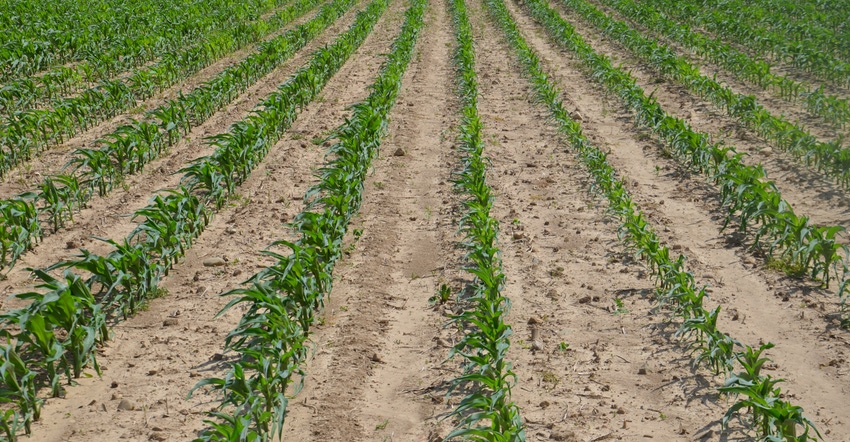 SEE THE STREAKS: Scouting corn at the V5, or five-leaf, stage makes it easier to pick out patterns in fields. Note the diagonal paler streaks running to the left and right from the center of this photo.
Tom J. Bechman
Walking cornfields can be time well spent. Sometimes it's helpful to get a wide-lens view, perhaps driving along the edge — not at highway speed but at 10 miles per hour — looking for patterns. Sometimes growth patterns that are visible early are harder to pick out later, either because corn gets taller and you can't look over it, or because differences in color or height even out as the crop grows.
If you find pale green to yellowish corn plants, often shorter, in consistent streaks across a field, do they line up with tillage passes or trips made applying nitrogen or fertilizer before planting? Or do they mirror combine patterns in soybeans from last fall, especially if fields were soft at harvest?
Gary Steinhardt, Purdue University Extension soil specialist, says this can indicate corn affected by soil compaction created by previous trips. Steinhardt notes that soil compaction created by one pass on soils that are "a bit tacky but I need to go anyway" can persist into the next season, and sometimes for several seasons. Freezing and thawing do far less to eliminate the impacts of soil compaction than most people think, he says.
Case in point
Look at the picture again. From the center of the photo, there appears to be streaks within rows of corn that are somewhat shorter and paler in color. One streak angles off to the right toward the top of the photo. The other angles to the left. Tillage and combine patterns are unknown. Once you walk to those spots, the corn is uniformly a bit shorter and off-color in the paler streaks.
This isn't the only field with patterns that appeared this year. Agronomists have noted seeing patterns in several fields, especially when corn was at the V5 to V6 growth stage. It's possible there are other causes besides soil compaction.
If it is soil compaction, will these visible differences impact yield? Steinhardt says that's a tricky question to answer. It largely depends upon environmental conditions during the rest of the growing season, he notes — particularly, rainfall patterns and amount of rain received at key times.
Early in his career, Steinhardt compacted plots on purpose. He says if rainfall was plentiful the next year and corn wasn't stressed at pollination or during grain fill, yields were often near or on par with noncompacted plots. But if there were dry spells that stressed plants, yields could be impacted, sometimes significantly. Sometimes the impact on yield skipped a season when moisture was adequate and then showed up the next year if there was moisture stress. The soil compaction was still there.
Soybean growth can be impacted by soil compaction, too. However, Steinhardt says it was very difficult to pick up yield differences even in stress years with soybeans, even on intentionally compacted plots. They might look ragged during the season, but in the end, yield would still be there, he says.
Later in the season, patterns like the one in the picture here will be harder to pick up, if they're still visible, at ground level. That's where flights with unmanned aerial vehicles become useful. Knowing what the field looked like early can add to information picked up from those later flights.  
About the Author(s)
Subscribe to receive top agriculture news
Be informed daily with these free e-newsletters
You May Also Like
---