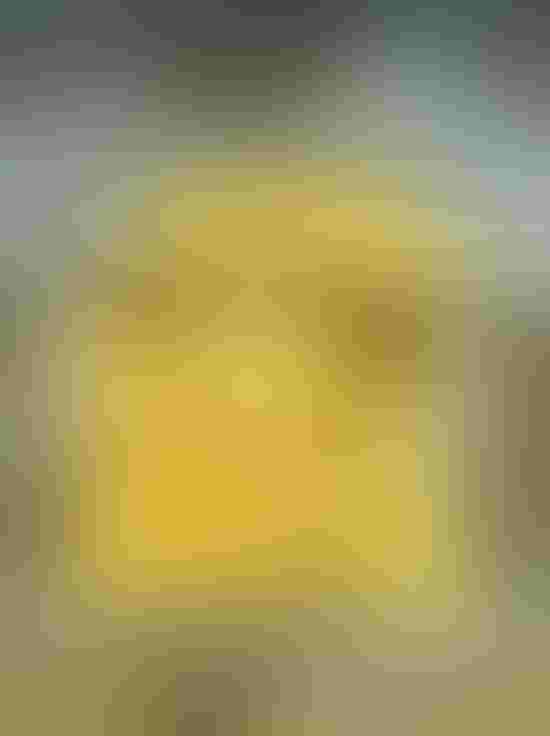 A new report from the USDA found that the animal feed produced by U.S. ethanol plants (known as dried distillers' grains or DDGs) is replacing even more corn and soybean meal in livestock and poultry feed rations than previously thought. The report's findings have important implications for discussions regarding ethanol's impact on feed grains availability, feed prices, land use effects and the greenhouse gas (GHG) impacts of producing corn ethanol.
According to the report by USDA's Economic Research Service (ERS), "Findings demonstrate that, in aggregate (including major types of livestock/poultry), a metric ton of DDG can replace, on average, 1.22 metric tons of feed consisting of corn and soybean meal in the U.S."
Every 56-lb. bu. of corn processed by a dry mill ethanol plant generates 2.8 gal. of ethanol and approximately 17.5 lbs. of animal feed. In essence, the new ERS report dispels the conventional assumption that every bushel of corn processed by an ethanol plant generates an amount of feed equivalent to just one-third of the original corn bushel. ERS underscored this point by stating, "Feed market impacts of increased corn use for ethanol are smaller than that indicated by the total amount of corn used for ethanol production because of DDGs." In fact, ERS found the amount of feed (corn and soybean meal) replaced by the DDGs represents nearly 40% (on a weight basis) of the corn used in the associated ethanol production process for a given crop year.
"The value of the animal feed produced by the ethanol industry has long been misunderstood, understated and misrepresented," says Geoff Cooper, RFA vice president of research and analysis. "Distillers grains continue to be the industry's best kept secret, despite the fact that we are producing tremendous volumes of this high-value feed product today. DDGs and other ethanol feed products significantly reduce the need for corn and soybean meal in animal feed rations. Over the past several years, distillers' grains have been one of the most economically competitive sources of energy and protein available on the world feed market. While some critics of the ethanol industry attempt to downplay the role of DDGs, the facts simply can't be ignored."
One of the reasons that 1 ton of DDGs can replace more than 1 ton of conventional feed is that its energy and protein content are concentrated. Only the starch portion of the corn kernel is converted to ethanol, while the protein, fat, fiber and other components are concentrated and passed through the process to the distillers' grains. Grain ethanol feed product volumes approached 39 million metric tons in the 2010-2011 marketing year, an amount of feed that would produce nearly 50 billion quarter-pound hamburger patties. Nearly 25% of U.S. ethanol feed output is exported to countries around the world to feed livestock and poultry.
More complicated, but no less important, is the impact of DDGs on land use change and the GHG emissions associated with corn ethanol production. Most existing biofuel regulations, including California's Low Carbon Fuels Standard (LCFS), significantly undervalue the contribution of DDGs when assessing the net GHG impacts of corn ethanol. For instance, the California Air Resources Board (CARB) assumed for its LCFS analysis that 1 metric ton of DDGs replaces only 1 metric ton of corn, with no substitution of soybean meal. Using information from the new ERS report would significantly increase corn ethanol's GHG emission benefits. The importance of distillers' grains assumptions in carbon accounting and land use change calculations is described in more detail here (pdf).
"The RFA has long pointed out that the importance of DDGs is being undervalued by the regulatory agencies responsible for federal and state regulations that require a GHG assessment of ethanol," says Cooper, highlighting two 2009 reports (pdf)sponsored by RFA that reached similar conclusions as the new ERS report. "USDA's new analysis clearly shows the importance of accurate DDGs accounting.  The Environmental Protection Agency and CARB should immediately adopt these new findings into their GHG modeling for the RFS2 and LCFS.  The resulting decrease in ethanol's lifecycle GHG emissions could be significant."
Subscribe to receive top agriculture news
Be informed daily with these free e-newsletters
You May Also Like
---