Farm Progress picked out one corn field to monitor weekly throughout the summer. Hopefully, it will entice you to pay closer attention to your own fields. You can look for a report here every Monday, and in Indiana Prairie Farmer and Ohio Farmer in each issue.

SINGULATION: A solid stand happens when the planter is set right and conditions help.
Here's your incentive for paying attention to the reports about this field. In August, you will find entry blanks to guess yield for the field. You will have all the current up-to-date information to help you make an educated guess. Those guessing the closest in each of these two states will receive free corn seed for 2013 from Seed Consultants, Inc. First prize will be 8 bags of seed corn; second place will be six bags; and third placed will be four bags of seed corn.
Here's the June 1 report. The field is still fairly uniform. Stand counts were taken in various parts of the field on June 1. Since the field was planted in 30-inch rows, the number of plants in 17 feet, 5 inches were measured. That represents 1/1000th acre. Then the counts were averaged together. The average count is an even 31,000 plants per acre.
What does that say about yield potential? Dave Nanda with Seed Consultants and other experts have said 1,000 plants can account for about 7 bushels per acre. Using that assumption there is the potential for 210 bushels per acre at this point in the season. The historic average for the field is under 170 bushels per acre.
Comparing plant population to seeding rate also produces interesting results. The field was chisel plowed in the fall and disced once in early spring. It was planted into a stale seedbed. The planting rate according to the monitor was 32,271 seeds per acre.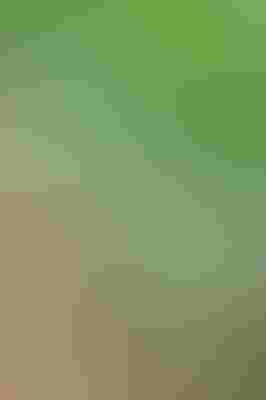 SURPRISING STAND: Stand counts on 1/1000th acre showed that there is an average of 31,000 plants per acre in this Crop Watch field.
That means that only about 4% of the seeds that were planted didn't become established plants. Germination is often guaranteed at 95%. So in this case, the actual establishment not only beat the typical germination rate printed on the tag, but also an acceptable establishment percentage.
For the most part, the stand Is uniform, There are a few doubles and a skip now and then, but you must look hard to find them. The bottom line is that more than 96% of the seeds that were planted not only came up, but became established as plants.
The table is set for good yields. The next several weeks will play a big role in determining the outcome.
Subscribe to receive top agriculture news
Be informed daily with these free e-newsletters
You May Also Like
---