By Ethan Giebel
Gays Mills has a rich history in the apple business dating back to the early 1900s. During that era, Sunrise Orchards was first established in 1913 near the small Crawford County community on a 40-acre plot of land.
The Teach family came into the apple business at Sunrise Orchards in 1934 and has been steadily growing it since that time. Three generations are currently involved in the operation including Maynard and Janet Teach, their son Allen and his wife Lynne, daughter Laurie Oppriecht, Allen and Lynne's son Ryan, Laurie's son Kraig, and son-in-law Brent Sieser.

LARGE ORCHARD: Sunrise Orchards encompasses approximately 200 acres near Gays Mills.
Good year
"Despite the prolonged and cold winter we had this past year, our crop looks strong this year," said Allen Teach, a third generation apple producer and one of the owners at Sunrise Orchards. "Drip irrigation is installed in our orchards which really helped the crop through a dry July and August. Overall, it has been a calm growing season but it's not over until the apples are harvested."
Last year in 2013, the orchard experienced its largest crop on record at approximately 155,000 bushels. More than 200 acres provide ample space to grow over 20 varieties of apples. Favorites include old standbys like McIntosh and Cortland as well as newer varieties including Honeycrisp. 
The process of growing apples has changed over the years. Allen is quick to note that experience can be the best teacher in his line of work as there are very few resources on commercially growing apples.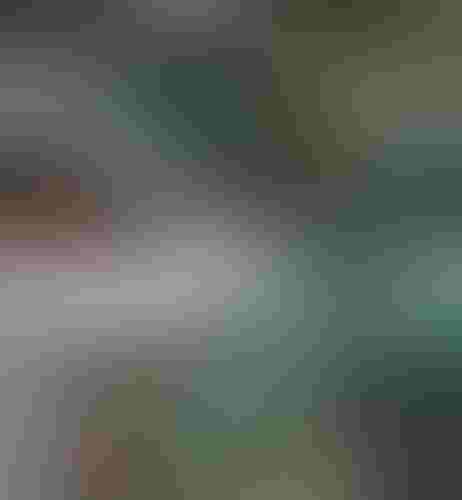 LOTS OF VARIETIES: More than 20 varieties of apples are grown and packaged at Sunrise Orchards.
"We used to plant 250 trees per acre and wait five years to pick fruit from those trees," said Allen. "Now, we plant 1,000 trees per acre and have the ability to harvest apples the following year. Thin, narrow trees allow for more trees to be planted. Over the 20-year productive life span, we hope to get the most out of each tree." With a yield goal of 600 bushels to 800 bushels per acre, fertilizer, regular tree trimming and maintenance are necessary to be successful.
More than 100 employees work in the various aspects of the business during peak season including 15 year-round staff members.
"Every apple is hand- picked," said Lynne Teach. "One of our biggest concerns is if we have enough help to bring in the crop." Hiring community members is a priority but is now an issue due to floods in recent years that have caused people to relocate.
The retail outlet on the farm is open from late August until nearly Christmas.
"We also offer shipping and sell gift boxes during the holiday season," notes Lynne. "We have shipped all over the continental United States and even to Alaska once."
On-farm customers
About 25% of the total crop at Sunrise Orchards is sold via direct retail. A variety of Wisconsin products, cider and apple-baked goods made on location are also available for purchase at the store. Demand is always high for their signature homemade apple cider donuts baked fresh each day during the season. Apples falling into lower quality grades are used for cider and sent through a cider press and are later available in the retail store or at a number of grocery stores in the state.
Working with a distributer, the orchard is able to wholesale apples to several grocery chains with locations in Wisconsin. Food safety is more important than ever before. USDA and third party inspectors conduct regular food safety audits.
"Our system of packaging and record keeping allows for complete traceability of each bag of apples we sell on the wholesale market," said Allen. "Each bag has a tab with a code that can be tracked back to a specific block of trees in the orchard."
The grading and packing system is very complex and uses computers to sort the apples by weight and color defects. Automated bagging is another feature of the system that helps make the process more efficient.
"Apple season is short," said Lynne. "As fast as it starts, it is over. The end of September and all of October are the busiest. Upwards of 10,000 customers come through on the busiest of weekends."
Customers regularly travel from parts of Iowa and the Madison area on day trips to visit Sunrise Orchards. Special events are held every weekend during harvest and an activity area for kids helps make it a family friendly atmosphere. To learn more about Sunrise Orchards, visit www.sunriseapples.com.
Subscribe to receive top agriculture news
Be informed daily with these free e-newsletters
You May Also Like
---