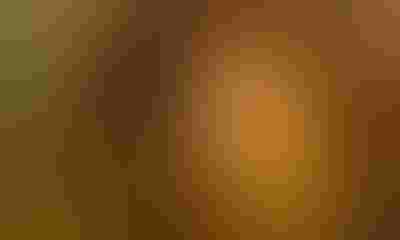 As reported last week, lack of August rainfall pushed a lot of Northeast corn to dry down super-fast. It caused grower concern over the lack of grain production in silage corn ears, as well as pushing corn past the point of being too dry to chop for silage, notes Alyssa Collins, director of Penn State's Southeast Ag Research and Extension Center at Landisville.
If harvesting dry shelled corn isn't desired, consider harvesting snaplage or high-moisture ear corn. But, careful management is necessary to optimize feed quality and reduce risk of mold and mycotoxins, adds Jessica Williamson, Extension field crops educator.

NARROW SALVAGE WINDOW: Corn ears must have enough moisture for ensiling and making a good feedstuff.
Putting up snaplage
Corn snaplage is a fermented feed consisting of the grain, cob, and husk of the plant. This would be a good option for operations whose goal is to utilize the cobs and husks for roughage in the ruminant diet.
Optimal kernel moisture is between 28% to 34% (35% to 40% whole plant moisture) and shouldn't be harvested for snaplage if the kernel is less than 25% moisture. That would lead to fermentation issues and ultimately affect the digestibility and palatability of the corn.
The black layer is typically present at approximately 28% to 35% kernel moisture, indicating optimal moisture for harvesting. Snaplage is harvested by a silage chopper with a snapper head and processed by the chopper's kernel processor. More details are available through a University of Vermont factsheet.
The high-moisture ear option
High-moisture ear corn should be harvested when kernel moisture levels are 26% to 30% or when whole ear moisture reaches 30% to 35%. Its harvested using a picker or a modified combine to save parts of the cob, then ground using a tub grinder at the storage structure. Then, the ground corn is packed in the storage structure to eliminate air and proceeds through the fermentation process.
Snaplage and high moisture corn should be ensiled as quickly as possible after harvesting. Loads left overnight will begin to heat and spoil. Airtight storage structures are crucial to proper fermentation.
Recognize that significant spoilage losses can occur if proper ensiling techniques aren't followed. And, be aware of the feed disadvantages and risks involved. Consult the Penn State Agronomy Guide, Extension factsheets, or local extension educators for more details on management.
See Speedy corn dry down poses cover double cropping dilemma
Subscribe to receive top agriculture news
Be informed daily with these free e-newsletters
You May Also Like
---